Once you get busier and busier with life, memorizing events or to-do lists inside your head is no longer a good idea. You can use a bunch of web services or even sticky notes to record and remind you of such events. For example, I used to use Google Calendar solely to remind me of upcoming events and my future to-do reminders. Then I started using Toodledo to create my to-do lists. As of now, I use a combination of Google Calendar and Toodledo for different needs.
Up til now, I haven't encountered a great application that combines these 2 wonderful platforms together. Thank goodness Web Information Solutions released Pocket Informant HD for iPad, coming to the rescue!
Pocket Informant HD looks really beautiful on the iPad and the color combinations of the bookmarks are just right. It also works in Portrait and Landscape.
The bookmarks divide the application into separate sections:
Today
Calendar
Tasks
Settings
Pocket Informant HD – Today
The Today view is basically showing all of your today's appointments, tasks, and overdue tasks. This is probably going to be your favourite bookmark, especially if your days are full with meetings, presentations, or other events. It gives you an overview of all today's activities nicely and smartly. In a way, this also reduces stress as you don't see your busy month in one go, but only what you need to know :) "Therefore do not worry about tomorrow, for tomorrow will worry about itself. Each day has enough trouble of its own!"
You can add an event from this section, along with the Location (which will use a GPS to pinpoint your location or add a location on Google maps), reminder, tags, icon, and even the attendee from your Contacts.
Pocket Informant HD – Calendar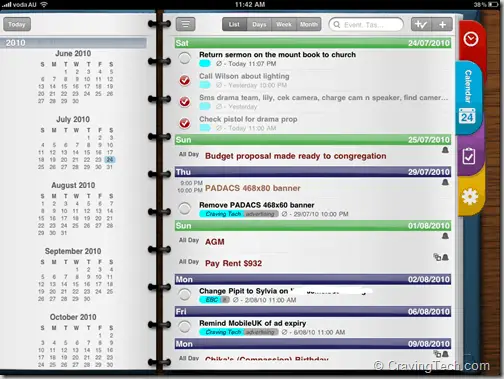 Why would you need another calendar application if iPad already has a built-in one? Well, it's because the calendar in Pocket Informant HD is more powerful and provides you with cleaner views than the iPad's. You can view upcoming events in a List, Days, Week, or Month view:
You can go between different month easily in Pocket Informant HD by pressing the month lists on the left (in Landscape view). Adding a new event is also a breeze and smooth like the Today's section. You can also set recurring events just like Google Calendar (as explained before, Pocket Informant HD can also be synced with Google Calendar).
Pocket Informant HD – Tasks
Tasks are basically your to-do lists (current, overdue, or upcoming). You can add, edit, delete normal tasks or even make a quick task with the default settings. You can set a custom reminder and let the application reminds you with the push notifications.
The tasks can also be synchronized with Toodledo (which is what I do at the moment). All the folders and contexts in my Toodledo account are nicely synced and the app also let you filter tasks easily (in progress, overdue, etc).
Pocket Informant HD Review Conclusion
Pocket Informant HD is not just another event or task management program, it's probably the only app you need on the iPad if you are having trouble keeping track of your daily activities. Managing appointments with clients, seminars, events, and other busy schedules never get easier than this. The application let you see what you want to see and filter only what you need to see at any given time. The Today section is really handy and should be your best friend if your life is busy with non-stop activities.
Even if you don't, Pocket Informant HD is still a powerful application to have, especially because it can combine the best of both worlds: Google Calendar and Toodledo. I've been using both before I installed Pocket Informant HD so I was really grateful of this application. My only complain so far is probably the amount of time it takes to synchronize with Google Calendar and Toodledo when the application is opened, but this can be improved in future patches.
Pocket Informant HD (Calendar & Tasks) – Web Information Solutions, Inc.
Note: Promo code provided for the review