Waterpik Nano Water Flosser Review – Water flossing has been my daily routine before I brush my teeth off with the Oral-B iO Series 9. It works and I can see that my gum disease was improving greatly ever since I've started water flossing properly with the Waterpik Whitening.
While there are a few Waterpik machines to choose from, those who live in an apartment might be longing for something more compact. After all, you only get tiny spaces and cabinets in those new, CBD apartments.
With the new Waterpik Nano, you still get that full-performance of a traditional Waterpik water flossing machine but at a more compact package – easy for storage and travel.
Waterpik Nano Review – Packaging Contents
The packaging includes 2 Classic Jet flossing tips which are the standard for water flossing. While there are other tips that you can purchase separately, I myself find out that I'm happy with just the Classic Jet tip for the past few years.
Waterpik Nano Review – Design & Features
Waterpik Nano is a full-size water flosser (i.e has that big water reservoir) but 50% smaller in size compared to the other Waterpik counter-top units. The water reservoir can also be inverted onto the base unit after use, to keep the unit more compact (height-wise) for storage.
I can imagine if you are living in an apartment where you have limited space on the sink. This means you'd have to store the Waterpik Nano inside the cupboard after using (which usually doesn't have much storage space to begin with) and take it out each time you want to use the machine. With this smart design, you can cut the height of the base unit considerably and fit it inside the cupboard.
Compared to the Waterpik Whitening, the Nano is also narrower: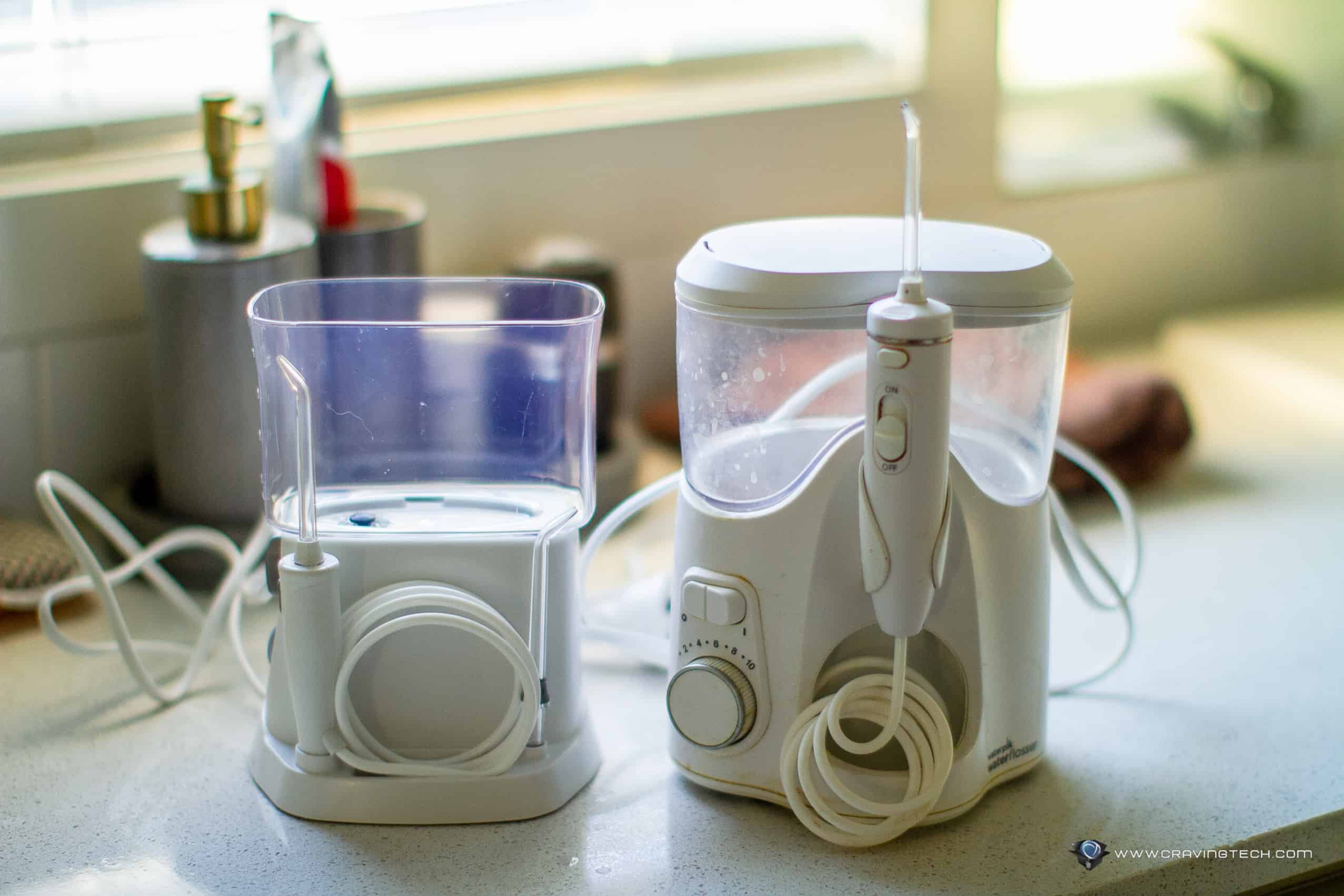 The slimmer size also makes it easy to carry with while travelling. While I'd probably bring my Waterpik Cordless Select instead, the Nano is actually small enough to fit into a backpack or luggage. If you are going away for a few weeks or months, might as well bring in the big gun!
There are only 3 pressure settings, compared to the usual 10 on the other Waterpik counter-top units. The maximum setting is equivalent to about 7 or 8 on the other units – which is really good. I usually water floss at 6-7 and it is definitely more than enough to clean thoroughly (I find it uncomfortable beyond 7). Those who are new to water flossing should try the lowest pressure setting and gradually go up from there.
Unlike the other Waterpik counter-top units, there is no on/off control on the handle though – most likely to keep the handle smaller in size. The control is located on the base unit but thankfully, within an easy reach. So while you use your right hand to grip and place the tip into your mouth, you can use your left hand to switch the machine on and off.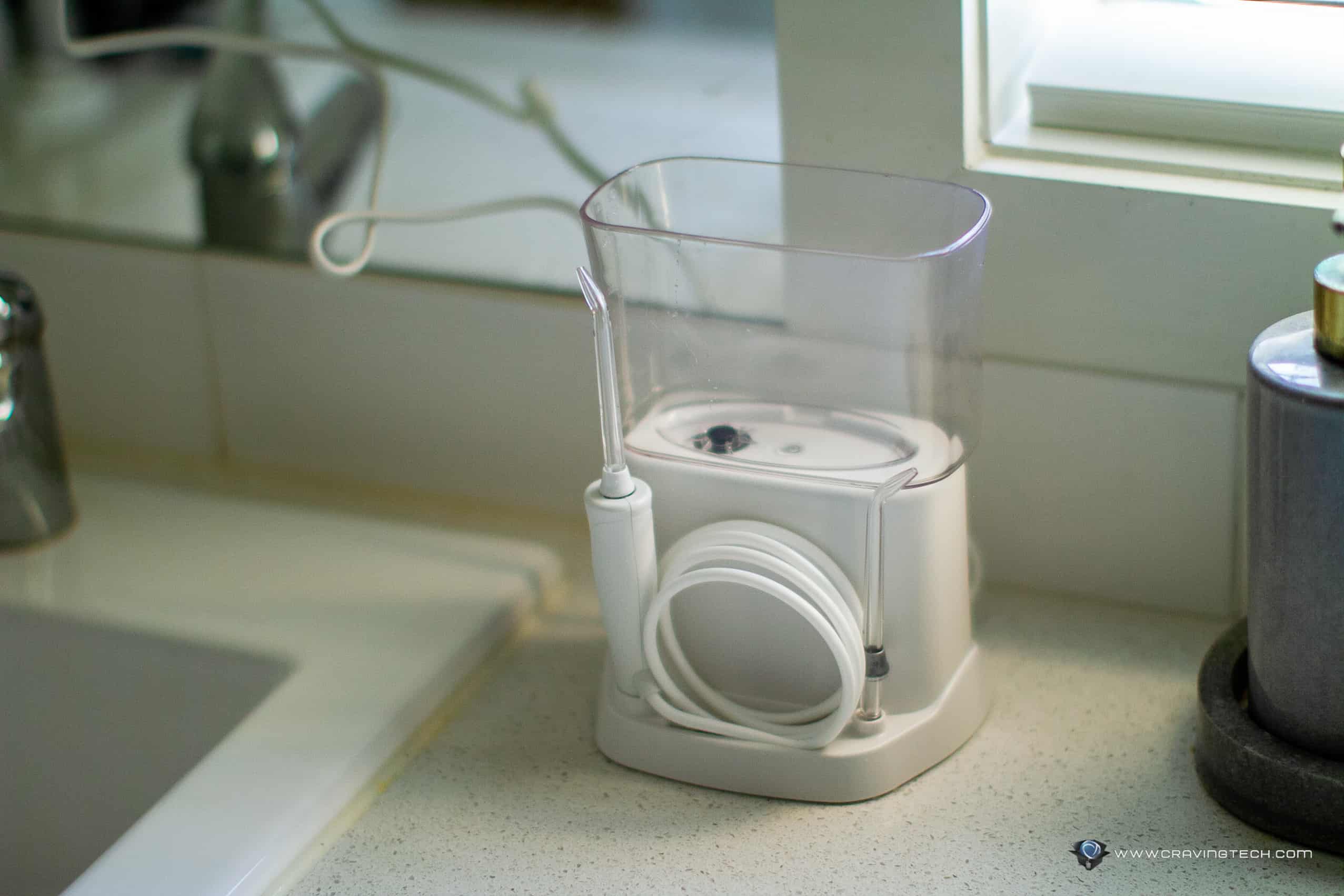 The water reservoir has enough capacity to clean my entire mouth periodontal pockets, lasts for around 60+ seconds (depending on your pressure settings).
Waterpik Nano Review Conclusion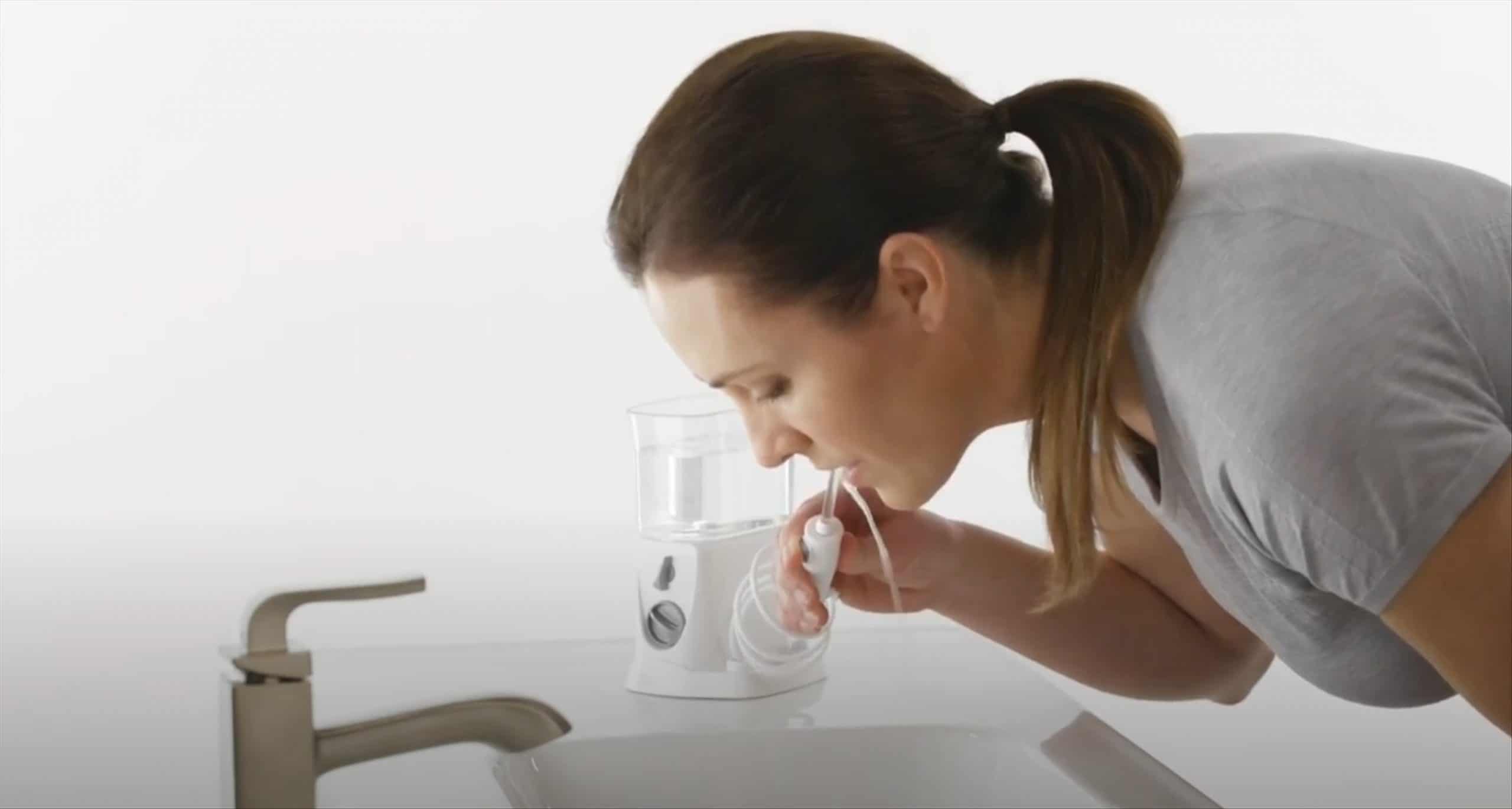 Those who are not lucky enough to have big bathroom vanities will appreciate the Waterpik Nano. It has a more compact design compared to the other Waterpik counter-top units, yet without sacrificing the water flossing performance.
If you've never had a Waterpik water flossing machine before, the Nano is also the cheapest among the others. Sure, it doesn't have an on/off control on the handle, only has 3 pressure settings, and comes with just Classic Jet tips but you don't really need more than those to start with.
Waterpik Nano is a great buy and definitely the Waterpik machine I'd recommend to anyone from now on. It's the most affordable, has a compact design, and doesn't sacrifice any performance. Your gum and mouth will thank you.
Waterpik Nano retails for A$139 and available now at Chemist Warehouse and Shaver Shop Australia. If you reside outside of Australia, you can also check Amazon.com for the Nano Plus version.
Disclosure: Waterpik Nano review sample was supplied for reviewing
Waterpik Nano Review
Summary
The latest waterflossing machine comes in a more compact size 
Pros
Compact size (in terms of height and width)
Inverted water reservoir makes it much easier to store
Big enough water reservoir for a single water flossing session
Three different pressure settings
Comes with 2 tips
Cons
No pause (on/off) control on the handle
Still noisy like the other counter-top models
Smaller handle not as ergonomic