TuneUp Utilities 2013 Review – TuneUp Utilities has been updated to version 2013 today (from TuneUp Utilities 2012). As a reviewer, I was given a chance to get it earlier to test and to review the software ahead of public.
After using it for some time on my computer, the verdict is still the same as the previous versions. TuneUp Utilities 2013 still works wonders (and even better now) for your PC to fix, clean, and optimise it like a brand new PC.
Installing TuneUp Utilities is pretty simple and straightforward. While the files are being installed, you can take a quick glance of the new features in TuneUp Utilities 2013.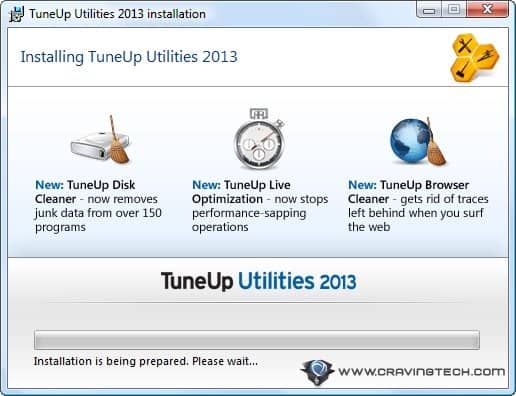 The Dashboard gives you a quick overview of the health status of your Windows PC (and a quick access to all TuneUp Utilities 2013 handy tools):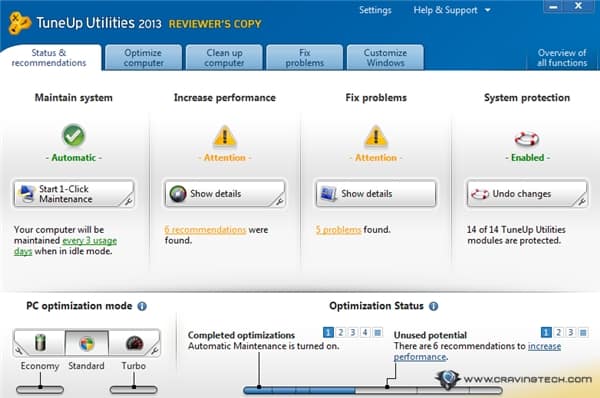 From all of the features packed within TuneUp Utilities, I have always loved the 1-Click Maintenance tool. Just by running the shortcut, TuneUp Utilities scans my computer inside out, looks for problems in the registry, finds cluttered & unused files, and much more. If you think that a technology blogger and reviewer can take care of his own PC without a software, think again after looking at this report: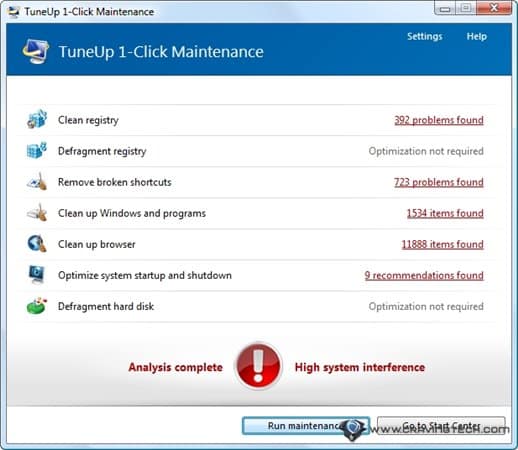 Thousands of problems were detected by TuneUp Utilities 2013 within minutes of running the scan! And hey, trust me, I do know how to take care of my Windows PC but this is madness alright. After the analysis, you can then drill down into details (such as being able to see the broken shortcuts detected in the registry and such). Though some of these detected problems may not affect the performance of your PC directly, most of them do.
Cleaning happens automatically once you agree to follow all of TuneUp recommendations or you can also pick specific recommendations that you want to apply (for example, I could choose not to let TuneUp Utilities 2013 messed up with my Windows visual settings).
TuneUp Utilities 2013 makes it clear on every recommendation so you can read what it recommends and you can then decide whether to follow it or not. I find the description is quite clear and not too technical, so both techies and non-techies can follow and make the decisions clearly.
Apart from performance tweaking, TuneUp Utilities 2013 also suggests security improvements to your computer, such as an example here:
This makes the product beyond repairing & optimising, but also securing your computer as well by tweaking some hidden Windows registry for you. As always, you are in control for making the changes if you want to, so you won't get any surprises when things don't seem to work as it was before.
The new TuneUp Disk Cleaner 2013 cleans up all the junks and unnecessary files from your PC and gives you that extra space (which seems to go down really fast on your "C" drive mysteriously). TuneUp Utilities 2013 can also clean chat logs, history lists, and cache files from over 150 popular programs. It can also clean Windows data trash such as temporary files, error reports, and installation remnants.
This includes Windows System Restore Points which takes 22 GB space on my hard drive as you can see from the above screenshot. Seeing how I don't normally use System Restore, I can safely remove these restore points to get some space back. If you are scared, you can always remove these restore points and then create a new one after the cleanup, just in case.
The new TuneUp Browser Cleaner 2013 can also protect your privacy by completely cleaning your browsers' history, cookies, and others. They've also upgraded the TuneUp Live Optimization engine to version 2.0 with a promise of an easier and better optimisation. Background programs will be given a lower priority and TuneUp Utilities 2013 will also smartly detect currently running resource-hungry programs and deal with them immediately. You will see a pop-up notification at the bottom right corner when TuneUp Utilities 2013 prioritise/de-prioritise an application. You can also view the history of previous Live Optimization being performed:
TuneUp Utilities 2013 Review Conclusion
Now, I'm barely just scratching the surface here because TuneUp Utilities 2013 has tons of other nifty tools to further tweak your Windows PC (such as a program deactivator, Windows visual style management, a quick PC optimization mode switch, and more.
TuneUp Utilities 2013 carries all the best features it has from the previous version, TuneUp Utilities 2012, and adds new extras and enhancements to the software. TuneUp Utilities has always been a software that I recommend to have and there is no reason not to recommend their newest version.
TuneUp Utilities 2013 takes care of your Windows PC for you so you don't have to waste time trying to find out what slows your PC down and why your disk space magically goes away every week.
Note: TuneUp Utilities 2013 review copy was provided for the review