Backbone One Review – The iPhone is a fast and great performing device for playing games, and the latest iPhone 13 (or even iPhone 12) blows the other phones away in terms of performance. But some great games are just made with using controllers in mind and no matter how good the touch interaction is on an iPhone screen, it's still missing something.
Thanks to Backbone One, you can now transform your iPhone into a mobile console where you can play games with controller support or even real Xbox games wherever you are with the Xbox Cloud Gaming service.
Backbone One is basically a controller with Lightning port that you can attach to your iPhone with a snug fit. It requires no charging because it draws power directly from your iPhone once connected physically.
It's a better design choice compared to a Bluetooth controller with its own internal battery that you have to constantly recharge all the time. Also, imagine playing a game on the train with your iPhone on your lap and your hands are holding a Bluetooth controller – eww!. Not to mention the latency introduced by Bluetooth connectivity.
Surprisingly, the controller doesn't actually use much power and you can also charge your phone through the Backbone One Lightning port, located at the bottom right controller. This way, you can also plug a portable powerbank and keep playing!
Backbone One has all the controls that you want in a controller like the four primary buttons (X, Y, A, B), thumbsticks, shoulder and trigger buttons, and more.
There is an extra button to take screenshots or even make recording of your games (1080p at 30fps), handy to share to social media or friends later on (this requires installing the Backbone app). And oh, there is a mute button too.
Speaking of muting, you can plug a headset with or without a microphone through the Backbone One's 3.5mm headset jack. This gives you the ability to speak in multiplayer games so yes, you can get the whole experience when gaming.
Backbone One supports a variety of iPhone models, from the Mini to the Pro Max. If you own the latest iPhone 13 Pro/Pro Max however, the controller requires an extra adapter that you can 3D printed or order for free (and just pay for shipping). It's great to see the company making this approach rather than forcing Backbone One owners to buy a new controller just for the iPhone 13.
At 138 grams, Backbone One doesn't feel heavy, yet as if it's a part of the iPhone itself. I also find that it has good ergonomics and I have no problems gaming with the controller so far.
The only thing I wish it can do is support for wearing cases. It looks like you can only attach Backbone to a bare iPhone (i.e without wearing a case) or a slim case with specific dimensions because even using this 0.5mm Totallee slim/thin case on the iPhone 12 Pro Max, the Lightning port can't connect properly. Seems like this depends on the case thickness and whether part of the case is covering the Lightning port area. Some people on Reddit with a variety of cases seem to be able to play with Backbone One, so make sure you double check with your case manufacturer or the community.
If you really love your current, thick case though, you'll have to take it off each time you want to game with the Backbone One.
Backbone One Review Conclusion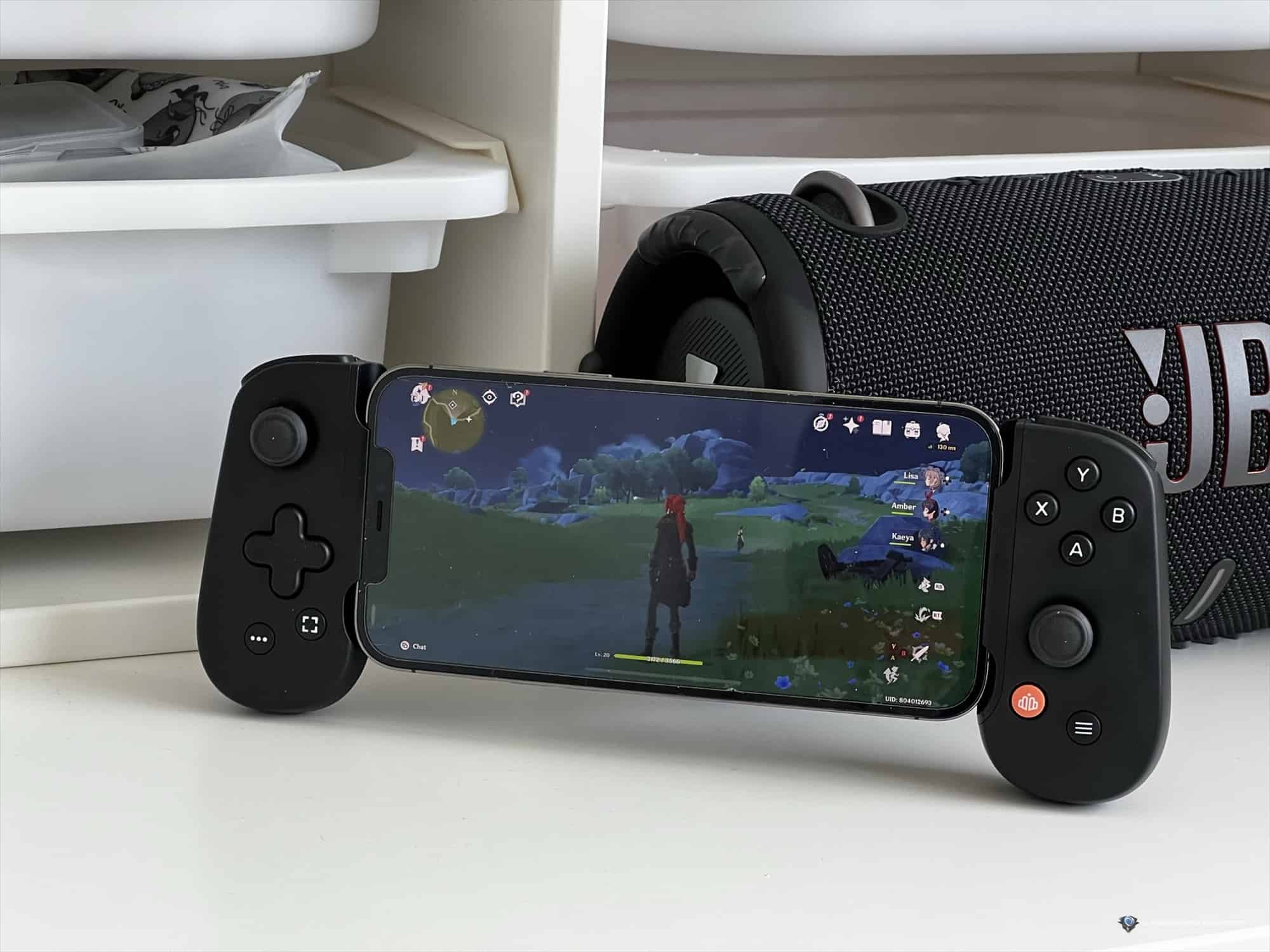 The Backbone One controller will magically transform your iPhone into a mobile console, no doubt about that.
You can play Genshin Impact or other controller-supported games instantly when Backbone One is plugged to your iPhone. With Xbox Cloud Gaming or other gaming cloud services like Google Stadia, this also means you actually have a mobile Xbox console with you at all times, thanks to Backbone One and your powerful iPhone.
It doesn't require charging of its own (which makes things simpler) and I didn't notice any latency while testing it on a variety of different games from the App Store and Xbox Cloud Gaming (Asphalt 9, Genshin Impact, Batman Arkham Asylum, Gears 5, etc).
The controller also feels ergonomic to hold and the buttons have good tactile feedback. It snaps to your iPhone and can be extended for the larger-sized iPhone Pro Max. While this design makes it fluid to connect the controller with your iPhone, this also means that it's quite picky if you are wearing a case on your iPhone.
Backbone One retails for A$179.99 and available for purchase now at https://playbackbone.com.au/
Disclosure: Backbone One review sample was supplied for reviewing
Backbone One Controller
Summary
You can now transform your iPhone into a mobile console with ease
Pros
Snappy, snugged fit to the iPhone
Great build and button quality
Doesn't require charging, draws bit of power from the iPhone
No latency experienced so far
Lightweight to use, lightweight to carry
Has Lightning port to charge your iPhone, and a 3.5mm
Great integration with Backbone app
Cons
Can only be used on a naked iPhone, or slim cases of certain dimensions and design
Probably a bit small for big hands