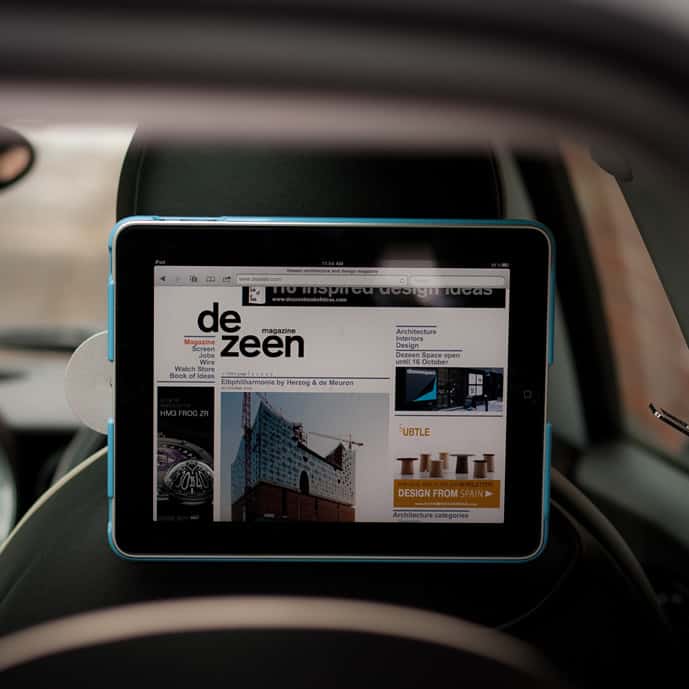 Note: This is a guest post written by Matthew Denos
Studio Proper's newest invention- the Wallee Headrest- is bound to take the iPad accessory market by storm. Featuring a thin, versatile design, this handy creation transforms any car into a mini-theater— just add popcorn and a good movie and you're pretty much good to go!
It can be positioned on the back seat or in the center of the two front seats, thus making it easy to view by all occupants in the car.
The Wallee iPad Headrest is fully armored with aircraft grade, anodized aluminum—a resistant material that is highly esteemed for its first class qualities. With this studded protection, your iPad can withstand just about any impact and still look stunningly new after many years—even a sudden bump won't ruffle its wires.
Product designer, entrepreneur, and founder of Studio Proper, Alon Tamir is all smiles and he has good reason to be.  Demand for the elegant Headrest has been positive, given its versatility and unique features that are next to none among other iPad accessories. He has also blazed a trail with leading inventions such as Pix and Stix, thus creating a distinguished name in the market for his company's products.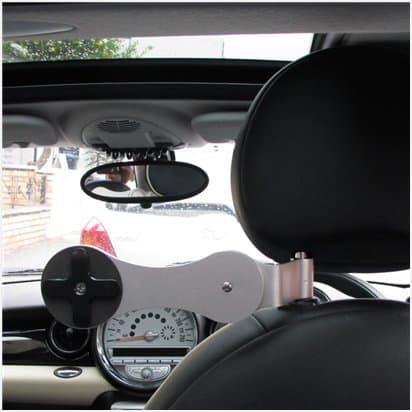 The intelligent design makes the Headrest a discreet accessory, so you can pretty much forget it's even in the car. Your passengers will love the new addition, because it's aesthetically pleasing and adds more character to your ride.
Features and Tips
The Wallee Headrest is compatible with headrests pins that have diameters that are 13mm or less. However, you'll need to check your headrest pin first to ensure that it's the perfect fit.
Positioning is relatively easy and you can swing in or out to position your iPad as either landscape or portrait.  This makes the whole experience of viewing your iPad even more thrilling and unique, since you can basically choose which position works best for everyone.
Simple click and twist features that's developed from Wallee's simple cross mounting system.
Easy to attach and remove. The Headrest works with the Wallee Case, which is sold separately. Simply put your iPad in the case and place the case over the locking X that faces you.  You'll just then need to turn and listen for a click sound to know that your iPad is securely attached to the Wallee Headrest. You can then swing it in or out to get the portrait or landscape orientation mentioned earlier.
Fine details that add more charm to its meticulous design
Who's it for?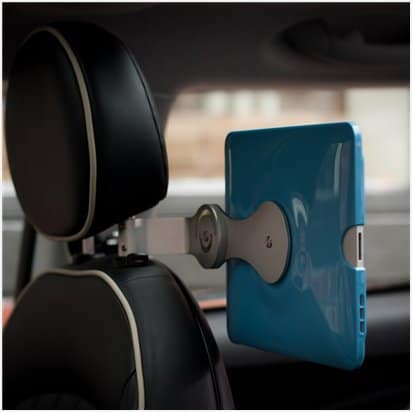 This handy accessory is for anyone that wants to explore all the possibilities of using their iPad, when and how they want. It is perfect to add life to any car and makes staying awake during an intense traffic jam rather easier.
Whether you have children, own a taxi cab, or occasionally have passengers to drive around, this extra addition in your car is just perfect to access the tech world in real-time. Even if you are a lone ranger, the versatile accessory may just be right up your alley.
Price
The Wallee Headrest is competitively priced. For less than USD$50 you can have this simple, yet sleek accessory. It appears the materials used are of the highest quality, so I believe you won't need to buy another headrest any time soon—you'll basically get your money's worth even after years of usage.
About the author: Matthew Denos enjoys reviewing new accessories for the iPad, iphone and laptops. He offers a Skinit promotion code and an HP.com discount code, two online destinations for electronics and accessories.