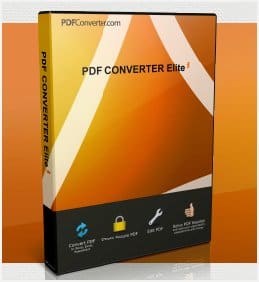 PDF Converter Elite (despite of the name being "Converter") can actually create and also modify PDF files. There are times when you want to create a PDF document to make sure that it's not easily changed or can be viewed more consistently. The Adobe Reader (and other PDF readers) is free, but unfortunately it only allows you to view PDF files.
If you want something more, you need to reach your pocket and buy a PDF publishing software like Adobe Acrobat. Or, join this giveaway and win a license of PDF Converter Elite.
PDF Converter Elite can take a block of text and images out of a PDF file and move them to a different file type. You can also convert a PDF file into Word, making it modifiable at Word (I think this is a really cool feature!). There are also conversions for Excel spreadsheets and PowerPoint files. If these features are still not enough, PDF Converter Elite can convert more than 300 Microsoft Windows formats into PDF.
You can then secure the PDF files by password protecting the file or set permissions – you have the control and power.
So you want to create and publish PDF files but don't really have the money to pay for a full solution like Adobe Acrobat? This is where PDF Converter Elite comes into play. With PDF Converter Elite, you can create your own brochures, invitations, invoices, and more!
5 x PDF Converter Elite Licenses Giveaway
A single user license is priced at $99.95, but if you win a license from this giveaway, you'll get it for FREE ;) Thanks to the sponsor, I was given 5 licenses to give away!
Requirements:
Like this post (use the button on the left hand side)
Answer the following question on the comment form: "What's your favorite PDF reader and why?".
FIVE best answers will be picked and win a license of PDF Converter Elite each – so don't just say "I like FoxIt Reader because it's free" :)
Full terms and Conditions:
Eligibility: Worldwide
Contest starts on 8th February 2012 8 PM AEST – 22nd February 2012 8PM AEST
Prize is valued at $99.95 each
Prize cannot be exchanged or redeemed for cash
Participants will be emailed after winners have been selected and the winners will be announced at Craving Tech