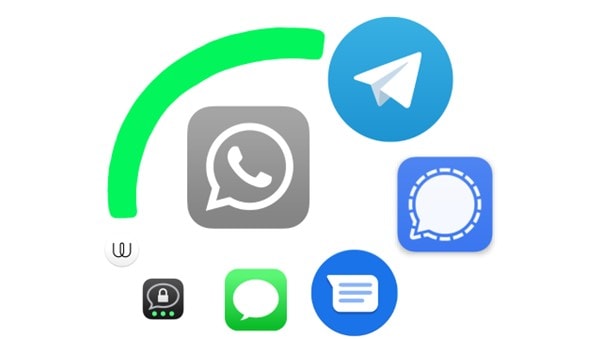 Note: This is a guest post written by Jeeva Shanmugam
While it's perfectly acceptable to communicate through text messages and phone calls, many individuals now use WhatsApp to do both. It's a simple method to communicate with family and friends as well as share and receive images and videos. Being the number 1 private messenger world wide WhatsApp enables international connections to be viable and effective.
Talking about the term "private messenger" WhatsApp is not the best for handling users' data we often see news that says Meta using WhatsApp data to show ads on their various platforms and especially their new privacy policy scared users to use WhatsApp messenger and looking for the best WhatsApp alternative that can replace WhatsApp in all scenarios.
These days the availability of private messengers is insane. However, we have different types of messenger applications that can naturally be the natural alternative to WhatsApp. If you are wondering about those WhatsApp alternatives, kindly pursue the further article to know the best WhatsApp alternative applications to use right now.
1.  Telegram
One of the top WhatsApp alternatives that can take the place of WhatsApp in any circumstance. Telegram is one choice if you'd want to have something connected to your phone number that is comparable to WhatsApp.
However, experts have noted that the security of Telegram's services is questionable and that end-to-end encryption is not enabled by default. So it's important to keep that in mind.
Despite this, Telegram still allows users to exchange files, schedule messages for deletion, and communicate with up to 200,000 other people at once. Additionally, it syncs messages across all of your devices and is completely free to use.
Telegram's bot tools help users to make the most out of the application, few features can make you stay within the Telegram application and won't let you move to WhatsApp again.
Get the Telegram application for iPhone | Android
---
2.  Signal
This application may not be the best at features compared to Telegram or WhatsApp but if privacy is your top priority, then this is the one application that you need to move on to, Signal is open source, secure, and compatible with all mobile operating systems.
Itl is quite easy to use, much like the majority of other private messenger apps. It also provides audio and video calling. It comes with desktop installation files so you may use the application on both your computer and smartphone.
Each message is encrypted, making only the sender and recipient able to decipher it. Hackers are unable to read any messages. Because Signal employs open-source encryption, specialists may test it and look for flaws. This increases the security of the app.
Messages can be deleted at the user's discretion by establishing an automated deletion timer. Even if someone else has access to your phone, this ensures privacy. On the whole, you can go for a signal if you are more concerned about privacy and security.
Get Signal application for your iPhone | Android
---
3.  Threema
Threema private messenger primarily focuses on privacy and offers perfect anonymity when using it. Although Threema is based in Switzerland, which is renowned for its stringent privacy laws, it hasn't really taken off abroad.
Contrary to many other applications, you do not need to connect it to your phone number or email address if you don't want others to be able to locate you. Of course, you may send encrypted text, audio, image, and video messages as well.
To more quickly get input from all of your friends, you can also set up polls, distribute files, and organize group chats. Additionally, it features a built-in encrypted browser, and just like WhatsApp, all data is saved on your phone rather than a public server.
Get Threema for your iPhone | Android
---
4.  Skype
One of the greatest business chat programs available is Skype. Skype has surpassed all other enterprise chat programs because of the strength of Microsoft behind it especially, I  love skype for overseas calls the way its codec support is best in class.
However, that development has hurt Skype when it comes to personal talks since its reputation as a company deters regular users. To be honest, though, if you make a lot of audio and video conversations, Skype is one of the greatest talking programs available.
Group video conversations may suck on WhatsApp or Telegram are not supported by the majority of other applications, and when you add more than three or four individuals, those that do frequently lag. I can without a doubt suggest Skype over WhatsApp or any other private messengers if you often video call your friends and family.
Get the Skype application for your iPhone | Android
---
5.  Wire
Wire is another alternative that originates from Switzerland, which has strict privacy rules, and offers the standard range of communications choices. Along with enabling GIFS, file sharing, and all the other features you love from WhatsApp, it enables voice, text, and video chat.
It can sync between devices, unlike WhatsApp, and offers several accounts for when you need to keep your chats private. Although it is based on the Signal protocol used by both Signal and WhatsApp, Wire's open-source encryption protocol, called Proteus, is audited to ensure its security.
Get Wire for your iPhone | Android
---
Note: Your inbuilt messaging applications like iMessage on iPhone and Google Message for android may be the best for quick and secure chats. You can give it a shot and if you are lacking features then you can move on to the applications that I have mentioned.
These are the 5 Best WhatsApp alternatives that I have listed for now, if you are using any of the messaging applications over WhatsApp that are well-built and ensure privacy you can mention them in the comment section. I would love to compile them for the upcoming articles. If you find this article useful you can share it with your friends they will also make use of these best WhatsApp alternatives.