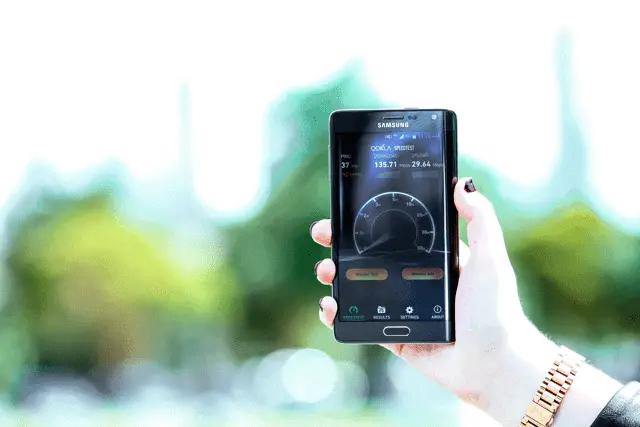 Despite my presumptions that Telstra 4GX is launching in January 2015, Telstra has officially announced the availability of 4GX in Melbourne today (or at least, some parts of it). Telstra 4GX is a new Telstra 4G service that offers faster speed and better coverage by quite a huge margin.
For example, some people in Sydney managed to get up to 215 Mbps download and 40Mbps upload speed using SpeedTest, which is pretty amazing.
Here are some tweets with the SpeedTest screenshots:
Its official. The @Telstra 4GX network will be the fastest network in Australia. Blimey : pic.twitter.com/C25drD2bs4

— Trevor Long (@trevorlong) November 6, 2014
Wow. Just clocked 130Mbps on the Sony Xperia Z3 on Telstra 4GX outside of UTS. pic.twitter.com/Ra9snZr8f9

— Leigh :) Stark (@Leighlo) November 5, 2014
These are the sort of speeds you can get on @Telstra 4GX – better than my Cable Broadband pic.twitter.com/sOjSrRhH2c

— Michael Faro-Tusino (@MFaroTusino) November 3, 2014
@SuperJeii also if you are out of contract, might want to consider a carrier change, 4GX speeds n the 830 pic.twitter.com/QAwyQNRrYn

— Peter Murphy (@AusWinPhone) November 18, 2014
From Telstra's press release: Today's launch will make 4GX available in parts of Melbourne CBD and surrounding suburbs like St Kilda, Windsor, Albert Park, South Yarra, South Melbourne, Docklands, West Melbourne, North Melbourne, Collingwood, Fitzroy, East Melbourne, Parkville, Elsternwick, and Cremorne. By January, 4GX services will cover an area spanning three kilometres of the Melbourne GPO and will be expanded across Telstra's mobile footprint over time.
If you are already on Telstra pre-paid or contracts, you don't have to do anything to join in the 4GX network. Assuming you are using a smartphone that supports it (like Samsung Galaxy S5 or iPhone 6), you'll enjoy the speed and coverage boost right away – assuming you are in the coverage area.
Telstra has also boosted its data to Pre-Paid Freedom customers today. Coincidence?
Source: Telstra press release