So you've just got a brand new Android phone like the Samsung GALAXY, or HTC One, or from other brands like Oppo or Huawei? You are now probably being left in the dark on how to transfer all your iPhone contacts to your new Android phone easily.
What I normally do from time to time is to make a backup from the iPhone using a free app called "My Contacts Backup" to export all my contacts into a file called "vCard" that can be imported (or synced) later on to your Android phone. I use Gmail for this purpose.
How to move/transfer your Contacts from iPhone to an Android Phone
What I normally do pretty much involves a few steps:
Export your iPhone contacts to a file with a free app, which will then be uploaded to a Google account
Sync those contacts on your Android phone by adding that Google account in
The step-by-step how-to is as follow:
—
Backup your contacts on the iPhone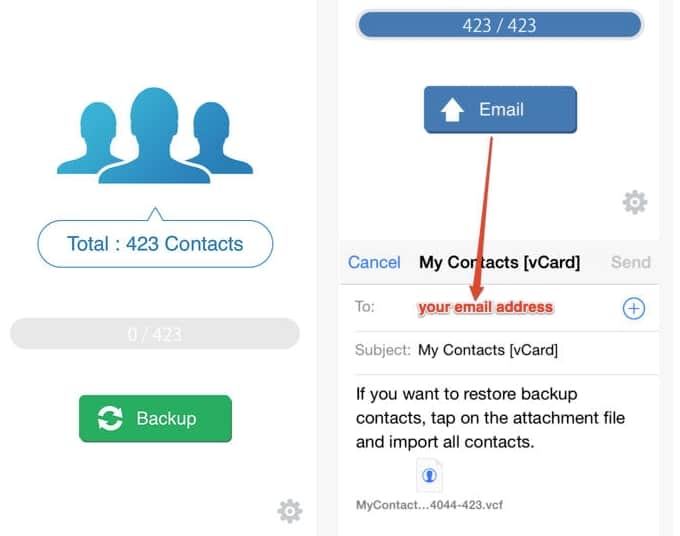 [1] Download My Contacts Backup to your iPhone (free app)
[2] Run it to backup your contacts. It will ask for an email to send the backup file to. I have an empty Gmail account for this purpose so it won't mix my phone contacts with my online contacts (those with only email addresses). It's advisable for you to create a new Gmail (or Google account, really). The backup file will have everything – your contact's name, phone numbers, email address, and even their profile pictures (if any).
[3] Put the Gmail address in to let the app send the contacts file (.vcf) to your Inbox.
Add iPhone Contacts to your Google Contacts
[1] Login to your Gmail and go to Contacts (by clicking on the "Gmail" text with a down arrow next to it) and make sure you have a clean one (0 contacts).
[2] Go back to Gmail and check your Gmail inbox. The vCard file and the email from the app should be there (wait for a few minutes if you have a lot of Contacts).
[3] Click on the email to open it and on the attachment, click on the "Add to contacts"
[4] Once the import process has finished, you should see all of your iPhone contacts on the Google Contacts.
Sync your Google Contacts on your Android phone
[1] Add your Google account on the Android phone settings and make sure to sync the Contacts in