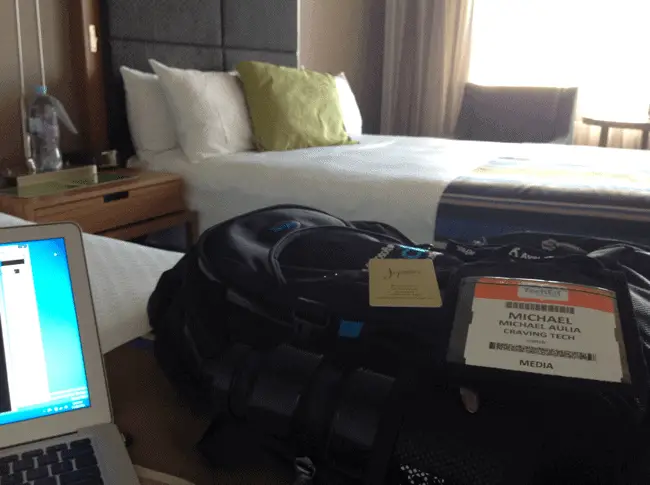 Top gadgets to bring when you travel – You know you are a geek when you worry more about what gadgets to bring than your clothings when you travel. Obviously, being a gadget reviewer, I have plenty of things to select carefully for this journey.
I'm on my way to the Gold Coast to cover Microsoft TechEd 2012 (was invited and sponsored by Microsoft) so I thought a post like this should come pretty handy. If you are wondering what gadgets I'm bringing to the Gold Coast, here they are!
 Top gadgets to bring when you travel
1) Smartphone
A pretty much obvious one and I'm sure you will be carrying this all the time with you anyway. Apart from being able to stay in touch with your loved ones (or when disaster happens and you need to contact someone), having a smartphone equipped with an internet connection allows you to stay up to date with everything.
I'll definitely be tweeting about TechEd so make sure to follow me on Twitter
@michaelaulia
or you can also follow the official TechEd 2012 Twitter hashtag, #auteched.
2) Tablet
At times when you need a device with more battery power than a notebook, a tablet works wonders. For example, the
iPad 3
has about 10 hours of battery life in general, so you can pretty much write notes or use it for a whole day.
During the TechEd sessions, I'm planning to write my drafts on the iPad which is more compact than a notebook and it also has a much longer battery life.
When you are bored on the plane (like, right now – I was writing this post during the flight to the Gold Coast), you can do some work (not recommended), play some fun games, or watch movies to kill the time.
3) Notebook
Although you can pretty much do everything on a tablet nowadays, I still think that you need to carry a notebook or a MacBook with you. It's just easier when you have to work with files (such as downloading an attachment and editing it, for example). It's true that you can do this through an Android/Windows Phone/iOS app, but it's still a pain and somewhat non-intuitive.
If you have a powerful notebook, you can also play modern games on it and do some photo/video editing with the Adobe Lightroom 4 or Adobe Premiere Pro CS6.
I could finally install Windows 8 RTM Trial on my MacBook Air (after hours of tweaking and trying) so I may be using my MacBook Air in some sessions (so I can try stuffs immediately on the Windows 8). I do wonder whether I'll notice some eyes staring at me for using an Apple product on a Microsoft event :) I was planning to bring my sister's Dell XPS 13 but it was too heavy (or maybe I already got used to the thinner and lighter MacBook Air). Want a Surface, but hey, it's not out yet.
4) Memory card reader
Since My MacBook Air already has a built-in SD card reader, I don't need to carry a separate memory card reader with me. This depends whether you are going to take some shots with your camera and whether you need to take the photos out of your card. In my case, I do need to take some photos of the event to be published on my upcoming blog posts here.
Alternatively, you can use your phone to take photos and upload them OR if you are bringing a camera with you (either a point-and-shoot or a DSLR), you can also use the
Eye-Fi memory card
to transfer your photos wirelessly to your tablet or computer. This requires you to be connected to a wireless network though.
5) Power boards
Most hotel rooms only give you a few power sockets so it's always a good idea to bring a backup yourself. Preferrably, like mine here, it can also charge devices through USB. As I need to charge my Nokia Lumia 800, iPad 3, MacBook Air, and also a portable battery charger & router, I just need more sockets to charge them with.
You don't need to carry a huge 16-socket-power-board, just something small with a few sockets extras is more than enough.
6) Portable battery charger
Every device is power-hungry no matter how good they are and at some point, you'll start losing battery fast. With TechEd sessions running from morning til night, it's always good to have a portable battery charger handy! It was mentioned that they will be providing battery charging station but I'm sure it'll be crowded with all the geeks trying to get some more juice for their devices too.
A powerful and compact battery charger that I recommend is the
Powertraveler minigorilla
or the PADACS Voyager that I'm reviewing here. They are packed with lots of battery power to charge and they are not bulky to carry. You charge these portable chargers overnight and use them to charge your devices during the day.
A great cable to complement this is the Mozy charging cable I reviewed some time ago. It's short in length, which makes it easy to carry.
7) Portable wireless router
Most hotel rooms provide an internet connection through a wired solution (where you plug your RJ45 network cable to the provided socket on the wall). Though it's good that you can connect your notebook or MacBook to this, what about your other devices like your phones and tablets?
Or what if you are staying with another in the same room? Fighting over a single internet socket does not sound fun at all, doesn't it?
The easiest solution for this is to bring a portable wireless router with you, such as this
D-Link All-in-One Mobile companion
or again, the PADACS Voyager. They work flawlessly and really easy to use once you've set them up. You simply connect the portable wireless router to the internet socket on the wall with the RJ45 network cable and let the magic do the rest (automatically provides a secure & private wireless network for you).
These are some of the gadgets I'm bringing to TechEd 2012 today. Do you have anything to add in this list?