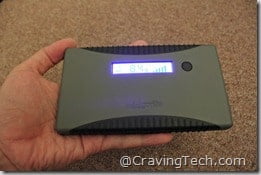 There must have been many occasions where one of your devices ran low of power at the most crucial times. Sometimes it can be your netbook, your digital camera, and most commonly, your phone. Buying and carrying a spare battery definitely helps, but you'd probably end up having to buy many extra batteries for different devices at the same time.
Thanks to the Powertraveller minigorilla, you can completely cross out my last line above.
The minigorilla from Powertraveller is basically a portable charger (rechargeable) that you can carry around to charge many devices such as your digital camera, mobile phones, iPod, PSP, and many others.
Powertraveller minigorilla itself is quite compact and not too bulky to carry around, unlike one of the portable batteries I reviewed before.
It looks pretty sleek especially when you turn it on, thanks to the blue-ish backlighting on the screen. The minigorilla is rechargeable and you can monitor its battery level by looking at the indicators on the LCD screen.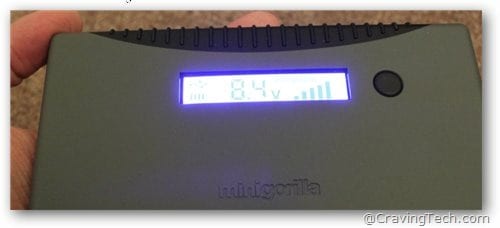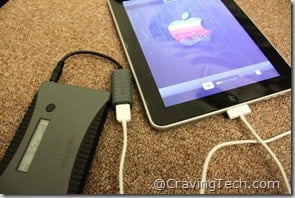 The minigorilla features a range of voltage settings (8.4v, 9.5v, 10.5v, 12v & 19v) and also the standard 5v USB output, so you can basically charge any devices that support USB recharging. For the iPad, however, you need to buy an extra "gorilla-pad connector" to recharge it. This is not the minigorilla's fault because if you try charging your iPad through a computer's USB slot, you'll experience the same issue as the iPad needs more power for a recharge. By the time this review was written, you can get the free iPad connector when you purchase the minigorilla but best is to double check again.
For non USB devices, you need to set the right voltage on the minigorilla so it can be a bit daunting to some people. Thankfully, you don't really need to worry much because it has short-circuit and over-charging protection. Of course, it's best to avoid this so you just need to read on your notebook's battery to find the right voltage required. If you just want to recharge through the USB slot, you don't have to worry about adjusting the voltage at all as the minigorilla will automatically use the 5v for USB.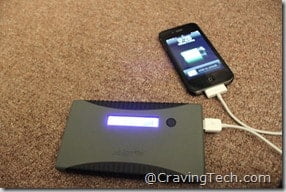 The minigorilla will also shut off when it's not being used for 2 minutes or if the recharging devices are fully charged. According to Powertraveller, the minigorilla has a long storage life; it will only lose 10% of its battery even if it hasn't been used for a year. This is cool because a battery pack often loses its power completely after a week or so.
The specification also mentions that the minigorilla can be fully recharged via its included mains adaptor in 5.5 hours which is still quite reasonable to me. So far it recharges really well and still has some power left on it after quite some time (I tested this on my iPhone 4 and my iPad). The minigorilla gives you between 4-6 hours extra power to your netbook, according to the FAQ page.
Charging a device involves picking the right tip and plugging it into the "out" port. For USB devices, you simply plug the USB cable into the USB slot on the minigorilla. In the packaging, you'll get a variety of tips to support many devices out there. These include:
11 x laptop/netbook tips;
– L01D for ASUS/Compaq/HP
– L51D for ASUS/Winbook
– L52D for ASUS/Compaq/HP
– L53D for   ASUS/Compaq/HP/Gateway/IBM/Lenovo/Fujitsu/NEC/Olivetti/Toshiba
– L54D for Fujitsu/Panasonic/Samsung/Sony
– L55D for Toshiba
– L61D for Dell (power only)
– L72D for HP/LED monitor/Scanner
– L73D for Samsung/Sony
– L74D for HP/ GPS Navigator
– L75D for ASUS/Lenovo/BenQ
9 x mobile and handheld device tips:
– Mini USB
– Micro USB
– Retractable USB cable with DC3.5 x 1.1 (old style Nokia)
– Samsung G600
– LG Chocolate
– DC 2.0 (mini Nokia)
– DC 4.0 for Sony PSP
– Sony-Ericsson K750i
– Nintendo DS Lite
The tips are clearly labeled:
The packaging also comes with a nice and good quality pouch: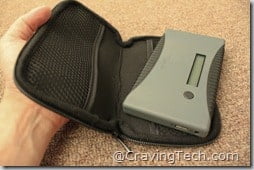 In one occasion, my friend was complaining when her iPhone was very low on power so I gave her my minigorilla that I took out from my bag. She was surprised and told me how handy the minigorilla was and ended up charging her iPhone on it. We all had dinner and she managed to get 20-40% (I forgot how much exactly) extra power on her iPhone. I also carried the minigorilla when I became the best man for one of my friend's wedding a few weeks ago. I had to leave home at 6 a.m and came back at 9 p.m. I thanked minigorilla for being there with me, keeping my iPhone alive throughout the long day.
If you are a frequent traveller or simply having problems with devices that always run out of battery when you need them the most, then you have to seriously consider getting the minigorilla. It's one of the handiest things to have where ever you are and what ever you do. It's also compact in size that you can afford to carry in your long journey.
For laptops, you might want to have a look at powergorilla instead as they require more power. I tried charging my Dell XPS 13 (requires 19.5 volt and I set my minigorilla to 19v) with the minigorilla. Windows 7 said "plugged in but not charging".
Note: Sample unit was provided for the review