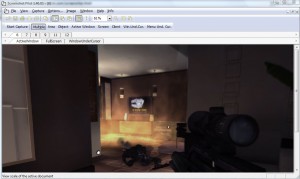 I'm planning to put up a review about Rainbow Six Vegas 2 soon, a game that I'm currently playing. So I was trying to find a way on how to take screenshots in-game. Most of the suggestions I've got from Googling is to use the PrintScreen button! What the.. so you press PrintScreen, Alt-Tab from the game, paste it on your Image editor? That's lame!
During my "treasure hunt", I've finally found a freeware called: Screenshot Pilot!

Some people were suggesting to use FRAPS. It can even record a video of your gameplay! Sounds great? Yup, but the software is not free. You can use it to take screenshots, but your screenshots will have watermarks on them *ugh*.
So, back to Screenshot Pilot! It's totally free to download and totally free to use, and totally easy!
Simply open the application, minimize it, and it will run on the system tray, waiting for you to press its Hotkey (which can be assigned)
You simply press the Hotkey when you are playing, and a screenshot will be taken on the background. You don't even have to Alt-Tab or go out from your game. Keep doing that until you are happy (or until your computer crashes out of memory I guess, lol)
You just have to remember to change this setting before you start taking some screenshots:
All of your screenshots will be presented in tabs, and you can go through each of them by clicking on a tab, easy.
Still using the Print Screen button to take screenshots? Booo… if you have a super computer, then it's okay. If not, prepare for some hard disk trashing sounds when you are Alt-Tabbing from the game back to the desktop :)
Use Screenshot Pilot, to grab those screenshots easily on full screen games or applications.
Some screenshots that I took while playing Rainbow Six Vegas 2 in-game: