Note: This is a guest post written by Yalcin KARACA
The Future Is Here Now In The Sony 4K TV! The days when you used to have to get up out of your comfortable seat on the couch to go and change the channel on your small CRT TV are long gone, as we all know. Television technology has come a long way since then.
Currently today, televisions are large in size, slim and smart. Many feature 3D viewing capabilities and respond to your motions and voice commands through integrated microphones and webcams.
One of the latest and most extraordinary technologies to advance the television screen is 4K resolution. 4K refers to roughly 4,000 pixels of horizontal and 2,000 pixels of vertical resolution giving approximately four times more resolution in the television display than the older 1080 pixel versions. In other words, 4K offers better picture quality and delivers much sharper detail than the conventional full HD televisions.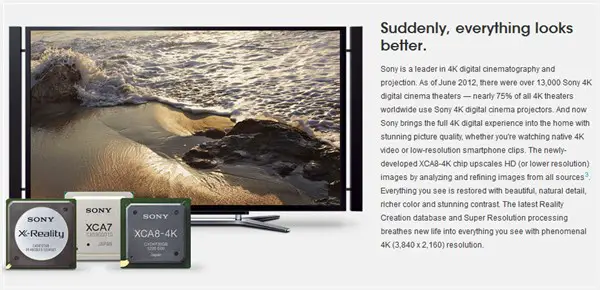 Sony, one of the world's leading consumer electronics companies, announced its first ever 4K TV XBR-84X900 on Wednesday at the IFA Trade Show in Berlin, Germany. This TV has an 84 inch screen which is the largest screen that Sony has produced to date. It also features an edge-lit LCD panel.
Unlike the previous Bravia models, The XBR-84X900 uses passive technology for 3D viewing and includes a complimentary pair of 3D glasses as an added bonus. It also features built in WIFI enabling you to surf on the net and watch videos on YouTube and various online channels provided by Sony Entertainment Network. It also allows you to connect with your friends on social networking sites like Facebook and Twitter and go where ever you usually go on your computer while on line.
Another remarkable feature that comes with this ground breaking TV are the long vertical speakers located on each side of the device. Sony says this "10 unit live speaker system" produces 5.1 surround sound.
The XBR-84X900 is expected to be available in stores towards the end of 2012. Sony hasn't announced the price for this TV set yet, but it is estimated by some to be priced in the $25,000 to $30,000 range.
Note: This guest post was written by Yalcin KARACA, a part time blogger who is interested in technology and electronic devices. He writes on various types of HDTVs on his website.