X-Cam SIGHT 2 Review – Search for X-Cam SIGHT 2 and you'll see many glowing reviews of this handy, cheap-for-its-category gadget.
X-Cam SIGHT 2 is a portable, gimbal-based smartphone stabiliser for your smartphone to take better photos and videos. It gives you the stability most would need especially when recording videos with just a smartphone and your (hopefully) steady hands.
Due to the slimness of smartphones these days, it is actually harder to make it steadier when you record a video, especially if you have to hold it with just one hand. As a result, you'll often get shaky video clips especially if you have to walk around while recording continuously.
X-Cam SIGHT 2 comes with a multi-angle intelligent 2-axis stabilisation system (more expensive gimbals usually have 3-axis) and an internal, rechargeable battery that will last for several hours.
Setting it up is pretty simple, though you may need to re-adjust your smartphone a couple of times to ensure it's at the center of gravity. I find that I do not need to use the allen wrench key to tweak the gravity adjustment, but your experience may vary.
It supports up to 5.5″ smartphone, including my iPhone 7 Plus and ZTE AXON 7 that I used to test and review the X-Cam SIGHT 2. The gimbal will auto shut itself off if you don't place your phone at the center, a safety mechanism to make sure you don't damage it. I didn't know this at first and thought that the gimbal was broken (and some would probably think the same way) – but there's a reason why you should always refer to the manuals/quick guide when something goes wrong.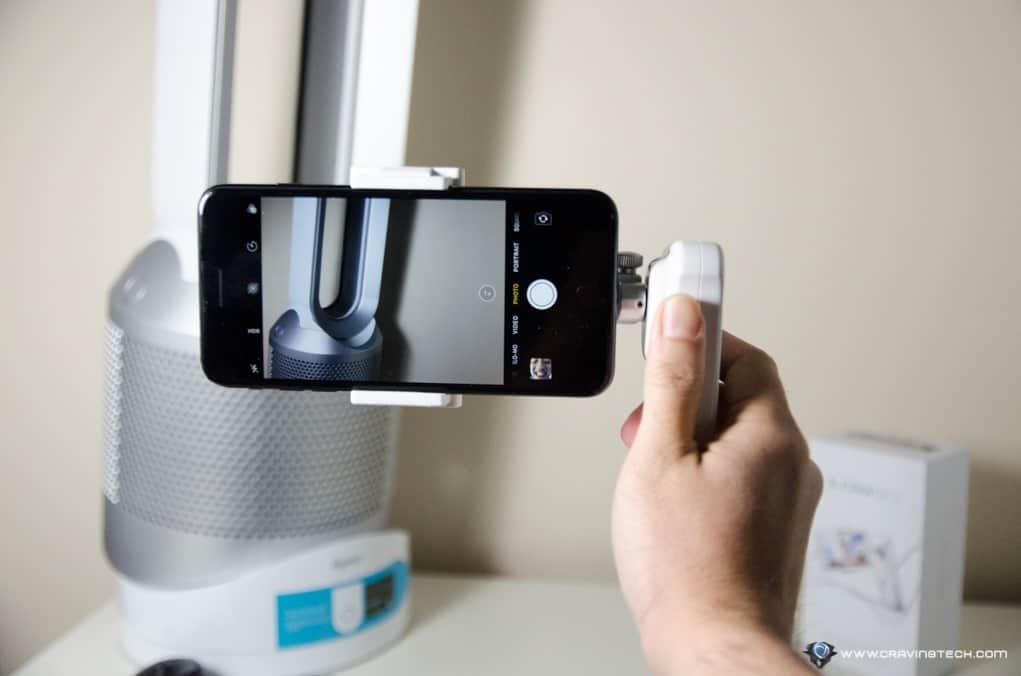 After turning the X-Cam SIGHT 2 on, it will start to do its magic by keeping your smartphone steady. Connect it via Bluetooth to your phone and you can then use one of the buttons to start and stop capturing photos/videos. The tilt knob also works well though I find it hard to get a smooth, smaller tilt. The power switch is also stiff to press, but it's probably for the better to avoid any accidental presses while the gimbal is inside your bag or pocket.
Thanks to the quite compact design, I could actually fit the X-Cam SIGHT 2 inside my jacket's pocket. I brought it a few times outside to give the gadget a whirl. It's also not that heavy to wield, so a little kid should be able to have some fun too with it.
I find that the X-Cam SIGHT 2 will work much better if your smartphone does not already have an OIS (Optical Image Stabilisation) built in. The iPhone 7/7 Plus has an OIS hardware mechanism that reduces motion and hand shakes and like many stabilisers out there, and both don't normally work well in tandem.
Just using iPhone 7 Plus without the X-Cam SIGHT 2:
As you can see here, having an OIS phone + the X-Cam SIGHT 2 may introduce warps in the clips:
Though somehow it works great in this shot:
But I could definitely see the difference when I used my ZTE AXON 7 (a smartphone without built-in OIS) to record videos with and without the X-Cam SIGHT 2. If you have shaky hands, you'll also find that you will get much better results this time with the help of the X-Cam SIGHT 2.
X-Cam SIGHT 2 is definitely a cool gadget to have around if you like taking photos or videos of your holidays, as it really helps to stabilise your shots. Note that it's definitely not for the professional level (materials wise, 2-axis stabilisation limitation) – for that, you'll have to spend 4-6 times more.
X-Cam SIGHT 2 can be bought at banggood.com for around $58 AUD by the time this review is written, which is one of the cheapest, popular smartphone gimbals you can ever find around. For the price, you probably won't find anything better out there.
Disclosure: Sample was supplied for reviewing but all opinions are mine and not paid