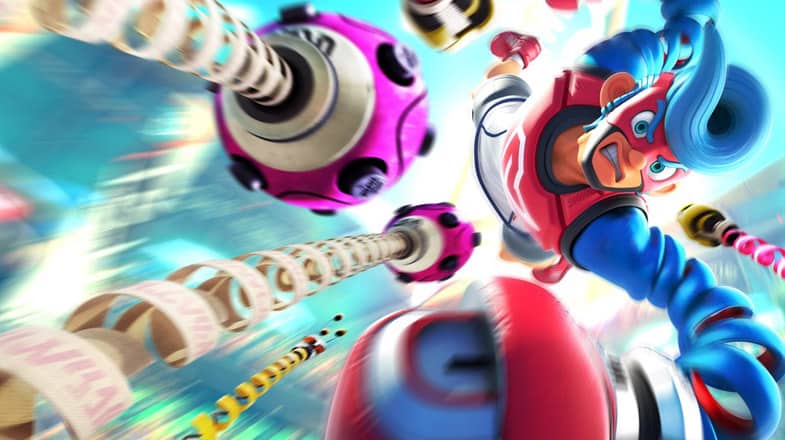 Nintendo ARMS Review – Nintendo Switch console (check out our Nintendo Switch Review) may not have lots of AAA games just yet, but it's certainly catching up. In a more recent release, Nintendo has launched another great title for us to play and have a blast upon – ARMS.
ARMS for Nintendo Switch is a fighting game that supports up to 4 players in a frantic battle, in an unconventional way. The fighters (that you can pick from the 10 available fighters pool) actually have these twisted, spiral-looking arms that can extend when punches are being thrown which brings new ways to play a fighting game.
As a result, it makes a rather unusual, yet interesting gameplay that differs itself from the rest of the standard fighting games out there. And since each fighter can also equip different arms and have their own special attribute, each match can be as frantic as it could be.
There are different ways to play ARMS, which supports the Joy-Con controllers and also the Pro Controller. I find that the most exciting and fun way to play ARMS is simply to use the Joy-Con Controller in each hand.
By moving your Joy-Con forward (a punching motion), your controlled fighter will start punching left or right – following your movement. Blocking, jumping, dashing, and leashing out a combo will use both motion and button presses so it will take some time to practice and master. They feel quite natural, however, though can be tricky to perform as soon as the battle starts.
If you are feeling lazy or have more people to play, you can use the controllers traditionally without having to swing your controllers around.
But where's the fun in playing that way, right? I don't know how many times I've laughed watching friends who were playing ARMS for the first few times – trying to punch frantically so closely in front of the TV.
It's what I like about ARMS, actually. Punching endlessly will not bring you anywhere, because the extended arm requires some time to retract back and blocking a punch or a grab will stagger your opponent. But even knowing this, the newest of newest of players will still frantically throw punches non stop to bring the other opponents down.
After a while, the game does get more interesting. The more you understand how to eventually lay back and use more dashing, jumping, blocking, and utilising each character's trait, the game gets better and better.
However, unlike other fighting games like Tekken that opens up more serious fights after you master your character's abilities and combos, ARMS will not have that. Sure, you can unlock more and more arms in game and try different things with your left and right arms, but the thrills and addictive elements will die down at some point. I still find nothing can beat the addicting element of Mario Kart Deluxe 8, though it's not really ARMS' fault. It's just that you know, IT IS Mario Kart we're talking about here.
ARMS is a new IP from Nintendo that has potentials with different, unique mechanics. Its simplicity, yet challenging to master definitely brings something new and fun to the party. It should be in your list of Nintendo Switch games to have, especially because it has few different modes of play and also an online Ranked Mode!
ARMS is available for purchase at major retailers in Australia like EB Games, Big W, etc and also available at Nintendo eShop from your Switch console.
Disclosure: Review code was supplied for reviewing but all opinions are mine and not paid