Dell XPS 13 (2018) Review – I reviewed a gaming laptop from Dell last year, which is the Dell Inspiron 15 and it's a good, budget laptop to cater the gaming consumers. Dell, as you may know, is one of the big players in the computer manufacturing industry who offers comprehensive range of laptop and desktop covering every consumer and business needs.
This year, Dell has released the latest premium laptop line: Dell XPS 13 with model number 9370. In my review, I'll share the things I like and dislike about the laptop after around three weeks of use.
Dell XPS 13 (2018) Review – Things I like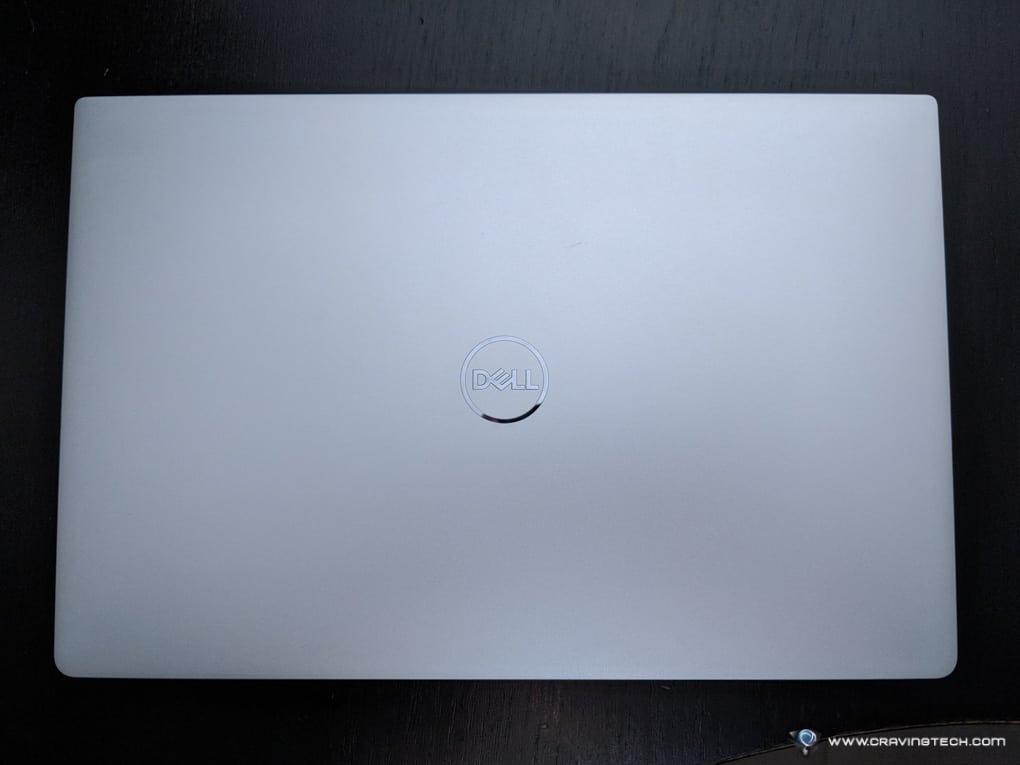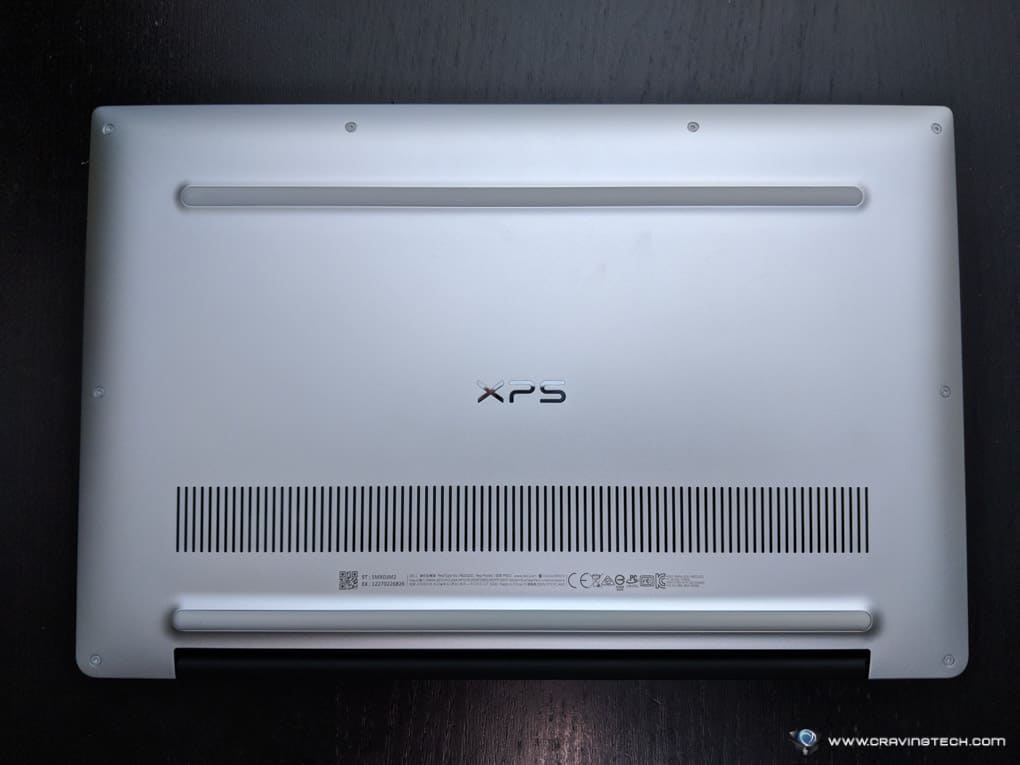 At first glance, it's covered by solid aluminium material on the top and bottom surface. Opening the laptop lid requires two handed operation: one to hold the laptop base and another to open the laptop lid. Yes, the laptop lid mechanism is stiff but at the same time, this enforces stability when I use the laptop display as a touch screen. I find no flex on the laptop lid because of this, which is excellent. Overall, the Dell XPS 13 is a solid build.
Things I like instantly from the Dell XPS 13 is the IPS panel display a.k.a InfinityEdge display.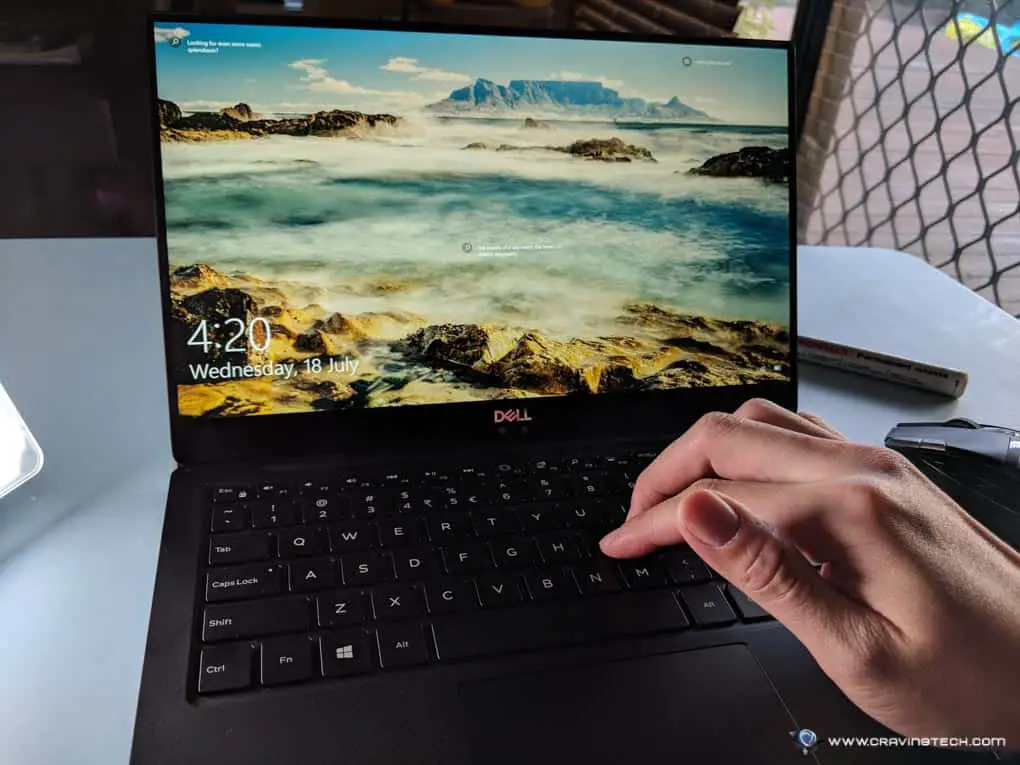 The laptop comes with a thin bezel display with the exception at the bottom part of the display where Dell's logo, camera, and sensors are located. The display itself has a very nice colour and good brightness viewed indoor.
On specs, the display has 100% sRGB color and 400 nits brightness, 100 nits less than MacBook Pro for a quick comparison. I also like the experience of using the included touch screen on the display. It's a good alternative to the touch pad for quick tasks such as dismissing a Windows 10 notification.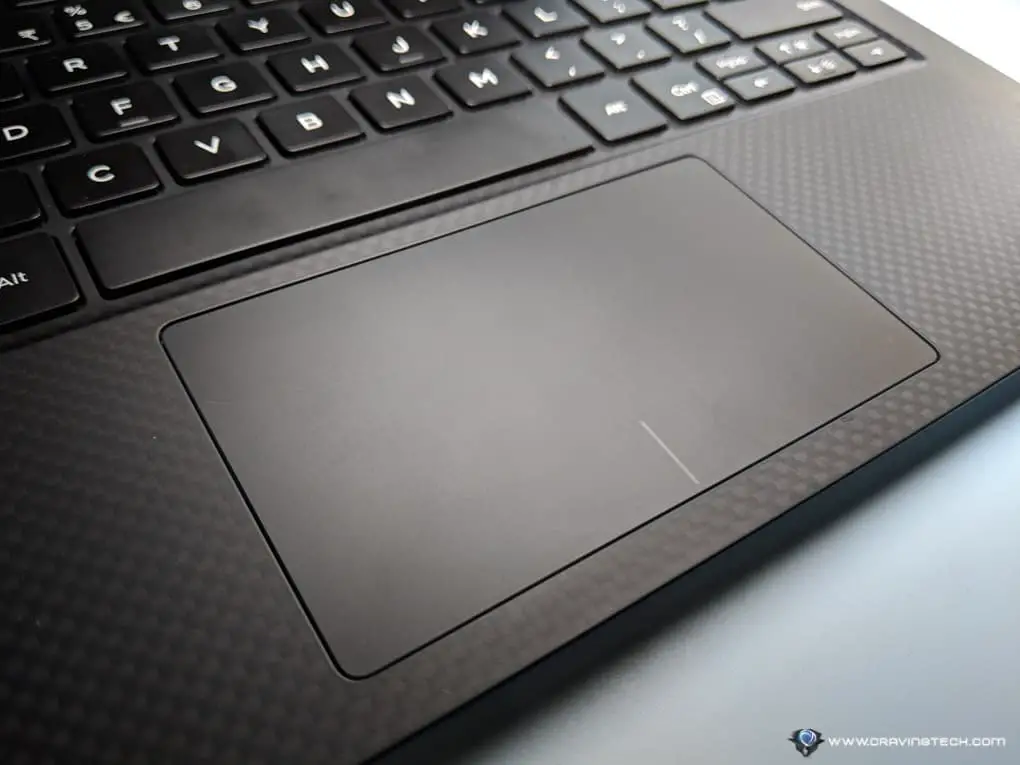 It feels a little weird at first to use these combinations of interactions but I did get used to it pretty quick. Just in case you swear not to ever use a touch screen display on a laptop, Dell has included a configuration option to turn touch interactivity off.
The type of glass used for the touch screen is Gorilla Glass 4 which won't scratch easily. Thanks to the thin bezel, Dell XPS 13 is the smallest 13" (30.2 x 19.9 cm) laptop, though not necessarily the thinnest laptop if you take the rubber feet into account. However, Dell XPS 13 is definitely a travel-friendly laptop and easy-to-pack inside my backpack.
Now, the geeky stuff.
The brainpower behind the Dell XPS 13 are the 8th Generation Intel® Core™ i7-8550U Quad-core processor, 16GB RAM, and a PCIe NVMe SSD storage which delivers an excellent I/O performance to date. It's a truly enjoyable experience using the Dell XPS 13 for my programming and photo editing needs, thanks to that CPU and I/O speed. A small video editing project could be done with 1080p sources and output. Dell XPS 13 uses the Intel Graphics 620 chip onboard.
I personally prefer to edit my videos on a hardware that has a discrete graphic card (GPU) built-in. However, the good news is that theDell XPS 13 9370 now comes with two Thunderbolt 3 ports that have access to four PCIe lanes (Dell's previous generation,  XPS 13 9360, only has two lanes). This means that you can buy a third-party external GPU (eGPU) such as the Alienware Graphics Amplifier or Razor Core and plug it in. This way, you can get the benefit of a discrete graphic card on the small footprint Dell XPS 13.
Typing experience on the Dell XPS 13 is easy and likeable. The keys are quiet with a short travelling distance from one to the other, have a good typing feedback and backlit. The Touchpad comes with Windows precision driver with a relatively good size and very responsive. hree USB type C ports are present. In fact, only USB type C ports exist in Dell XPS 13. Two USB type C also acts as Thunderbolt 3 ports I mentioned previously, and the other port acts as a charging port and DisplayPort to connect an external monitor.
Charging Dell XPS 13 can be done through a USB type C cable. The Laptop charger is compact and travel-friendly.
The laptop palm rest is soft and has a visual look of a carbon fibre finish. Aesthetically, Dell XPS 13 doesn't disappoint. My review model here comes in Black colour with Silver Aluminium and it's still my preferable colour over the White.
Some cool techs are baked in the Dell XPS 13 to match smartphone's capability. The laptop supports Windows Hello through a finger scanner that also acts as the power button. Infrared cameras are placed next to the webcam and used by Windows Hello to log you in with your face. Well done.
Dell XPS 13 (2018) Review – What I didn't like
The speakers' audio is just okay, nothing special. The speaker grills are located on both sides of the Dell XPS 13. I find that the speaker on one side is actually louder than the other one.
Dell comes unfortunately with bloatwares, especially McAfee software which I don't like. To be honest, not all pre-installed applications here are necessarily bad. I actually find one or two Dell's own pre-installed applications which are quite handy. The first one is to contact Dell's technical support and the other is an interesting app called Dell Mobile Connect that integrates the Dell XPS 13 to your smartphone (to access text messages, make or take calls, and get mobile notifications). It does sound like what Apple has done with their MacBook and iPhone, but this is on Windows.
The one real deal breaker for me to buy a Dell XPS 13 is the microSD card slot. I wish Dell places a full-size SD card slot instead, which is standard for content creator devices like cameras and sound recorders. Besides, you can always use a microSD to SD adapter but not the other way around.
I already have to carry an adapter from USB Type-A to USB Type-C, so I'm quite reluctant having to carry another USB card reader to read my SD memory cards. Seriously, Dell, please put a full-sized SD reader slot on your laptops.
I'm not particularly keen on the positioning of Dell XPS 13 webcam as well. It's positioned at the bottom of the display, with the angle of lens looking through my nose nostril. It's not really pleasant to look at from the other end.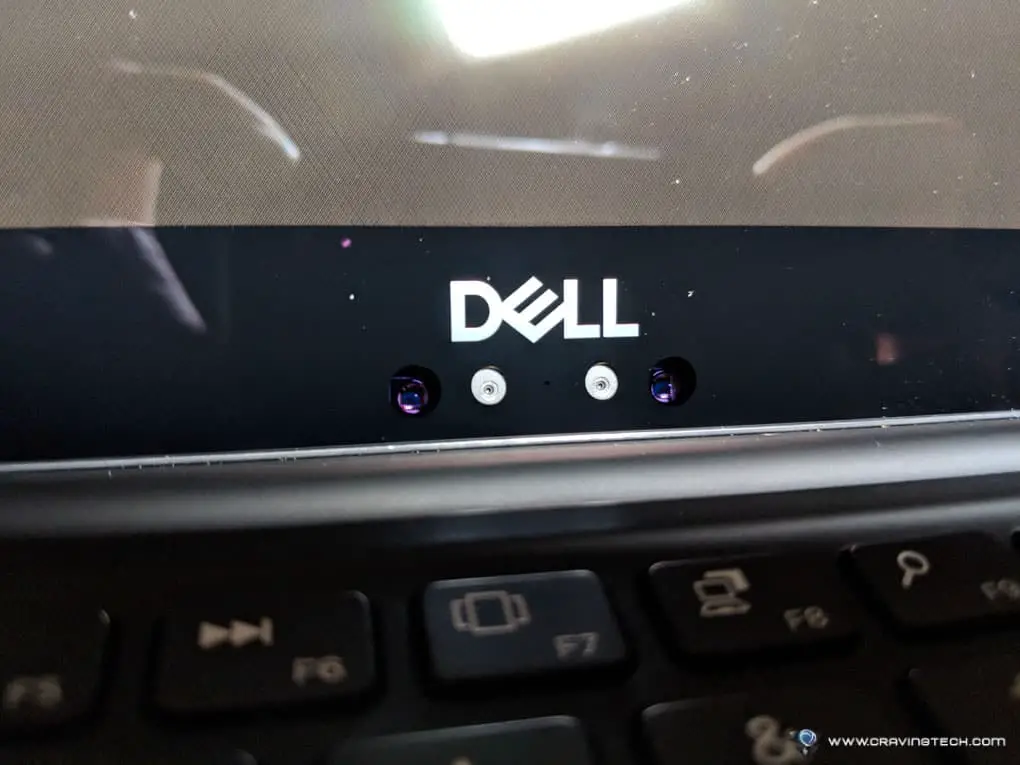 Dell XPS 13 (2018) Review – Who is this for?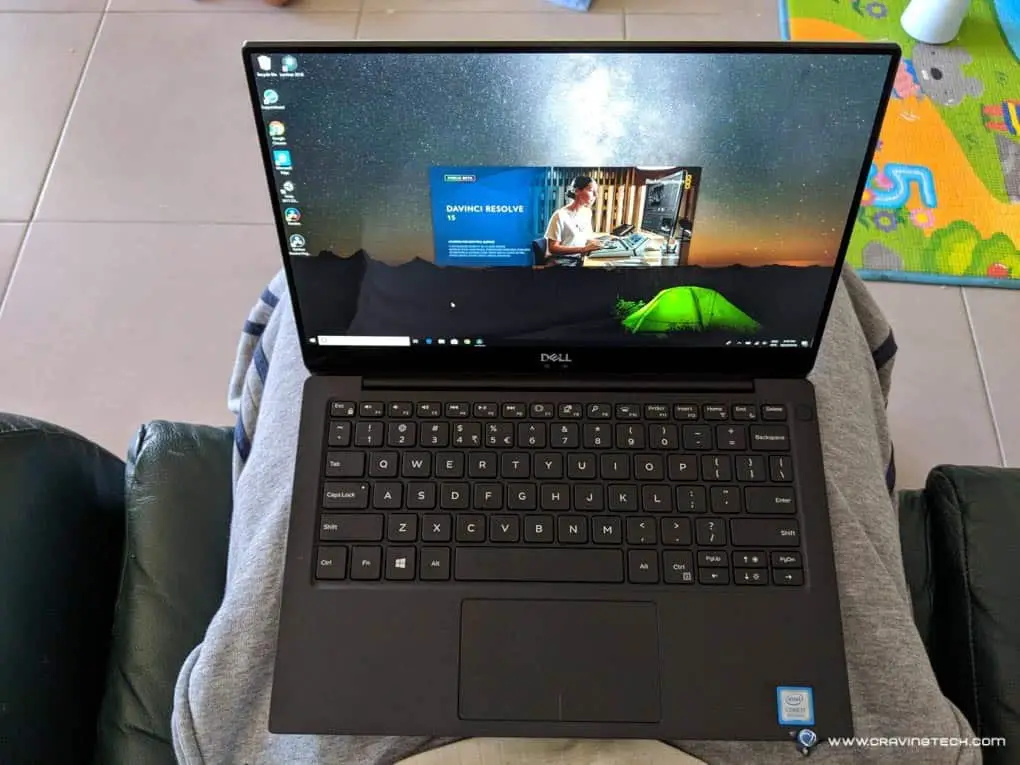 Dell XPS 13 9370 (2018) is definitely made for 'productive' people on the move. It has a long battery life, top quality keyboard with responsive touchpad, weighs only 1.21kg and has a very gorgeous display.
A Full HD and 4K display options are available, although the 4K display that comes with my review unit looks much better compared to my own Full HD laptop. Dell claims the battery life on Full HD model can reach up to 19 hours of usage whereas the 4K display can easily reach up to 7 or 8 hours depending on the workload. I like the fact that I don't need to bring a charger for an everyday use.
Content creators, however, may be disappointed due to that full SD card slot absence and will have to carry an extra USB dongle/card-reader to read their cards.
The Dell XPS 13 (2018) starts with A$2,099 and maxed out specs is priced at A$2,899.