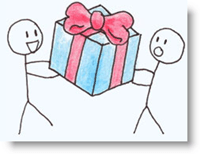 I've been trying to find some good backup programs/services that can synchronize files and folders between computers. This way, I don't need to email myself a file whenever I want to access the file on a different computer. If the file is too big, I usually FTP it to my web host account.
So I tried Windows Live Mesh, Wua.la, and other free files synchronizing services but none of them make me happier than Dropbox. It's free, it's easy, and it just works!

With Dropbox, you simply install its application in every computer that you want to keep synchronized. It will create a folder to monitor on the local hard drive (you can specify the folder name and location). The program then sits in the background, monitoring the contents of this folder.

Whenever you create a new file/folder inside it or whenever you modify a file, the Dropbox program will update it to its online repository. The same program on a different computer will automatically update any changes on the online repository to its local copy. All files and folders are automatically synchronized in the background. This way, you just work as normally you would and the synchronization will happen in the background automatically.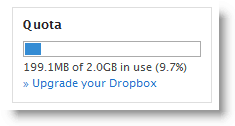 After you register for free at Dropbox, you will be given a quota of 2 GB. You can get more by either upgrading to the premium account or by referring people to join Dropbox (which is what I'm doing to you at the moment :)). You and your referred friend will both get an extra 250 MB (up to 3 GB only).
Even if you are too lazy doing it, 2 GB is quite a lot. Since you won't probably be storing your highly confidential documents or your whole mp3 collections online, then 2 GB is probably more than enough for you. Don't be fooled though, all data is transferred via the application over SSL (a secure connection) and encrypted with AES-256 (a secure and hard to crack algorithm, if you wonder what it is).
I used Dropbox to automatically synchronize my logo design drafts a couple of months ago. It gave me access to my files anywhere and anytime I want. It worked flawlessly in the background and I felt better knowing that the files and folders are synchronized all the time and always kept up to date.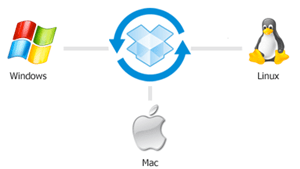 With Dropbox, you can store, synchronize, but also share your files. Of course, since many web services can do this already, it may or may not suit your interest. But the main reason I like Dropbox is because of its flawless synchronization in the background. Any other features come as a bonus to me.
You can also download & upload your files through the web interface. So if you are on a friend's computer and don't want to install the application, you can login to your account via getdropbox.com. Once you upload a file to your account, all computers that have the Dropbox program running will automatically add the file locally.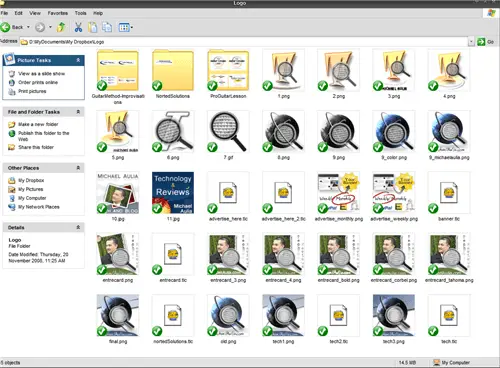 On your Dropbox account online, you can check your quota, your files, your folders, and also the recent events (what files/folders get updated/created and when did it happen).
So far, Dropbox is the only free service that I'm very satisfied with to keep my files and folders synchronized between computers. It's better & easier to use than Windows Live Mesh. In fact, you don't even need to "use" it. It runs seamlessly on the background and you don't even need to know what it's doing!
If you are looking for the easiest solution in synchronizing files and folders, look no further than Dropbox! This will also make sure that your assignments, homework, or documents are backed up properly and automatically. Give it a try and I'm sure you'll love it. Simply click this cute pic below if you want to register and give Dropbox a try. And ahem, we'll both get an extra 250 MB :)

And don't forget to share this post to your friends who need a service like Dropbox!