In just a few days, Facebook users will be able to buy and sell items easily through Facebook mobile app (both iOS and Android).
There are already lots of Facebook groups designed for buying and selling with more than 450 million people in them. Though Facebook is no Gumtree or eBay, it's a community that has millions and millions of people in it so it's natural to be a popular place to post an ad to.
To help this further, Facebook has decided to offer an official platform where Facebook users can easily post the stuffs they want to sell and for prospective buyers to contact them. The feature is called Facebook Marketplace.
A new icon should be available when it's rolled out officially within days: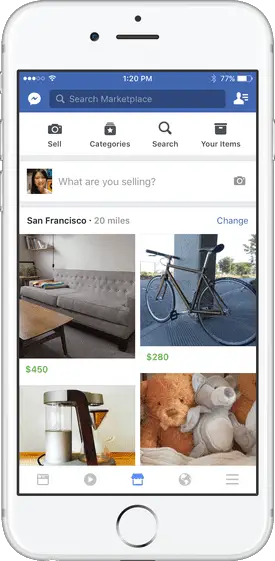 The Marketplace will automatically search and display all items for sale near your location, which is quite handy. You can of course find something more specific using the search filter option, but nothing is more exciting then browsing for stuffs to sale nearby that you may like.
You'll then go into more details of an item to see the seller, price, description, and the location.
The Marketplace does not handle transactions like what eBay does, but more like providing a platform where buyers can then contact the sellers through messaging system in Marketplace and set up a meet (more like Gumtree).
Marketplace will be rolling out to Facebook users over 18 years old in the US, UK, Australia, and New Zealand. At the moment, it will be rolled out to iOS and Android devices, but the desktop version is scheduled to release in the coming months.
Source: Facebook Newsroom