Navman MiVUE 680 Review (Dash Cam) – Reckless drivers, ignorant drivers, you name them. There are times where you just see drivers who don't pay attention to the road and its laws, and even getting into an accident with one.
I'm grateful that I haven't been involved in one, but the number of times I shook my head or at the edge of swearing were unaccounted for. With all these shiny devices wanting our attention or a Pokemon Go monster waiting to be captured, it's time to install a good dash cam in-car as an insurance.
Why, you asked? Because the dash cam can be the best insurance policy you may ever have when an accident happens. It's usually your words against theirs (especially if there are no witnesses around) but when a good dash cam captures when accident happens, there really is no where to hide. Your insurance company will thank you for making their job easier too.
Navman MiVUE 680 (also the MiVUE 690 and MiVUE 698) is Navman's new dash cam which offers constant recording of what's happening on the road while you drive, so the clips will always be ready as evidence should something bad happens. The one I have to review here is the MiVUE 680, but the other models have similar features. MiVUE 690 supports an extra storage card and ADAS Safety features (Lane Departure Alert, Front Collision Alert, and Front Departure Warning) and MiVUE 698 also adds an extra rear camera to install inside your car on top of the 690's features.
Navman MiVUE 680 Review – Packaging
Navman MiVUE 680 Review – Installation
The Navman MiVUE 680 is actually smaller than I thought it'd be, which makes it great to install because you can conceal it nicely behind the rear-view mirror. Thanks to this, I don't see the need to detach it from my windscreen every time I park and leave my car. The 2.7″ screen does not have a great viewing angle though, but you do not need a dash cam with an IPS display.
Simple cable management solution is included within the packaging and I managed to conceal the wires nicely inside the car. All in all, installation is very easy and I can get it as tidy as possible thanks to the rather lengthy cable.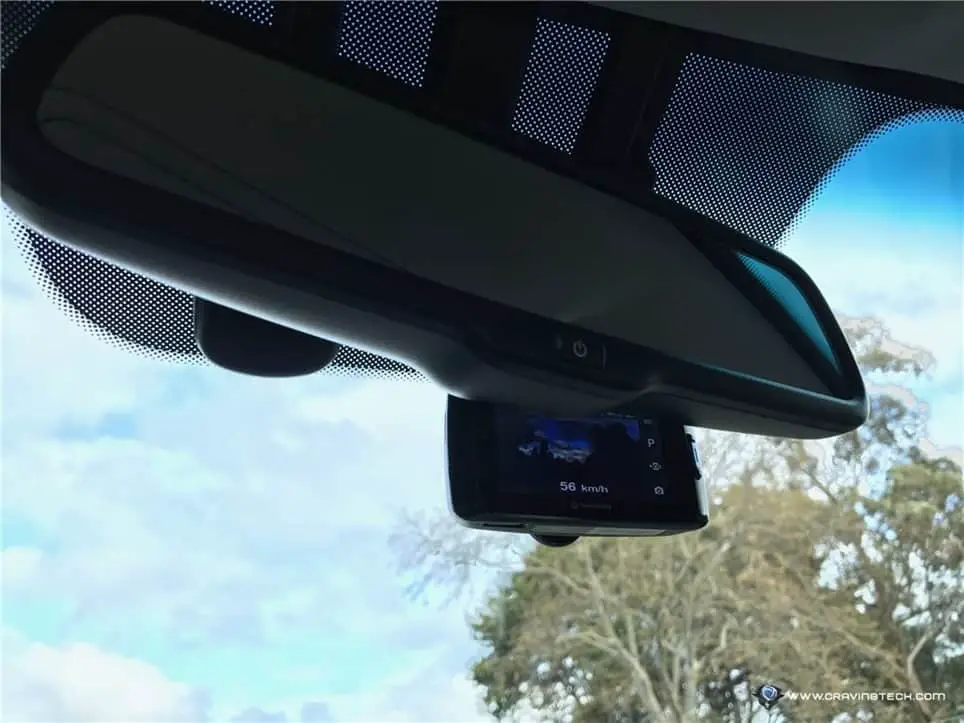 No microSD is included with the purchase so you do need to purchase it elsewhere before using it. Navman MiVUE 680 can support up to 128GB of Class 10 microSD or higher.
Navman MiVUE 680 Review – Features
Navman MiVUE 680 does not just capture what's happening continuously, but also records in high quality with its wide angle lens. With the support of recording in 2K (1296p) that is higher than the usual 720p or even 1080p quality, the video is crystal clear even when you watch it on a bigger screen.
It does not just capture what's happening in front, but also the speed you are driving at and the current GPS location (handy as evidence).
Here are some of my Navman MiVUE 680 Sample Recording Clips, recorded on Australian roads:
Sample 2 (on a different day):
Even in low light (night driving), the camera still managed to capture nicely without too much image noise. Being able to read the plate numbers can be challenging at a certain distance, but you can clearly see what's going on inside the clip at all times.
Navman MiVUE 680 Sample Recording Clip (Night Driving):
If you want to, it can also record sound (can be turned off in Settings – which I did). When the 3-Axis G-Shock Sensor senses an impact, hard brake, or sudden changes in movement, it automatically locks the recording and saves it under a separate "Event" folder. You can also tweak the sensor sensitivity levels (from 1-6) to make it less sensitive.
A 3-minute clip in 2K resolution (2304 x 1296) is about 280-450MB (I'm not sure why the files differ in sizes):
Other features worth mentioning:
Parking mode
While you park, you can set the camera to automatically record when it detects a movement (a car might be reversing, hit your bumper, and run away – which happens quite often). This obviously depends on how much battery it has left since you turn the car off. You can also set it so that it only records upon a specific detection method (Only G-Sensor, Only Motion, or Both). I assume if I only want it to record if something hits my car, then I'd choose the "Only G-Sensor" to save battery. There is also a setting to change the G-Sensor Sensitivity for this Parking mode.
Here is a clip that the MiVUE 680 recorded while I was not in the car (car's engine turned off) because it detected motion:
Camera mode
You can also press the Camera button to take a photo. I don't really find this useful since a video speaks more than a photo, but it's good to have this feature built-in.
Manual Event Recording
Press the "Event" button on the device if you want to set the current recording to be an "Event" recording. This will make the device treats it as an Event and allocates the clips separately from the continuous recording clips.
Storage Allocation
You can allocate the storage limit for different recording types (such as continuous recording, event, photo, and parking mode). This will come in handy for smaller capacity storage card because the device always overwrites older clips while it records a new one.
Safety Camera Alerts

An incoming Safety Camera alert will sound (unless if you set it to Mute) and the display will change to show how far you are from the camera (in visual blocks) and the current road's speed limit. You can also add one manually, but who has the time for that, right?
Navman MiVUE 680 Review – Conclusion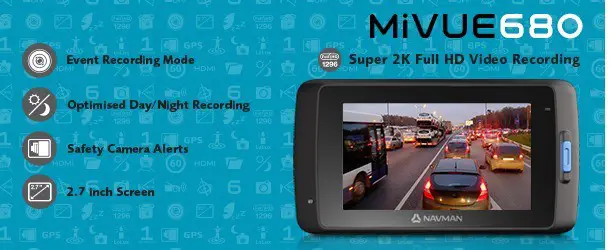 Navman MiVUE 680 is an excellent performing dash cam that can be concealed nicely behind the rear-view mirror, takes high-quality day and night recordings, and doesn't require baby sitting once installed. It automatically detects incidents (or close ones) while you drive thanks to the 3-Axis G-Sensor and then saves the clip separately. It can even detect when something happens while you are away from the car.
With plenty of customisations (such as sensitivity levels of the sensor and storage allocation), it's clear that the team has really think this through and offers flexibilities to each MiVUE 680 owner.
Navman MiVUE 680 is a product of a really well-thought design process and you can see it from the quality of the unit and the clips it records.
Should you buy the MiVUE 680, 690, or 698? It depends on your needs. I'm happy with the 680 so far because I can't be bothered setting up a rear cam and I don't really need the extra alerts (like the Front Collision or Departure warning). The dual-card support in 690 is a nice bonus, but you can always get a 128GB microSD and fits it inside a 680. The 680 looks like the "Basic" version compared to the two, but I find that it has everything I need in a dash cam.
Navman MiVUE 680 Dash Cam can be bought at Australian retail stores like Harvey Norman and JB Hi-Fi.
Disclosure: Sample was supplied for reviewing by Navman Australia but all opinions are mine and not paid