SANDMARC Ring Light – Wireless Edition Review – Most ring lights on the market, including the ones I have at home, come with cables, which can limit where you can use them. Moving them to your desired position can be cumbersome, and using them in remote locations often requires a portable power station like the Ecoflow DELTA 2 or BLUETTI AC60 portable power station
And there are times when you need to shoot something on the go or in a low-lit situation on your phone. However, SANDMARC's Wireless Edition Ring Light solves these issues, offering a versatile solution for on-the-go and low-lit scenarios.
SANDMARC Ring Light Wireless Review – Unboxing and Packaging Contents
A travel case, along with charging cable + adapter is included in the packaging.
SANDMARC Ring Light Wireless Review – Design and Features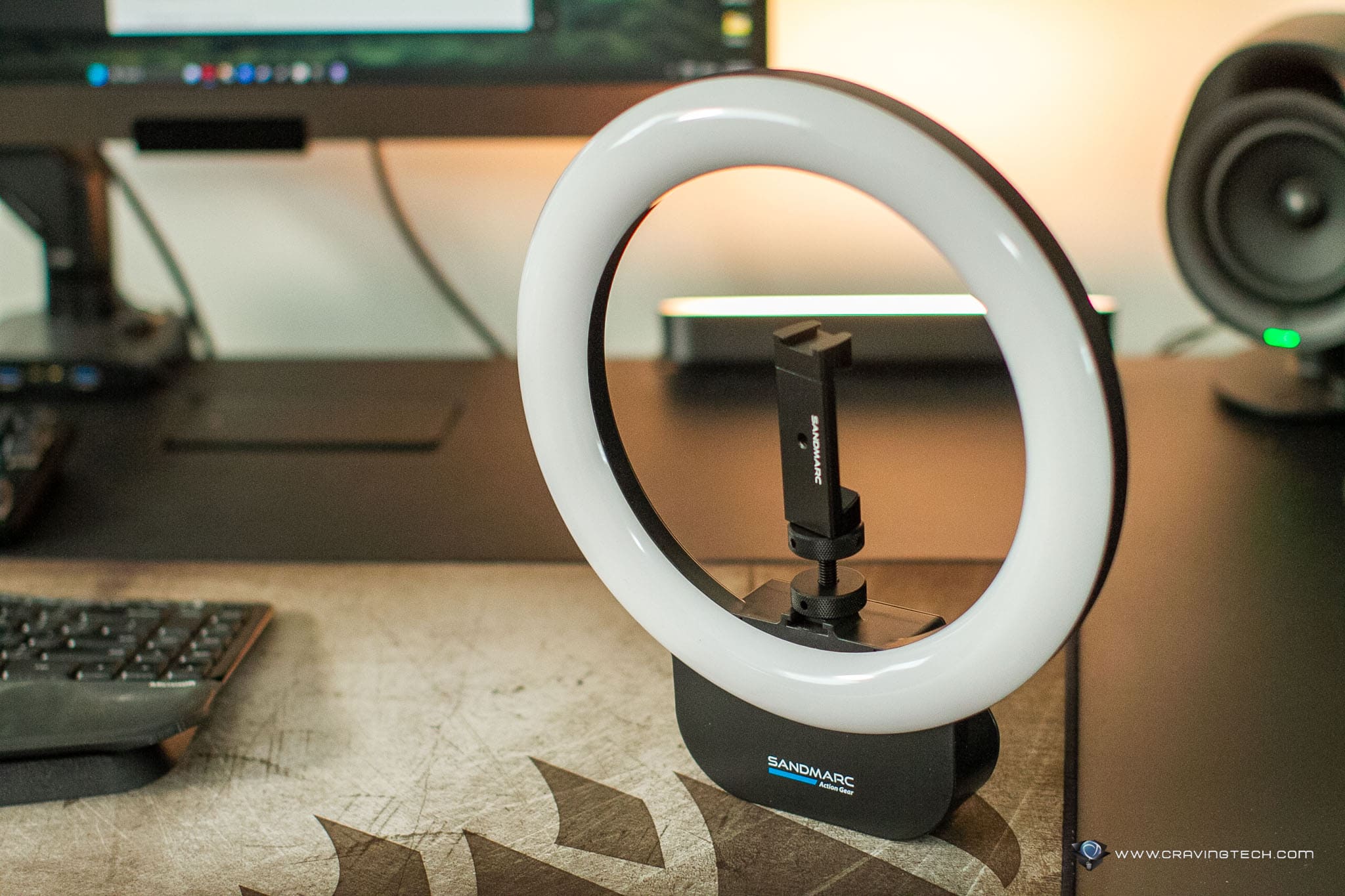 The SANDMARC Ring Light – Wireless Edition is a portable, cable-free ring light that you can use just about anywhere, tripod or no tripod. It comes with a built-in battery that's rechargeable via USB-C. While a USB-C cable is included, the light is compatible with any USB-C cable and chargers you might already have. I've been charging the device through my home power board equipped with USB ports.
As for the light itself, it's highly customisable thanks to physical buttons located at the bottom of the unit. These buttons include Power, Mode (to switch between adjusting colour temperature and brightness), Increase, and Decrease. Operating it is simple and doesn't require a manual.
The light offers a colour temperature range from 3000K (Warm) to 6500K (Cool), allowing you to instantly adjust the settings to suit your environment or creative vision. An LCD screen displays the current colour temperature, brightness, and battery life.
Being portable and using battery power, there is definitely limitation on how bright you want the light to be. So, you do need to be close to the subject most of the time with this light.
SANDMARC Ring Light Wireless Review – Practical Use and Limitations
This ring light is perfect for shooting photos and videos with your phone, thanks to an included phone holder situated right in the middle of the ring. This setup provides even and essential lighting for your captures. It's also suitable for vloggers, as you can switch your phone's position from front to back. However, the holder does not allow for portrait mode, limiting its utility for TikTok or Instagram Reels content creators.
If you have a tripod, you can fine-tune your distance from the subject—ideal for product photography, a frequent activity for me at Craving Tech. The brightness is adjustable, so you can get that perfect shot whether you're using a smartphone or a DSLR camera. If you already have a proper lighting setup at home, the SANDMARC Ring Light Wireless serves as a great supplementary light source for eliminating shadows from different angles.
SANDMARC Ring Light Wireless Review – Examples and Additional Use-Cases
I tested the light by taking a photo without and then with it. The image quality, particularly of the CORSAIR KATAR ELITE Wireless gaming mouse, improved with the additional lighting. You can clearly see the small writing on the left side of the mouse.
For those without a tripod, the ring light is still very usable. Simply hold it (though a bit clunky) while using your phone's camera. Alternatively, if you participate in a lot of video conferencing or create content using your PC's webcam, placing the SANDMARC Ring Light Wireless on your desk will light up your face effectively. The design of the light allows it to be placed on the desk directly.
And if you're interested, it also functions well as a portable vanity or makeup light.
SANDMARC Ring Light Wireless Review Conclusion
In summary, the SANDMARC Ring Light – Wireless Edition stands out as a versatile, user-friendly lighting solution that addresses many of the limitations of traditional, cable-bound ring lights. With its portability, customisability, and range of features, it offers a welcome alternative for photographers, vloggers, and content creators who need flexible lighting on the go. While it may not be ideal for those focused on creating content in portrait mode for platforms like TikTok or Instagram Reels, its utility across various other scenarios makes it a valuable addition to any creator's toolkit.
Whether you're capturing product shots, enhancing your video conferencing experience, or even applying makeup, this wireless ring light offers a quality and flexibility that's hard to beat. If you already have an established lighting setup, the SANDMARC Ring Light – Wireless Edition makes for a great supplemental light source.
SANDMARC Ring Light – Wireless Edition retails for US$99.99 (standalone) but you can also get it with an optional tripod. You can purchase it on SANDMARC official product page.
Disclosure: SANDMARC Ring Light – Wireless Edition review sample was supplied for reviewing