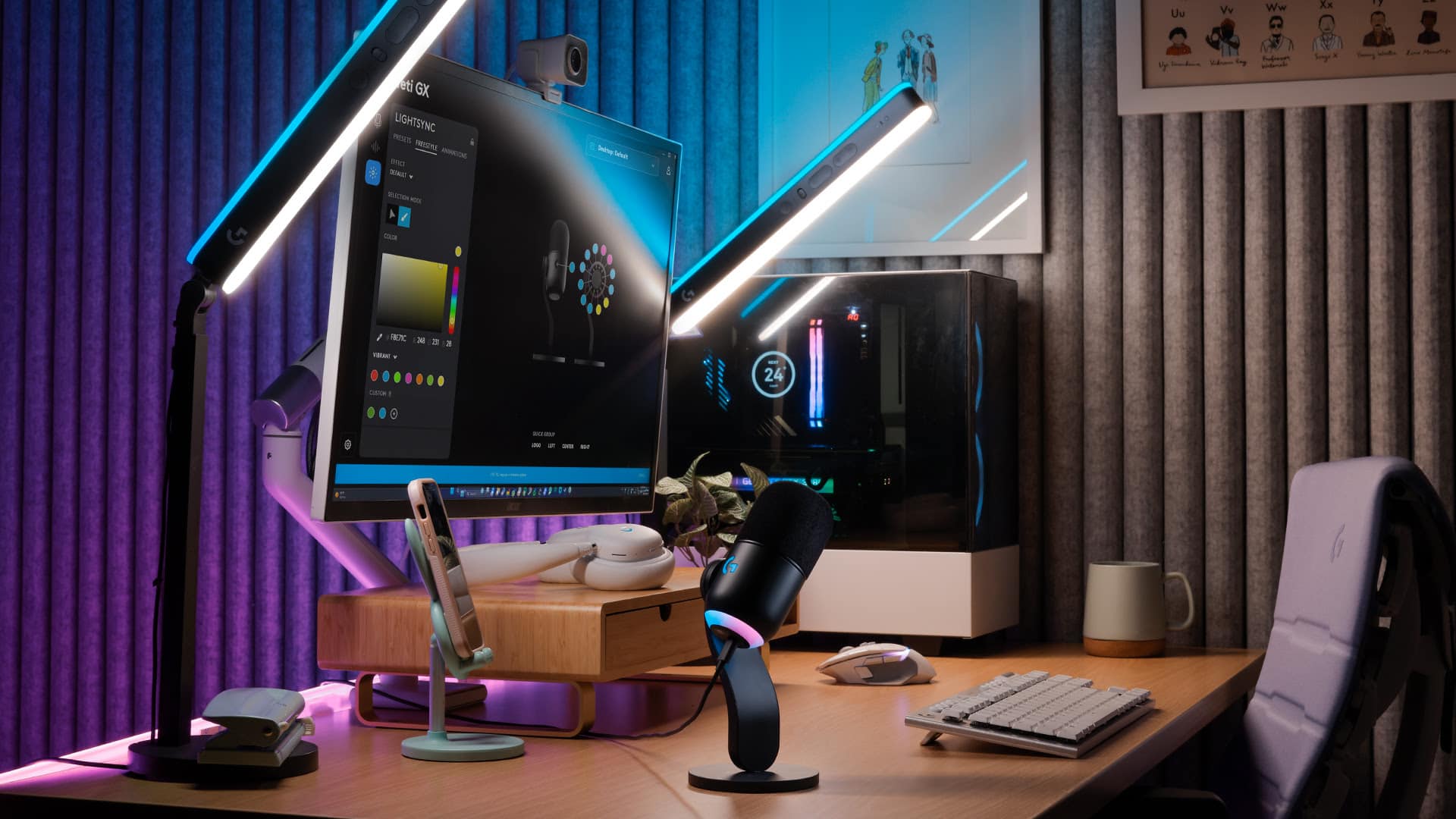 If you're passionate about gaming and streaming, you already know that good audio and lighting can make or break your content. Logitech G, a pioneer in gaming technologies, has just launched three ground-breaking products designed to take your gaming and streaming setup to the next level with the Logitech G Yeti GX, Logitech G Yeti Orb microphones, and Logitech G Litra Beam LX light.
Logitech G Yeti GX
In collaboration with Blue Microphone, Logitech G has engineered unique gaming microphones that offer professional-grade audio along with tailor-made features specifically designed for gamers. The first one is the Logitech G Yeti GX
The Yeti GX boasts an iconic Yeti design with a modern twist: it integrates a classic scroll wheel from Logitech G gaming mice for one-handed control of mic gain. This dynamic capsule tech-powered mic offers a supercardioid pickup pattern, isolating your voice while filtering out background noise.
Unique features like Smart Audio Lock and Blue VO!CE technology ensure your sound is crisp, clear, and consistent. Plus, the USB plug-and-play setup and compatibility with upcoming and existing boom arms like the Blue Compass make it even more user-friendly.
Logitech G Yeti Orb
The Yeti Orb is designed for those just stepping into the world of streaming. This sleek, camera-ready mic offers custom condenser capsule technology for best-in-class audio performance. With an RGB logo and status light, the Yeti Orb provides pre- and mid-stream customizable lighting effects. And just like the Yeti GX, it manages to minimise distortion in high-pressure moments, thanks to the Blue VO!CE filters available via the G HUB app.
Litra Beam LX
Let's not forget about the lighting! Litra Beam LX is a high-quality, dual-sided RGB streaming key lighting. It features TrueSoft technology for optimal light shaping and direction.
With 16 million colour combinations available through LIGHTSYNC RGB, you can turn your gaming space into a visually mesmerising environment. The lighting also offers cinematic colour accuracy and advanced diffusion technology, making sure you look your best during streams.
Sustainability and Future-Proofing
Logitech G doesn't just stop at innovative design; they're also committed to sustainability. Their new products incorporate certified post-consumer recycled plastic and come in packaging sourced from FSC-certified forests. Logitech G products are carbon-neutral and focus on using renewable energy in manufacturing.
Compatibility and Pricing
Soon to be supported by Windows Dynamic Lighting on Windows 11, these devices will allow for an even more unified, immersive gaming experience. The Yeti GX is priced at A$249.95, the Yeti Orb at A$99.95, and the Litra Beam LX at A$269.95. All products are available for purchase on LogitechG.com.