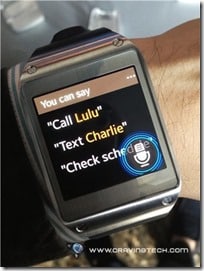 From the rumors that are circulating around today, it appears that Samsung will be unveiling a new Samsung GALAXY Gear version at the Mobile World Congress next Monday in Barcelona.
The original GALAXY Gear (check our review here) has not even been around for a year, but it seems that Samsung wants to release a better version as quick as they can (due to the low interests of the original, perhaps).
It will also be running on Tizen, Samsung's own mobile operating system, instead of Android.
We've heard how Samsung had been trying to push Tizen onto their new devices and we even had rumors that Samsung GALAXY 5 is running on Tizen (I'm pretty sure it's still be running on Android). A GALAXY Gear running on Tizen makes more sense, however. With a small display, running a customised, own, operating system sounds more feasible and flexible.
Though it will probably be launched with lack of apps, you don't need hundreds of thousands apps available on a smartwatch. It will be interesting to see how Tizen will look and operate on the GALAXY Gear 2. And whether it will look as good as the Pebble Steel.
Samsung GALAXY S5
On another note, Samsung GALAXY S5 is also rumored to have a fingerprint sensor embedded on the device's home button, like the Apple's iPhone 5s. You do need to swipe on the button, unlike Apple's solution. It's unclear how intuitive this is and whether it's as fast and secure as the iPhone 5's TouchID solution.
I guess we'll find out soon enough!
Source: CNET