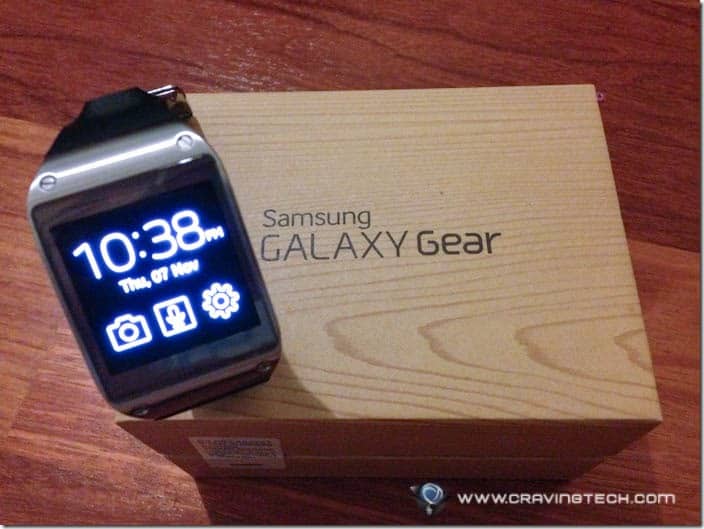 Samsung GALAXY Gear Review – The name GALAXY Gear is a little bit confusing since "Gear" can mean a number of things, but since this is the very first wearable Samsung GALAXY range, they have somehow decided to name its flagship device as such.
Specifications
The GALAXY Gear comes with 1.63 inch Super AMOLED display (320×320), 1.9 megapixel camera with H.264 MP4 HD (720p) recording. It has 4GB internal memory + 512 MB RAM.
For full specification information, go to Samsung GALAXY Gear page at Samsung's website.
The Device
Samsung GALAXY Gear is astonishingly polished with simplicity appeared to be the main key of its design. With the exception of colourful wristband, the silver body and 'lock' draws the focus right to the screen where everything happens. It is quite a letdown that in this day of age where customisation is everything that the wristband is not interchangeable, perhaps due to the integrated camera that is located on the wristband itself.
The watch itself is actually quite alright and is of comparable thickness to those of heart-rate monitor watches. Wearing it for the first time is slightly challenging, as you need to setup the length of the band for your wrist before pinning the band to the lock. The 'pinning' process might be quite cumbersome as it doesn't pin quite easily (perhaps it is also a good thing since it means that it wont get loose quite easily either). Going forward, you can easily use the lock to fasten and release the watch, although when locking it is not always on the right spot so it takes a little push to lock it.
Charger & Charging Dock
Prior to using my GALAXY Gear (from now on called 'watch'), it took me just shy of 2 hours to fully charge the device from 0% to full capacity. There is an intermediary device (which I call the Gear Dock) which connects the watch with the microUSB charger. Whilst the decision to do this was perhaps driven to keep the size of the watch as small as possible, it does give an extra hassle of having to bring the dock when you need to charge the watch on the go.
Pairing Gear with Compatible Smartphones
As of time of writing, GALAXY Gear is only compatible with Samsung GALAXY Note 3, with more GALAXY devices being supported in the near future. To pair the Gear with compatible device, you can either tap the charging dock (which is equipped with NFC) or manually set up Bluetooth connectivity between the two without the need to tap the charging dock.
I am yet to confirm whether or not the NFC inside the charging dock permanently contains a specific Bluetooth address of a particular Gear device or whether they can be re-written to be paired with another Gear device. The later would probably be useful for when you lose your charging dock and need to get a new one. Again, I am yet to confirm whether or not you are able to purchase a separate charging dock at this point of time.
Notifications
With GALAXY Gear connecting the smartphone via Bluetooth, most of its notification functions are no more than a second screen as they are pretty much non-functional without picking up the smartphone to follow through.
For example, unless I am using Samsung's native Mail app, the notifications that I get from my Gmail (through vibration and display) does no further than telling me that I receive a number of new emails. I would still have to go to my smartphone to check them what they are, although it does automatically open the Gmail app ready on your smartphone (of course after you enter in your unlock code if you have one). The same happens with Facebook notifications and many others.
The Notification feature is also a little confusing as it doesn't include my calendar alerts in the list of my past Notifications. Furthermore, the calendar alerts, although gives you the ability to discard or snooze, are only shown for one minute before it disappears.
Performing an action on an alert is also proven to be of a little challenge, as you are required to swap either the dismiss button or snooze button right through the other end of the screen until the button displays the word "Dismiss" or otherwise.
The Gear seems to be quite smart to not bog you with redundant notifications when you are currently using the paired smartphone.
Calls
Making calls from your watch is quite easy. You can either swipe up the screen to take you to the keypads, or you can go to your Contacts and initiate a phone call there.
Both making and receiving calls can be done solely from the Gear, which is a good thing. The microphone and the speaker on the Gear allows you to make proper calls, but if you are looking for a more private conversation, you can pair up your Bluetooth headset as well.
Pedometer
The pedometer app works straight from the Gear without the need to setup anything from your smartphone. You set up all the necessary details straight from the Gear, such as your height and weight. The app has a backup option, which I connect to S Health app on the paired smartphone. However, it appears that you are required to re-enter your details again in S Health on the paired smartphone before performing a backup.
The pedometer on Gear and the S Health app on your paired smartphone has the pause function, so you can use either device to track your step count.
Like other pedometers around, this pedometer has its own struggle when trying to detect "real" steps. While it sometimes gives you a real-time feedback as you do your step, other times it "waits" for a few steps before the step count jumps by a few counts.
The pedometer app on Gear also has S trainer feature which acts as a "personal trainer" for when you are up for exercising. In addition to "Walk Workout", it currently has four "training course" levels that you can choose: Beginner, Intermediate, Intensive, and Quick.
Camera
I can now understand the dilemma that the developers might have had faced when deciding where to place the camera on this Gear. Whilst the current position is perfect to capture things in front of you, the position is also its biggest Achilles heel when the watch is being worn on your wrist, since it hardly allows you to take selfies without an aid of a mirror, or to be future-proof should conference call feature arrive on this watch.
There are also a few adjustments in using the camera. Firstly, we are very used to have cameras looking straight from the back of the screen. Now that it is positioned elsewhere, It takes a while to get used to adjusting the angle of your wrist to arrive at that perfectly-angled pictures you love. Secondly, the lack of features such as different capture modes (e.g. night mode, action mode) reduces the camera to only a simple auto-focus-and-shot mode.
Based on the pictures I took using Gear, a typical picture goes from around 600KB to almost 1MB, and a 15-second video goes around 7.5 MB. All pictures and videos are taken on square dimension, which are Instagram ready!
Sample photos taken by the Samsung GALAXY Gear camera: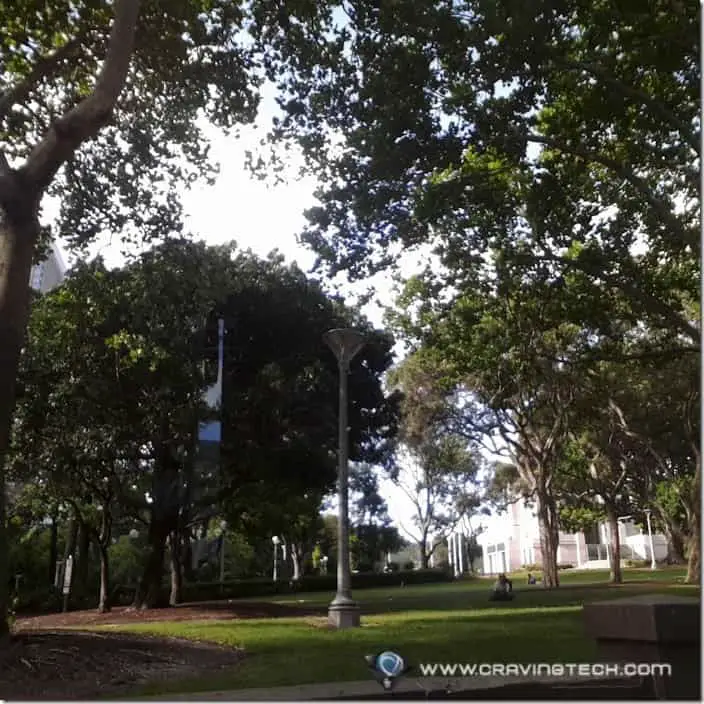 Sample videos taken by the Samsung GALAXY Gear camera:
In regards to uploading it to your paired smartphone, I can't seem to find the option that automatically sync pictures taken from the Gear to the paired smartphone. You are required to transfer the pictures manually one by one.
Please remember that the Gear also has limited space, and it automatically deletes transferred items (oldest first) when it starts running out of space while you are taking new pictures, so make sure you backup your pictures regularly so you don't have to be busy when that time comes.
Other Functions
There are other smartphone-dependent apps available in Gear, such as S Voice, Media Controller, and a few stand-alone utilities such as Voice Memo, Timer and Stopwatch.
One "side" function that is worth mentioning is the "Find My Device" app, which allows you to find the whereabouts of your paired smartphone by turning on the sound and vibration. Unfortunately, you can only use this function when the pair-up is active (i.e. turned on and in range) since the Gear is connected via Bluetooth, so its function is pretty much very limited.
Supporting Apps
There are currently a few apps that are made available to enhance your usage of GALAXY Gear. They are available at the Samsung Apps store. They include, amongst other things, Evernote, Flipboard, and Line, with some of these apps provide more than just notification but also interactivity such as replying to messages and posting photos.
One of the apps that I tried is Watch Styler. It allows you to setup your own home screen for your watch using any picture as a background (a feature that is very simple but is not a built-in functionality in the Gear Manager software) and customise the location of various items and icons within the 10 squares x 10 squares template.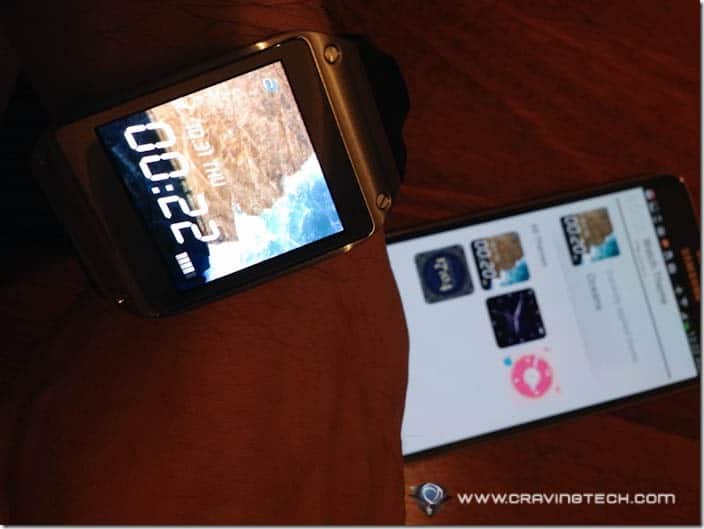 I would assume that these apps won't come without bugs, though, especially they are the first ones to support Gear. For example, there has been three daily occasions where Watch Styler clock stopped.
I also tried the Line app where it displays your friend's replies right on the Gear screen, with the ability to reply with a choice of 10 "stickers" (for now).
Wishlist
There are obviously a lot of things that are still missing from this Gear. Apart from those included above, there are some items that I would love to see in the next version(s) of GALAXY Gear (whether it is a hardware of software enhancement):
1. Maps. It would probably be Gear's next best thing if it can provide you with directions (on screen or spoken) while in travelling mode (walking or otherwise).
2. Integrated QR reader, which allows you to capture, store, and act on QR codes you take from your camera.
3. Wireless payment. Rather than tapping your card or your phone, maybe we can tap our watch instead? Integrated Opal and/or Myki card would be a very great start.
4. Heart-rate monitor function would also be a great new selling point, especially since the Gear is worn closely to your heart beat.
Basically, I would envisage Gear to allow its users to handle and complete more and more tasks directly on the the device and without the need to pick up their phone. On other hand, it will probably take a long time before GALAXY Gear can replace the need of having a smartphone. Should (and if) that time comes, we would probably had ditched keyboards as means of input and move on to others such as enhanced voice commands and bodily movements (gestures, hand movements, eye movements, etc).
Should You Buy Samsung GALAXY Gear?
As per the norm, the first iteration of any new innovation is usually full of potentials. GALAXY Gear is no exception. Apart from obvious bragging rights for wearing this high-quality finish GALAXY Gear, it still has lots of bells and whistles it can feature in this simple, tiny, wearable device that are yet to see the light of day. With all of these wishlists, this very device will probably only lasts one or two iterations before it demands an upgrade to a better spec to support new features.
For now, though, I would say that a fraction of its RRP of $369 is probably attributed to the premium of being an early adopter. Combined with its dependency on compatible smartphones, I would only be comfortable if it comes with a lower price tag.
[AMAZONPRODUCTS asin="B00FH9I0FQ"]