ROCCAT Syn Max Air Review – ROCCAT is back with their latest, flagship, wireless gaming headset, the Syn Max Air. And this is no mere wireless gaming headset because ROCCAT also includes a charging dock to charge your headset when it's not in use, while acting as the wireless transmitter at the same time.
This way, you'll never forget to charge your wireless headset after you finish your game and it'll always be ready for the next gaming session.
ROCCAT Syn Max Air Review – Packaging and Unboxing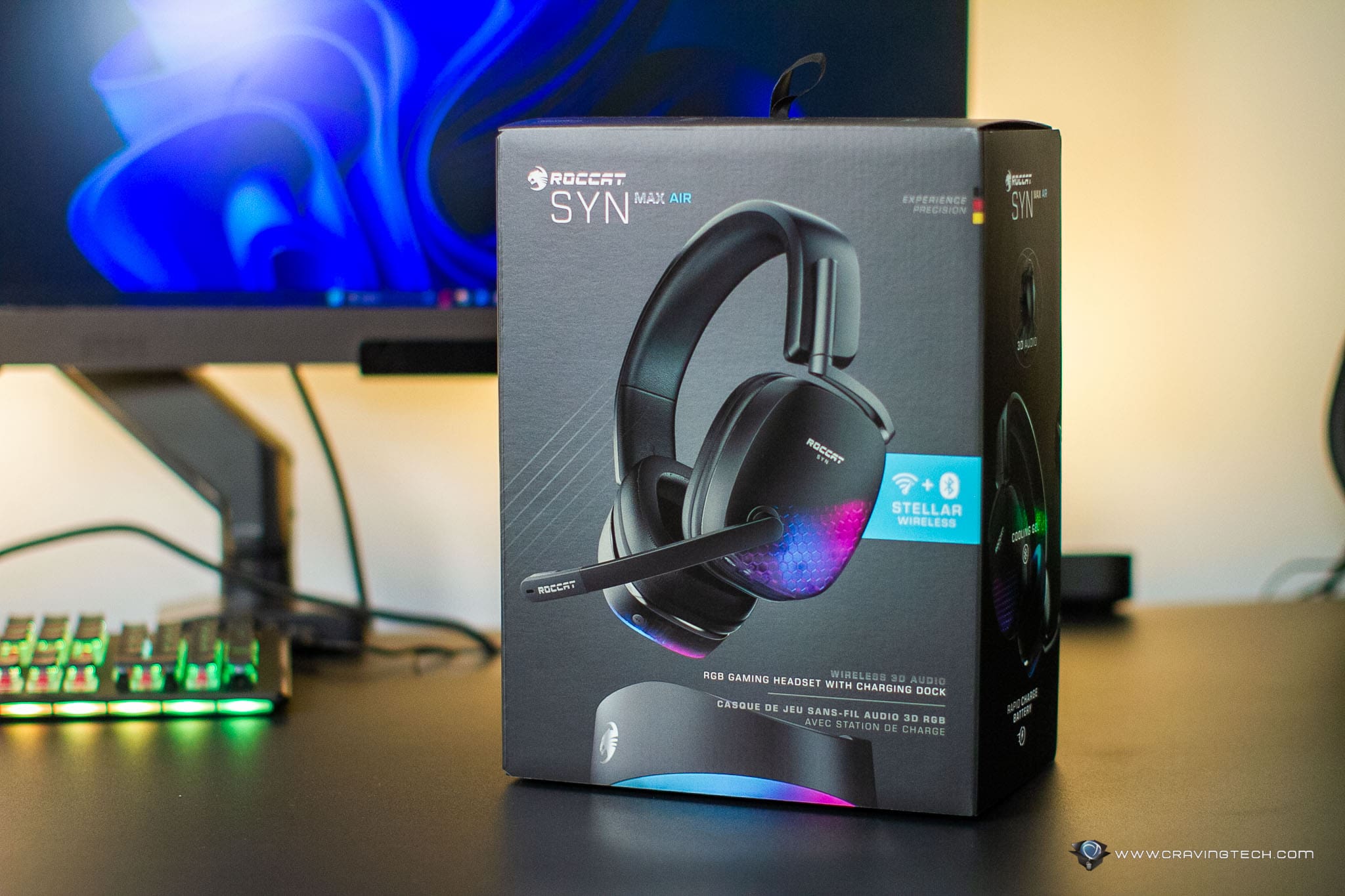 ROCCAT Syn Max Air Review – Design and Features
There aren't that many wireless gaming headsets that come with a charging dock upon purchase. Normally, you'd have to plug the cable in at some point to charge your headset – either on the desk or somewhere near your power board. It's most likely because of the cost and not many gamers would want to spend more just to get a charging dock. But I'd say if you have the money, this is the most convenient way of charging a wireless headset.
ROCCAT Syn Max Air comes with one. Not only it charges the headset unit quickly (3 hours of battery life in just 15 minutes of charging), but it also has a sleek RGB lighting underneath. And I also like the fact that the dock itself is a wireless transmitter so you don't need an extra USB slot on your machine for the transmitter.
So let's talk about the headset. It features a cool-looking, lightweight design though it does feel bulkier than some of the headsets I've reviewed before here at Craving Tech. It's mostly probably because of its size (though you get that nice, 50mm Nanoclear speakers in exchange) and that it offers a tighter fit on the head for passive noise isolation. It weighs about 354 grams with the microphone boom (which can be taken out if you don't need the microphone). To mute the microphone, simply flip it. Despite of all these, the headset is definitely comfortable to wear for hours while I played Overwatch 2 with it.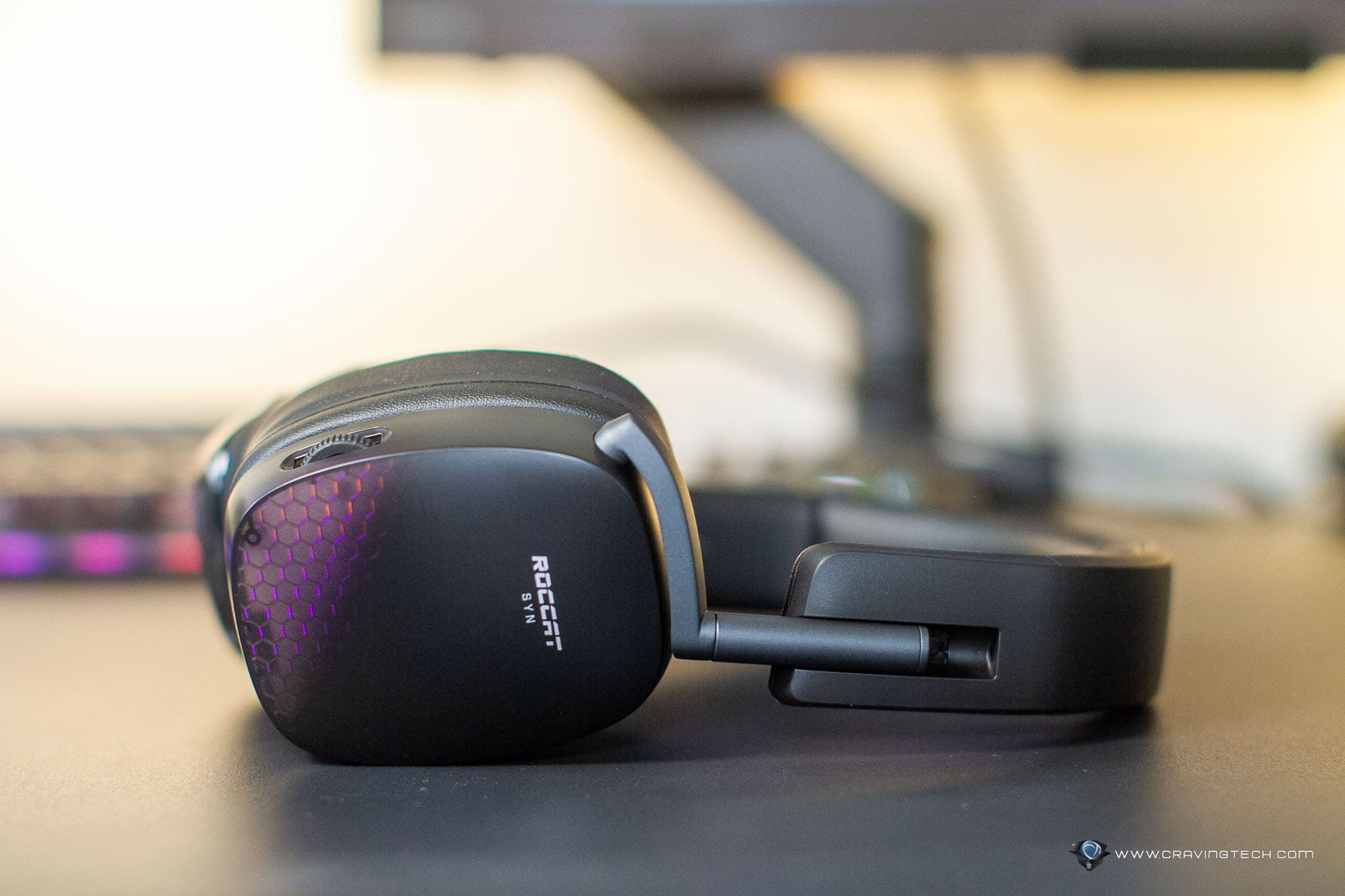 The memory foam is nicely padded with cooling gel, though it's hard to test here in Melbourne as it rarely ever gets hot these days. The fabric is supposed to be breathable too and glasses-friendly. The headband is also padded.
Controls are located on both sides of the headset and they are easily accessible, such as the volume control. If you install its software, ROCCAT Swarm, you can tweak more settings – but the first thing I recommend to tweak is the Notification Volume Settings as they are pretty loud by the default (especially when you turn the headset on). You can also enable Chat Boost, turn Spatialiser on and off, and many more.
The headset can last around 13-16 hours, depending on whether you turn illumination on or off. The RGB lighting covers some part of the ear cups through this honey-comb like design, creating a unique, subtle lighting that I really like.
Sound wise, ROCCAT Syn Max Air outputs good audio quality with a good punch at the lower end (Bass). While there are settings to increase your gaming experience like the Superhuman Hearing, I found that I never needed to touch these settings to help me play. In fact, the headset itself already provides a really good audio positioning, separation, and detail inside the game like Overwatch 2. While playing Overwatch 2, I could hear every sound the enemies make and detect flankers many, many times – which I then communicated to my teammates, or dealt with myself.
For example, in this clip I could hear the enemy's Cassidy unleashing his ultimate ability on the right side of my position. So as a tank (Ramattra), I quickly walked back and blocked the attack to my teammates – then dealt the situation quickly with the help of my teammate. I could pinpoint exactly where he was from the sound alone (you didn't see me looking around trying to find where he was) and this is something that can win or lose you games.
And as an added bonus, if you are playing on other gaming platforms and devices, ROCCAT Syn Max Air works with PC, PS4/PS5, Nintendo Switch, and Bluetooth devices like smartphones and tablets.
ROCCAT Syn Max Air Conclusion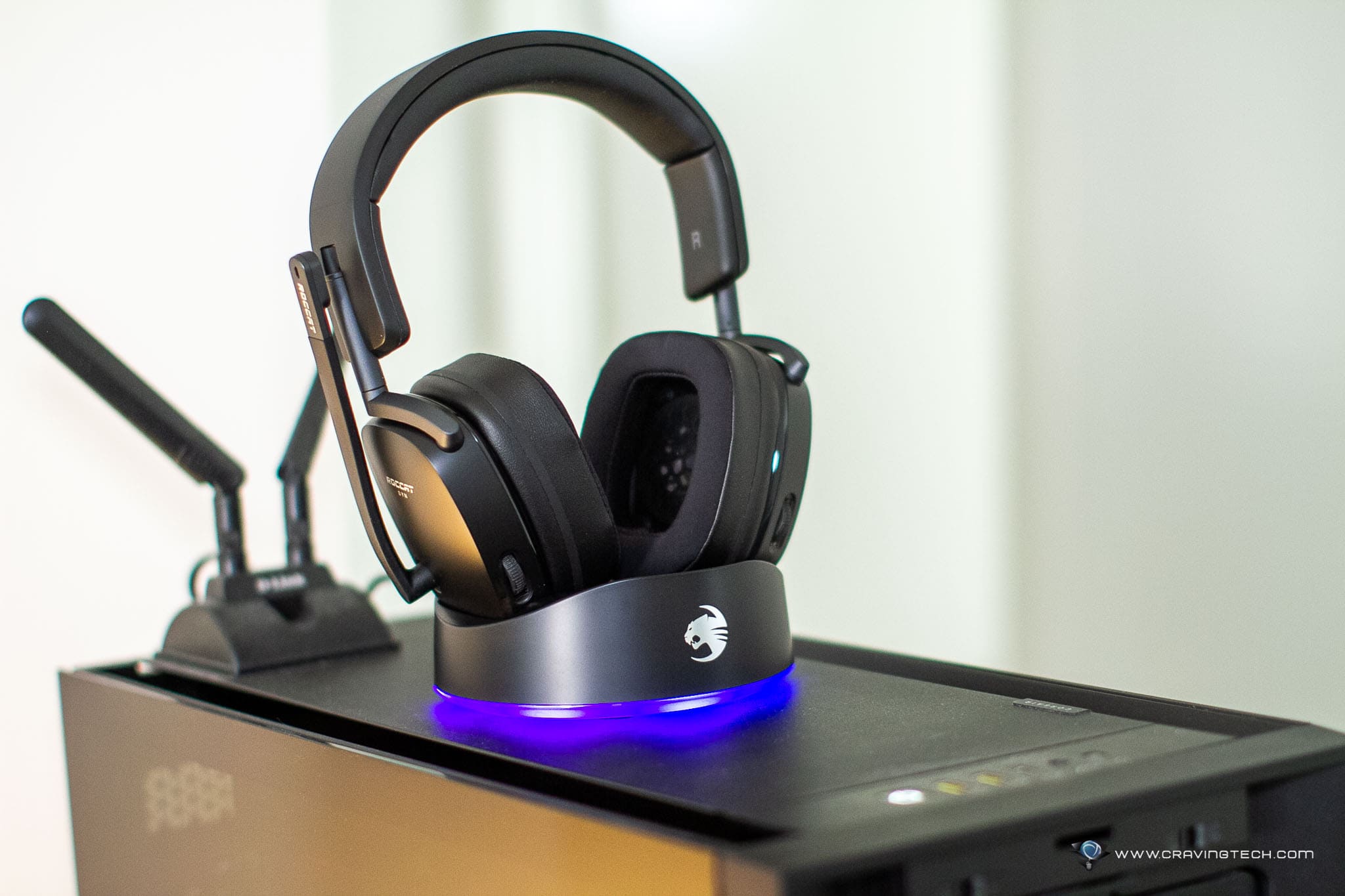 ROCCAT Syn Max Air a wireless headset with a charging dock that doesn't just charge the headset fast, but also acts as the wireless transmitter – offering both convenient charging and efficiency. It's a really solid, wireless gaming headset with great sound quality, versatility, and custom EQs that you can tweak further to your personalisation.
ROCCAT Syn Max Air is available now for purchase at retailers around Australia for A$399.95 RRP and also available at Amazon.
Disclosure: ROCCAT Syn Max Air review sample was supplied for reviewing
ROCCAT Syn Max Air Review
Summary
ROCCAT's flagship wireless gaming headset that works multi-platform and has a charging dock that also acts as the wireless transmitter. Nifty.
Pros
Has a nice design
Great sound quality
Useful charging dock (fast charging + also acts as the wireless transmitter)
Lots of EQ and sound customisations for both gaming and non-gaming
Multi-platform support (Wireless and Bluetooth)
Cons
A bit fiddly to connect the pins to charge
Price, but you do get the convenience of a charging dock
Feels bulky, though you get the nice speaker driver in exchange