Logitech G PRO X 2 Wireless Review – I fell in love with the original Logitech G PRO X when it was first released, and I had the opportunity to try it out (check my review out). I admired its appearance, how comfortable it felt on my head, and most importantly, its sound quality.
But here's the interesting part: the successor, Logitech G PRO X 2 LIGHTSPEED Wireless, is not just a simple improvement over the original, which is typically what we see with gaming peripherals. The new PRO X 2 represents a significant advancement in audio innovation, all thanks to its Graphene drivers. We'll delve into this further later on.
Logitech G PRO X 2 Review – Unboxing and Packaging Contents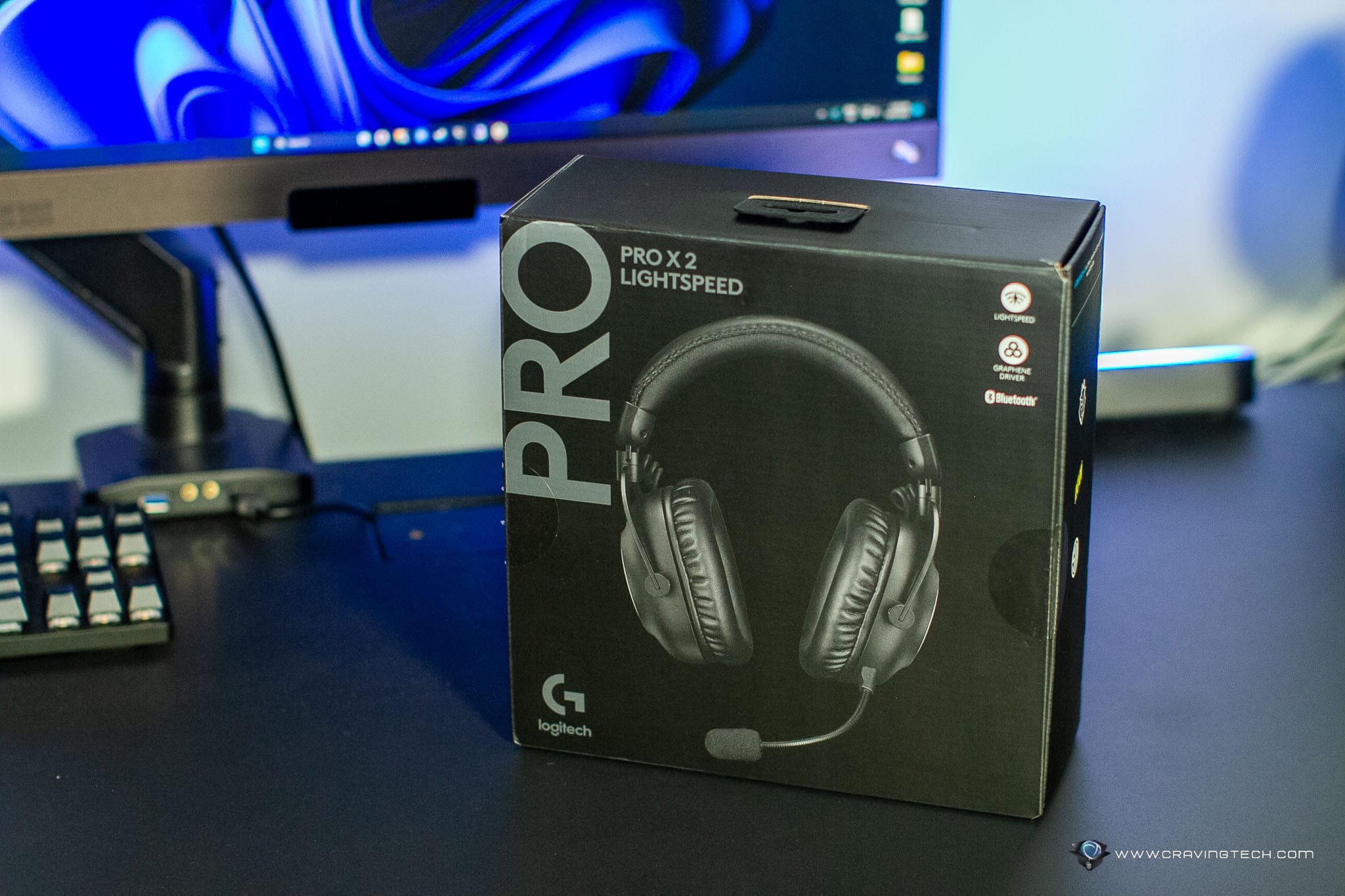 Logitech G PRO X 2 Review – Design and Features
In terms of looks, it definitely has that familiar look and feel of the original – which is great because I really liked the G PRO X. The metal frames on the headset stand out and enhance its appearance. There are no RGB lights here, just aesthetics in its purest form. The ear cups, particularly the leather ones I'm using, are soft and offer plenty of padding.
It weighs around 345 grams (lighter than the original but with much better sound) and has a well-balanced weight distribution throughout the headset. It's seriously comfortable to wear, and I could game for hours without any complaints. With this model, you can also rotate the ear cups all the way, allowing you to lay it completely flat on the desk or around your neck. Even with the new hinges, the headset still feels durable, thanks to the aluminum materials and steel frame.
There is an option to change the ear foams according to your preference. I prefer the leather ones as they provide a better seal for passive noise isolation. However, if you prefer to be more aware of your surroundings or live in a hot climate, you might want to switch to the cloth ear pads.
The microphone is detachable, which is convenient for carrying the Logitech G PRO X 2 on the go without the microphone, or storing it separately. With support for a 3.5mm connection and Bluetooth 5.3, you can wear the headset while commuting to work or school, and enjoy watching movies or playing casual games over Bluetooth. A nice case is also included with the packaging for safe storage of the headset.
All the necessary controls are conveniently located on the headset – power, volume control, and Bluetooth pairing button. Personally, I prefer a power slider or toggle button on a headset rather than having to press and hold a button. The volume scroll wheel on the PRO X 2 has a nice, soft resistance as well.
Logitech G PRO X 2 Review – Sound
The main highlight of the headset (apart from being lighter, more durable, and more comfortable) is the new groundbreaking PRO-G GRAPHENE audio drivers. They feature a 50mm graphene diaphragm with a live edge suspension and have been meticulously engineered to deliver immersive soundscapes like never before. According to Logitech G, these advanced drivers enhance sound reproduction accuracy, time to signal accuracy, and minimize distortion, allowing you to clearly identify audio objects and experience high-fidelity sound with minimal distortion.
These advancements may sound impressive on paper, but how do they translate in real life? Well, for starters, the graphene material used in these drivers is much lighter and stiffer (which is a good thing to minimise distortion) compared to the materials typically used by headphone manufacturers. In gaming, you'll be able to hear even the smallest details within the game quickly and accurately.
When playing fast-paced, competitive online shooters like CS:GO, Valorant, and Overwatch 2, sound becomes crucial. Being able to hear enemy footsteps allows you to anticipate their movements, potentially leading to victory in a round. Similarly, hearing an enemy switch to a pistol or knife in close proximity gives you the advantage to surprise and overpower them quickly with your primary weapon.
I've been using and testing the Logitech G PRO X 2 Wireless with Overwatch 2, and I'm amazed at how many tiny audio details I can hear amidst the chaotic battles. I'm even more impressed by my ability to pinpoint the location of an enemy using sound alone with the headset. Here are two short highlight videos from Overwatch 2 that demonstrate these capabilities.
In the first clip, I could hear the enemy Genji coming from the room above us without even seeing him yet. As Moira, I threw an orb, and with the help of a teammate, was able to finish him off quickly without even having visual contact.
The second clip may not be as "exciting" as the first, but I could hear the faint footsteps of the enemy Widowmaker. I knew exactly where she was and alerted my teammates while applying pressure. As a result, she couldn't pick off anyone from our team, losing the element of surprise and strategic advantage. Although she didn't die in the end, my team was now aware of her position and became more cautious.
And if gaming doesn't impress you, wait until you listen to music. The audio clarity and balance are mesmerising. Some of my favourite songs feel more alive and cleaner when I listen to them with this headset. The bass feels full, deep, and powerful. If that's not enough, you can also turn on Bass Boost or adjust the frequencies yourself using the Logitech G HUB software, which also offers Blue Voice technology to tweak your microphone sound.
Unfortunately, the microphone is the weakest aspect of the Logitech G PRO X 2. It sounds okay but not as clear or good as most recent gaming headsets I've reviewed here at Craving Tech (from Razer, Corsair, and SteelSeries). However, my teammates can hear me just fine, and no one has complained about my voice, so it's not a major issue. Considering how good the sound quality is, I have no complaints unless you specifically require a clear microphone input. In that case, it would be better to invest in a nice condenser microphone setup with a boom arm, like my RODE PodMic and the PSA1+.
According to Logitech G, the headset can offer up to 50 hours of use on a single charge, which is impressive for a wireless headset with such excellent sound quality. Gaming headsets with this level of audio quality often tend to be bulkier and heavier due to the additional audio technology components~ and larger battery required.
Logitech G PRO X 2 Wireless Review Conclusion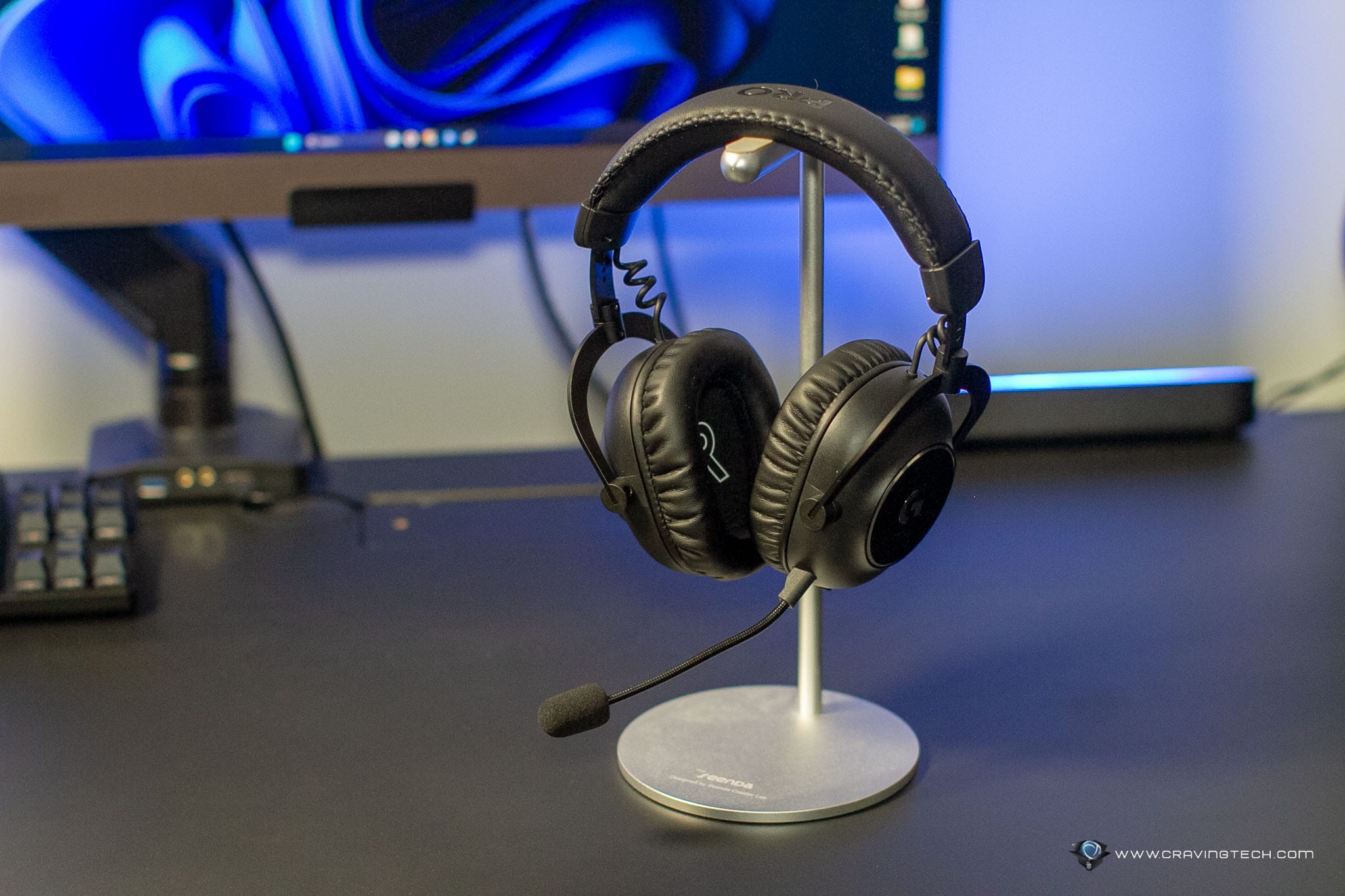 I was immediately impressed with the Logitech G PRO X 2 from the moment I turned it on: the ease of use with the power slider, the instant power-on, and the audible, soft tone that follows. When worn on my head, the headset doesn't feel heavy or bulky at all. Plus, I can wear it for hours while gaming or listening to music, and it remains comfortable.
But the real amazement comes from the audio quality it delivers – both in games and while listening to music. It offers excellent audio positioning, allowing for the clear detection of even the smallest details, and has an exceptional sound signature. All of this is made possible by the groundbreaking innovation of the Graphene drivers powering the headset.
Of course, there are some shortcomings. You have to pay for the price of this level of audio quality and the research behind it. Additionally, the microphone quality is below average, and there is no RGB lighting (which is unnecessary anyway). If you are satisfied with these trade-offs, you will undoubtedly love the Logitech G PRO X 2 Wireless gaming headset.
Previously, the SteelSeries Arctis Nova Pro Wireless was my go-to wireless gaming headset, but it looks like I'm switching to the Logitech G PRO X 2. Although it lacks the hot-swappable battery system, the quality and comfort it offers make it worth plugging in a cable to charge it occasionally.
Logitech G PRO X 2 Wireless retails for A$449.95 and is available now for purchase at retailers around Australia like Mwave and Amazon.com.
Disclosure: Logitech G PRO X 2 Wireless review sample was supplied for reviewing
Logitech G PRO X 2 Wireless Headset Review
Summary
A state-of-the-art wireless gaming headset with new, innovative Graphene drivers
Pros
Design improvements from the previous model
Exceptional audio quality, clarity, and positioning
Comfortable, lightweight
Wireless, Bluetooth, and 3.5mm connectivity options
Intuitive controls
Intuitive software
Great battery life for a wireless headset of this calibre