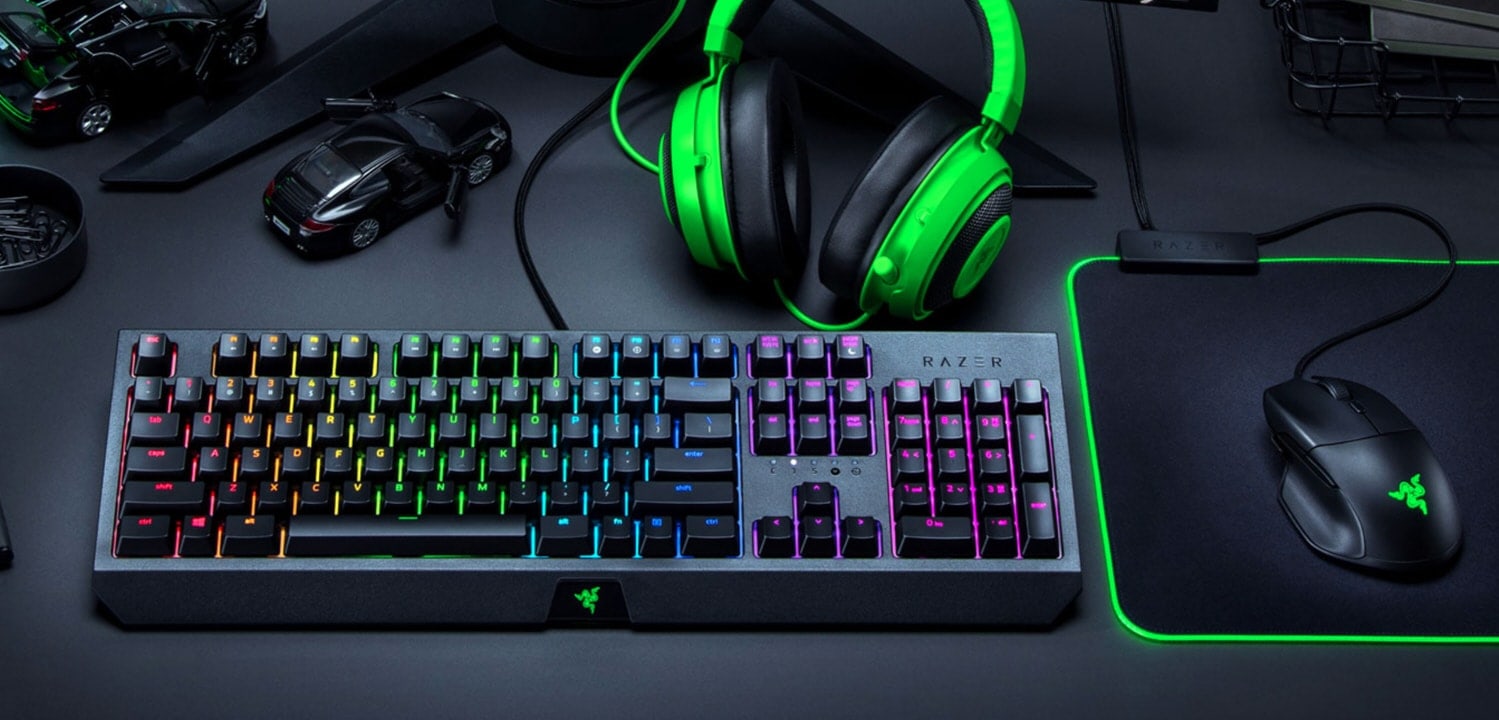 Razer has just announced three new gaming peripherals available for purchase to the gaming world. The new Razer BlackWidow, Kraken, and Basilisk Essential come from some of the most popular Razer peripherals line ups to date.
If you haven't, make sure to check our review on the Razer BlackWidow Chroma V2 mechanical gaming keyboard, Razer Kraken Tournament Edition gaming headset, and the original Razer Basilisk gaming mouse reviews.
Razer BlackWidow Gaming Keyboard 2019
The new Razer BlackWidow is fitted with Razer's Green mechanical switches with improved dual-side wall switch design to minimise key wobble when pressed. Each key is rated to last up to 80 million keystrokes. There doesn't seem to be an option to change the switch to the Orange or Yellow ones if you like quieter sound though.
It also supports Razer Chroma lighting, but unlike the BlackWidow Elite, this one does not have the Multi-Function Digital Dial and Media Keys, USB and Audio passthrough, and a wrist rest.
Razer BlackWidow is available for purchase at AUD $219.95 RRP.
Razer Kraken Gaming Headset 2019 (3rd Generation)
A successor to the Razer Kraken Pro V2 with the design & hardware ideas from the Tournament Edition, the new Razer Kraken 3rd Generation has got everything improved without changing what fans love about the headset.
The retractable microphone has now been improved to cut out more background noise, so you can talk clearer to your teammates even in a noisy environment.
It comes with thicker headband padding for more comfort with lightweight Bauxite aluminum frame.
Razer Kraken 3rd Generation is available for purchase at AUD $149.95 RRP.
Razer Basilisk Essential Gaming Mouse
A heaven to right-handed gamers, the Basilisk line has one of the best ergonomics among other Razer mice. And now, the Basilisk Essential comes with a more affordable price.
Extended controls are now in your hands too to customise the multi-function paddle to your liking. It now has a "press & hold" function and can even be used better as a push-to-talk button.
It has a native 6,400 DPI Optical Sensor, though it's unclear which Razer sensor this is at this stage – I'll update the post as soon as I find out.
Razer Basilisk Essential is available for purchase at AUD $79.95 RRP.