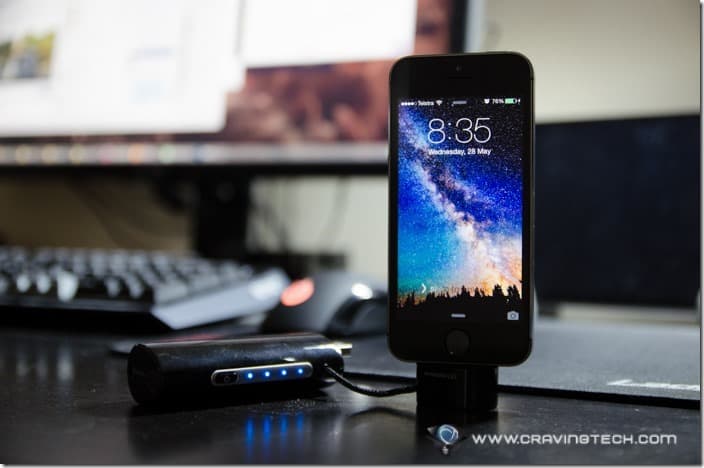 Power Bank Portable Charger Review – Portable chargers are not supposed to be bulky. Portable chargers are also not supposed to be messy. If you agree to both statements, then you should have a look at this portable charger from Power Bank.
In short, it fits well inside your pocket, has quite a good amount of battery inside for more than a full charge for your phone, and doesn't require you to carry any messy cables along.
Power Bank Portable Charger is compact and lightweight. It looks like a USB flash drive from the old days, made from plastic. Though not the best materials to use, the price and the things that come with it give a good bang for the buck overall.
Take the cap off to reveal a USB connector to charge the internal battery of the portable charger. It also reveals a Lightning connector (on the cap's internal layer) to charge your new iOS devices. What makes it even more interesting, however, is how the cap serves as an elegant way to charge your iOS device.
Thanks to the smart cap design, you can place your iPhone or iPod vertically on a surface. Though it may not add many values, it serves as a good aesthetic while charging.
If you have other gadgets such as Bluetooth headsets, speakers, or non iOS devices (Android phones, Blackberry, etc), Power Bank has got you covered too.
On the other end of the charger is a shortly attached micro USB cable, ready to charge your microUSB-supported devices. With such versatility, this should be THE portable charger you carry with you at all times.
Four LEDs are used to indicate the charger's battery level. With 2,600mAh capacity, theoretically it can power up almost every smartphone out there from 0% to a full charge and more (For example, iPhone 5s has a 1,560mAh battery, HTC One M7 has 2,300mAh battery, and the Samsung GALAXY S4 has 2,600mAh battery).
It charges at a 5% rate per 10 minutes, compared to 9% per 10 minutes using a Lightning cable with a power adapter.
Overall, I'm really impressed with the Power Bank Portable Charger. I reviewed a lot of portable chargers before but this has become my most favorite charger to carry. It's not too bulky with enough battery for emergencies and does not require me to carry any messy cables around. Sure, it's made of plastic and doesn't look premium, but with the price, hey, it serves me really well. Make sure to grab this at MobileZap.
Disclosure: Review sample was sponsored for the review by MobileZap.com.au. Be sure to check out their sections related to batteries to ensure you have power when you need one.