Without realising it, we have been pampered with all these latest stats of the tennis players and matches during an Australian Open: LIVE scoreboards, High Definition feed, upcoming match schedules, and many more. Most of the time, we've never even bothered to find out how these things work together in sync.
I was one of the selected few to have another look at the behind-the-scene technology powering the Australian Open 2014, thanks to IBM Australia. The first time I was invited over, was back in Aus Open 2010. I also met the developer behind the Aus Open 2011 iPad app, where tennis players can sign (digitally) on your own iPad.
So what's changed for the past few years?
For a start, all the goodies are still being offered by IBM's powerful servers and infrastructure. A 21 years partnership with the Australian Open is no small feat. IBM has  been responsible for collecting data (with the good, old, PDAs in courts), sharing them in real time to all sort of medium, and analysing them. The last bit is where things get interesting, especially with the boom of mobile devices and social media.
The IBM SlamTracker, for example, allows you to see live scores, performance analysis of your favorite tennis players (including their strengths and weaknesses), and predictive analysis (to predict who's the underdog on a match, etc). The predictive analysis system uses 8 years' worth of data with millions of data points captured during the matches. These are also being shared to the coaches and players after a match, so they can improve their skills for future matches.
What I find interesting is how IBM manages to consolidate all the data into a presentation that we all can understand, like, and engage with.
The social engagement feature allows you to follow a particular player and dynamically scans any social engagements on Twitter to determine a positive or negative sentiment about a particular player. Obviously, this includes analysing grammar, keywords, and other things on the tweets. It is not 100% perfect, but IBM always tweaks their algorithm to make it smarter and smarter each time.
There is also the Australian Open 2014 iPad app which looks gorgeous and it's not just a shortcut "app" that opens the Australian Open website. It's a standalone app, designed to take advantage of the intuitiveness of a tablet. It's the perfect companion while you are watching the Australian Open at the comfort of your couch. It has a LIVE update on the match scores, player profiles, Twitter buzz with players' social sentiments, schedule, news, and more. It's a huge leap from the app I looked at, a few years ago.
Oh, and then, there is the IBM ReturnServe, a cool game that takes advantage of real-time data on a match in progress:
IBM, in partnership with Tennis Australia, captures real-time data about each and every point of the game sent rocketing down-court on Rod Laver Arena using the IBM Slamtracker™ application.

This data is then used to create a virtual version of each serve just a few moments later – for you to try to return. After you make your first attempt and both yours and the server's swings have been measured and analysed, you'll get insights and recommendations to help make your second attempt more successful.
Cool, eh? Perhaps you can beat Andre Agassi, the top returner in history? I actually had a bit of a play with this yesterday, using the Oculus Rift. Unfortunately, I failed horribly (maybe this is why I choose to play Badminton instead).
One of the coolest things is the amount of data that you can observe and drill into just by using your head.
By looking at specific points in the game, you can get the overview of the serve. These are the kind of data being captured, stored, and analysed by IBM and I'm amazed at how fast these data were being processed.
We were also taken to the cave server room where the magic happens (I was there a few years ago too). With more than 30 laptops in a room and huge server racks, this is serious business. There was a bit of a demo on a handy software (called the AO Vision) made specifically for the media to access specific live streams, schedules, and more.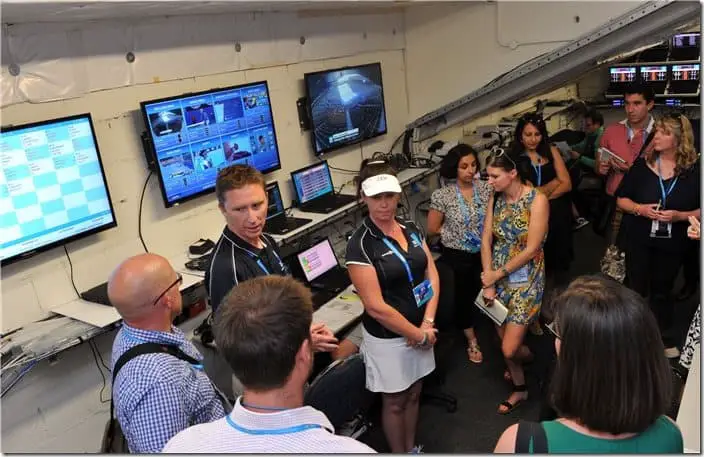 —
All in all, IBM has done another great job in keeping the Australian Open information flowing and it gets better each year. We currently live in the era of information consumption (we want more info and we want it now) and IBM is definitely the perfect partner for Australian Open here. They have the right tools, the right resources, and the right passion.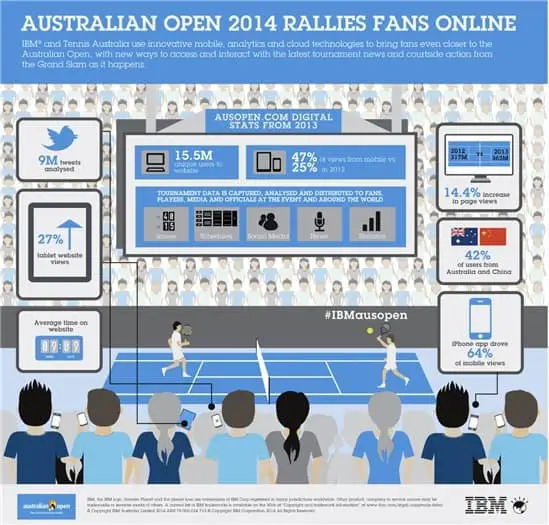 Best of all, tennis fans out there don't even need to know the nitty-gritty details of data and information behind the scene. What they see, is consolidated data in a sleek and nice format to consume and to engage with.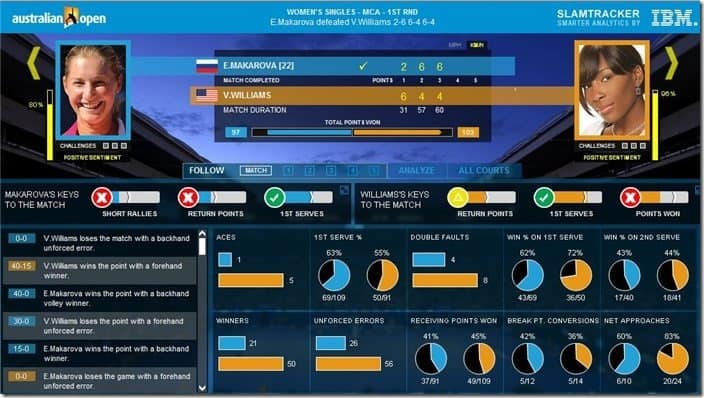 Disclosure: I was sponsored and invited by IBM Australia to attend the Australian Open and behind the scene tour. All opinions in this post are 100% mine