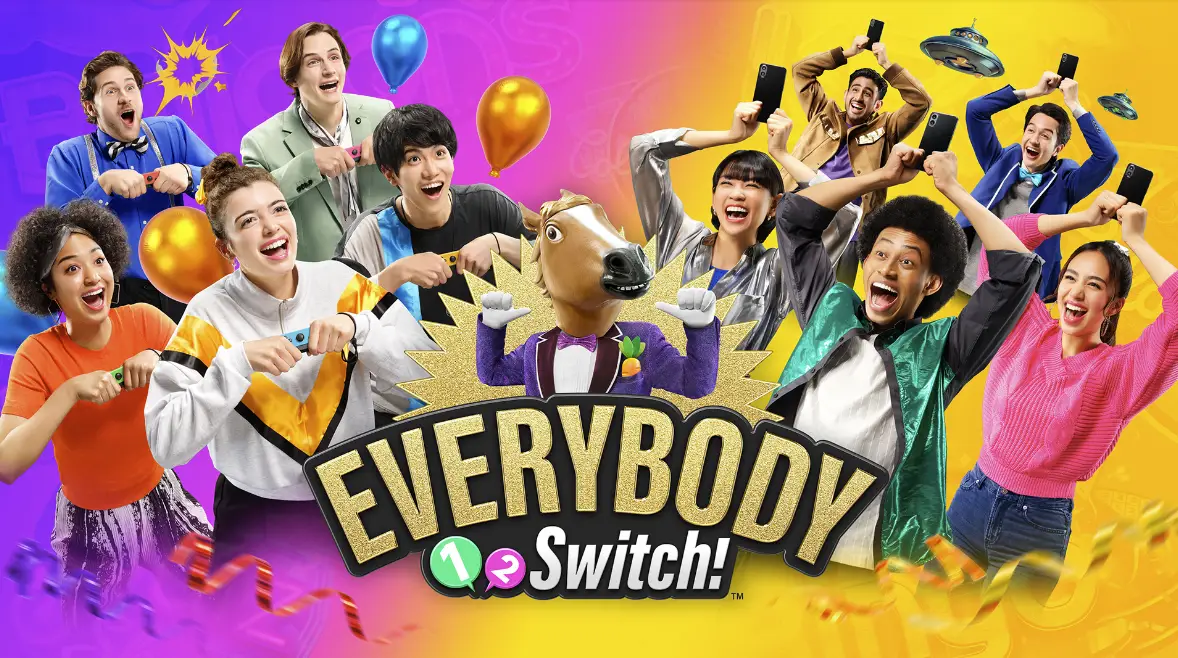 Everybody 1-2-Switch Review – We've had quite a few party games on the Nintendo Switch, ranging from four to eight players. For four players, I'd definitely recommend either Mario Kart Deluxe 8 or Mario Tennis (check my reviews out). For eight players, Mario Strikers: Battle League Football is a fun soccer game. But okay, maybe they are not exactly party games in the traditional sense.
When I have a group of friends over (usually about 8-15 people), we usually have fun with Rabbids: Party of Legends. While only four players can participate at a time, the mini-games are enjoyable and quick to play. Both players and the audience can have fun with the game simultaneously, and the quick turnaround allows everyone to take turns.
But wait, there is a new game in town that deserves the crown of the King of all party games. Hosting a party with 50 or even 100 people? No worries, everyone can play.
And no, you don't need 100 Joy-Con controllers – just imagine the hassle and expense. Everybody 1-2-Switch (not to be confused with 1-2-Switch which is a different game) can be played in either Joy-Con or Smart Device mode.
In Smart Device mode, players can use their smartphones to connect and play, thanks to a smart and intuitive method that involves scanning a QR code on the TV and using a local wireless network. In Joy-Con mode, as the name suggests, up to 8 players can play the games using Joy-Con controllers. Some games can only be played with Joy-Con controllers, some only with smartphones, and some support both.
Joy-Con Mode doesn't require an internet connection, but Smart Device Mode requires an active internet connection for communication between your Nintendo Switch console and smart devices. It's impressive how seamlessly Nintendo has made the connectivity work with smartphones. Pointing the phone's camera at the QR code on the screen opens the default browser and connects to the game, and if you switch to another app (e.g to reply a Whatsapp message) and return, reconnecting is nearly instantaneous.
I also appreciate the option to set your name and take a photo of yourself (or choose one from your phone's gallery) before playing the games. It's fun to see yourself on the leaderboard and find out who's doing the best (or worst) in a game. There are also moments when a game highlights a specific person to perform better, which usually elicits boos or laughter from their teammates. You can form your own groups or let the game randomly split the teams.
I attended the official launch event of Everybody 1-2-Switch in Melbourne with Nintendo Australia, where I had the opportunity to try out many different games with other journalists and content creators. Some games required careful listening, so we skipped those, but I played these games at home with my friends.
The games offer a variety of experiences, some requiring physical movement and others not. When starting to play, you can either select a set playtime with games chosen at random or manually select the games you want to play (but note that the games need to be unlocked first). It can be a bummer to start with random games as they are not that many and you can end up playing the same thing over and over.
As for the games, UFOs is one of the most enjoyable games to play with a large group. It requires the group to follow a rhythm for a certain amount of time, and the group that stays in sync without any mistakes wins. Statues is similar to the Red Light Green Light game from Squid Game (if you've seen the show). It requires you to run in place (or just shake your phone/JoyCon) as quickly as possible while the character on the screen isn't facing you. Ice Cream Parlor is another fun game where you have to listen to kids ordering ice cream, and your team needs to divide tasks and pay attention to these hectic orders.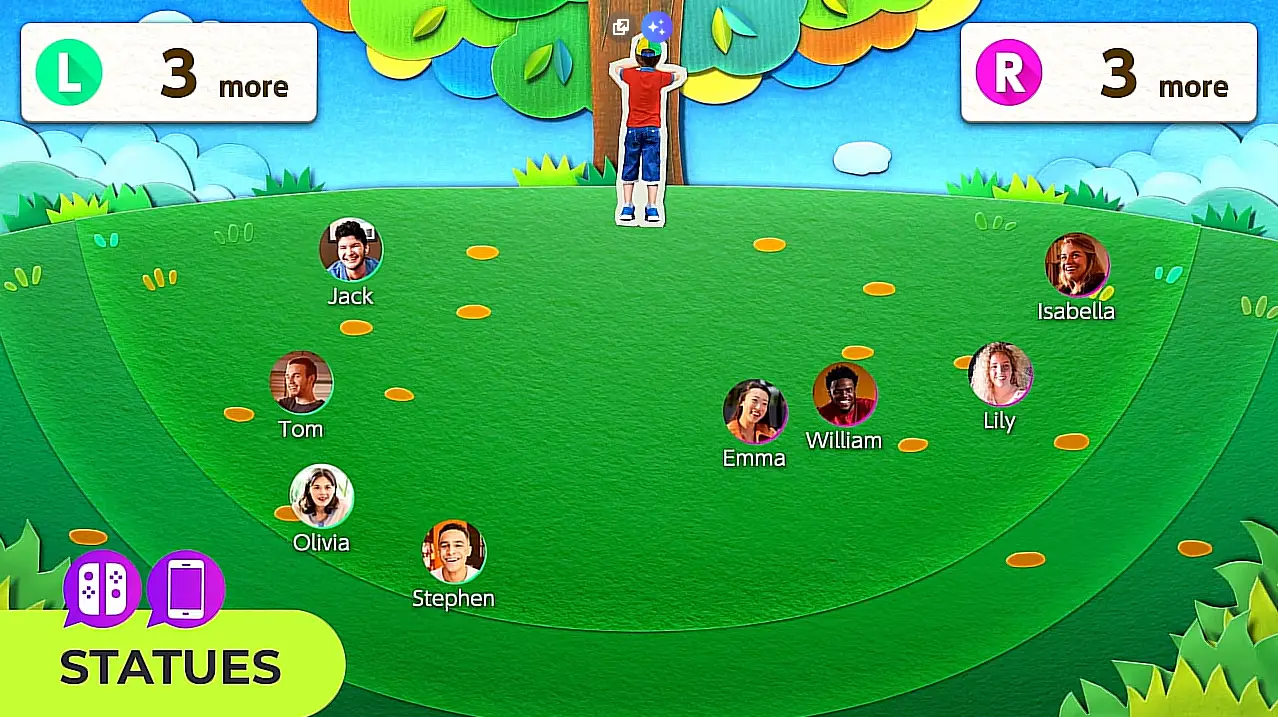 While there are fun and creative games, there are a few that I don't particularly enjoy. The Ninjas is cringeworthy in my opinion, and I couldn't care less about Joy-Con Hide & Seek, where one person hides a Joy-Con and another tries to find it by sensing the vibrations. However, some people might find these games enjoyable, and thankfully there are other games to choose from.
You can check some of the games on Nintendo's official trailer here:
Don't expect to find more than 20 games in Everybody 1-2-Switch. For example, if you're hosting a party or have a large group of friends coming over, there are only about 8-12 games to play together. While each game may have variants to increase difficulty, they are essentially the same games. If you play with the same group of people repeatedly, you may quickly become bored. There is no confirmed news regarding updates or additional games in the future. However, if it's the first time the group plays Everybody 1-2-Switch, expect great fun, laughter, and amazement.
One notable game is the Quiz Show, where players have to answer questions as quickly as possible. The game allows you to create your own quiz with your own questions, which significantly increases replayability for different kinds of occasions. For example, you can have a Wedding Shoe game at an engagement party to test who knows the Bride or Groom better by answering questions quickly and accurately.
Everybody 1-2-Switch Review Conclusion
Everybody 1-2-Switch is an intuitive party game with great design vision and execution. It redefines the party game genre by cleverly utilising smartphones and the capabilities of the Nintendo Switch to create games for parties. With support for up to 100 players, team-based games, easy controls, and games designed for large groups, Everybody 1-2-Switch is enjoyable for both small and large gatherings.
While there are games that may make you cringe, there are also fun and creative games. I particularly like the interface design, leaderboard, and the subtle nudges directed at specific team members who may not be performing well. These elements contribute to a lively and fun atmosphere in the room.
I'm not sure if people would use this game at a wedding party, but I can definitely see myself bringing it to an Easter camp, a birthday or Christmas party, or whenever a group of friends wants to have fun together. While I would love to see more games in the future, I understand that creating new games is not an easy task. Voice actors need to be organised, video clips need to be shot, and so on. However, if you regularly gather with different groups of people, the experience should feel fresh each time.
Everybody 1-2-Switch is available for A$49.95 (Digital Copy) at Nintendo AU Shop & retailers, also at Amazon.
Disclosure: Everybody 1-2-Switch review copy was supplied for reviewing the game
Everybody-1-2-Switch Review
Summary
An intuitive, party game where up to 100 people can play along using their smartphones
Pros
Intuitively designed (ideas, interface, leaderboard, customisable quizzes, etc)
Games can be played using smartphones with easy-to-use and intuitive QR code with complex network connection hidden behind the scene
Supports up to 100 people, great for big groups and events
Some games are really fun to play with a group
It's a true party game that can work with strangers, but more fun if you are playing it with friends you know (I played the game with many strangers at the launch event and with 8 close friends at home)
Cons
Need more games
Some games aren't that fun and make you cringe (subjective to opinion, perhaps?)
Games need to be unlocked so you can end up playing the same game over and over at the beginning (with random roulette)
Even with all games unlocked, things may get boring if you are playing it with the same groups of people