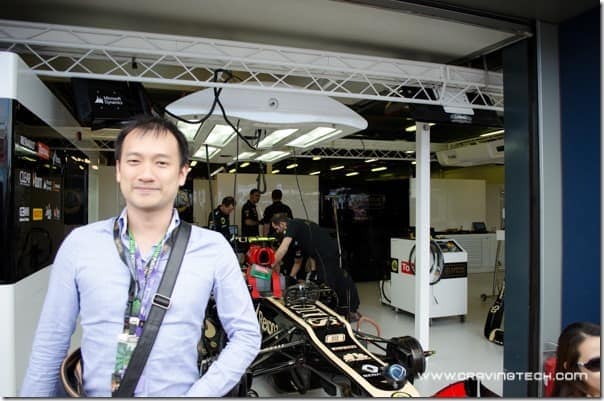 I was invited by Microsoft Dynamics and the Lotus F1 Team (the team where Kimi Raikkonen and Romain Grosjean are in) to attend the Grand Prix yesterday and to learn more about the story behind the three-year partnership.
In case you've never heard of Microsoft Dynamics, it is a complete CRM (Customer Relationship Management) and ERP (Enterprise Resource Planning) software application developed by Microsoft. Why would a Formula One team such as the Lotus F1 team need this?
How Microsoft Dynamics helps the Lotus F1 Team
Apparently, there are much data coming and going behind the scene. The Grand Prix is not just about the drivers and the fastest cars. Well, of course, it's all about building the fastest cars, but to do all that, there are tons of research, adjustments, and information gathering needed at every level. This, requires a complete and integrated solution.
We were introduced to Christian Pedersen, Microsoft's General Manager for Dynamics AX, Fiona Sims, Head of Microsoft Dynamics marketing, and also Francois Puentes, Senior Marketing Account Manager of the Lotus F1 Team.
At the end of the day, I was convinced and excited about things that happen behind the scenes and being a technology lover, I couldn't begin to comprehend the complexity of this business – which is why the Lotus F1 Team (and every Formula 1 team) needs a good ERP system.
If you want to know the level of complexity, here are some that I gathered on the day from Francois and Christian. Much of this conversation happened in the loud garage where the mechanics were testing the engine and such (a.k.a loud).
Every car is filled with about 100 sensors which records the tire temperature, pressure, performance, etc and pass this information every time the car finishes a lap (goes over the finish line). The Lotus F1 Team has 2 cars in the race, so yeah, there's a lot going on.
The data is about 15MB per lap or roughly about 32GB per car for the whole weekend. It will be used for analysis to improve strategy, assess problems, and to improve the cars' performance, among other things.
This huge and complex data is streamed to their main factory in Oxford for R&D.
There are also other things happening in the garage, such as the oil, gearbox, and fuel analysis (Renault and Total engineers are working together on this).
Logistics, HRs, technical drawings (about 11,000 according to Francois and only 1% will be validated), and tons of other things to maintain and manage. On each race, about 90 personnel travels about, not to mention the individual parts and other logistics.
Previously, according to Francois, they had to use a bunch of different applications to manage all these together (switching back and forth between applications). That is, until they have decided to use Microsoft Dynamics as their total solution and business transformation.
The industry has been regulated heavily and it is all about the budget, the budget, and the budget. Microsoft Dynamics has helped them so far in working more efficient so they are more budget efficient and no loss of productivity. They can then focus more on creating faster cars, and to win, obviously.
When I asked why the Lotus F1 Team picked Microsoft Dynamics compared to the other ERP solutions out there in the market, the answer is effectiveness and speed.
Obviously, migrating to another system is a daunting task, but the roll-out (in a few phases) so far was fast and successful. Phase 1 (Core AX. Finance, HR, Inventory, Travel, and Expense) was completed on the 5th of November and they are expecting the next phase to be completed this May 2013.
The Lotus F1 Team Garage and Pit Tour Experience
The tours to the Lotus F1 Garage and Pit Stop were tons of fun. We weren't allowed to take pictures in the garage, which is a shame, but the experience in being there itself was beyond awesome. About 5-10 minutes before the race (practice session) started, we were in the garage with the crews headphones on our ears. We could get a taste of what's happening behind the scene and the communication that went between the crews. From the view on the Paddock Club, we bare witnessed how fast the cars went. Nothing like on the TV.
We didn't see Kimi Raikkonen (Lotus F1 Team first driver), unfortunately. Well, we did from behind when he was in the car, about 5 minutes before the first practice session started. Romain Grosjean (Lotus F1 Team second driver) were up and about (saw him a couple of times with a reporter and inside his car) and we were introduced to Davide Valsecchi, Lotus F1 Team third driver.
Judging how busy the day was, we were lucky to be able to spot them in just a few metres from where we were standing.
Francois also explained in detail about the steering wheel and how the drivers need to memorise these buttons (obviously they cannot look away while they are driving that fast). It's like having tons of buttons on your mouse and you've got to remember each one of them, ugh.
Judging by how passionate Christian is in the Formula One (he really knows a lot) and how satisfied Francois is with Microsoft Dynamics, I'm pretty sure we'll hear great things from them in the coming year of their partnerships. All the best for the Lotus F1 Team
Disclosure: I was invited by Microsoft Dynamics and the Lotus F1 Team