I was given the honor to meet Ben Hosken (and his kids) from FlinkLabs on the 6th of January 2011 for a quick chat about the official Australian Open 2011 iPad app. The iPad app is powered by IBM and developed in collaboration with Ogilvy, FlinkLabs, and jTribe.
The Australian Open 2011 iPad app was developed about a month with a team around 5-10 people in total (collaborating together between different companies). Ben explained how his team focuses on the data visualisation and making sure that the data runs smoothly to the app (backend stuffs) where as the guys at jTribe developed the front end/the app itself.
The app was definitely made to show creativity, by integrating all these raw data from IBM into something more powerful, creative, and fun. It's clear that the apps were being made with love and passion as Ben demonstrated the app over a quick coffee to me (he looked very excited too when he showed off the app).
There seemed to be many great ideas during the brainstorming, such as a real helium balloon which would grow and shrink, depending on the traffic density of the twitter feeds, and many other cool ideas. Unfortunately, we won't be seeing the balloon this year though :(
Australian Open 2011 iPad app coverage
The iPad app is divided into several sections: Home, Official Program, Dashboard, Tournament Talk, My Scrapbook, and Autographs.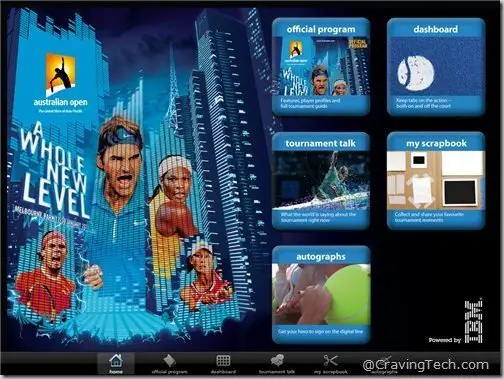 Official Program
It contains the official 80-or so-page Australian Open program, featuring player profiles, histories, and all the things you need to know about Australian Open 2011.
The amount of info in here is enormous and it would be really handy to carry this when you are watching the Australian Open 2011. Before the match starts, you can browse around the players profile to find out more about them. You flick through the pages easily although you cannot do it too quickly. Best is to wait until the loading icon has gone before you can flip onto the next page. You can also pinch and zoom into the texts like what you normally do if you read on the iPad.
According to Ben, the information is stored locally on the iPad, which is good.
Dashboard
The background is made to mimic a tennis court while the icons are made casual. The dashboard mostly contains live data segregated into separate widgets.
Through the widgets, you can check the local time, Melbourne's weather forecast, who's checked in with FourSquare, current matches, latest tweets from the tennis players, ticket information, number of attendance, video uploads, recent photos, and many other cool stuffs. The scores were updated every minute unfortunately (not in real time) but hey, I guess you can live with being a minute behind right?
Tournament Talk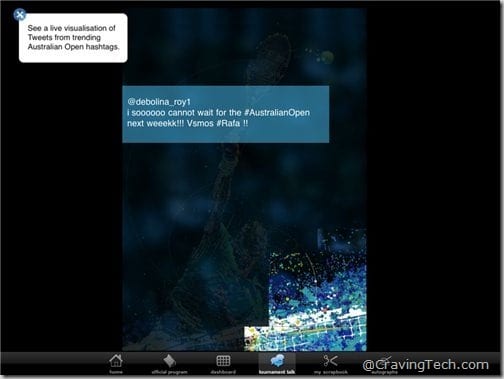 The tournament talk is a live visualisation of tweets from trending Australian Open hashtags (such as the #AustralianOpen and #ausopen) from twitter. Each feed is like a part of a jigsaw puzzle and every tweet retrieved is made to complete the puzzle. I find that this screen is too slow for my taste though. I'd rather see these tweets on a long simple list so I can quickly see them all at once. When I played around with this, it took ages for the tweets to be retrieved (even on a Wi-Fi) and if I went back to it from another screen, the information was re-loaded again from the start.
My scrapbook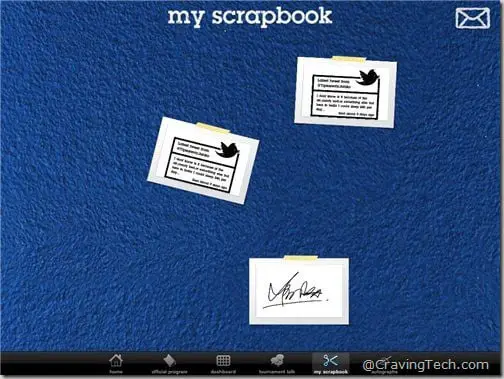 You can collect and share your favorite tournament moments here (such as interesting tweets and players signatures – more on this later). You can then email it to your friends straight from the application if you want to.
Autographs
This is probably one of the most interesting features on the app. Remember seeing those big tennis balls being handed over to the tennis players to be autographed? How about handing your iPad to them so that they can sign it digitally? Isn't it cool? The Autographs section is basically a blank white page where you can draw with your finger. You can add the name of the tennis player, save it to your scrapbook, and show it off to your friends via email.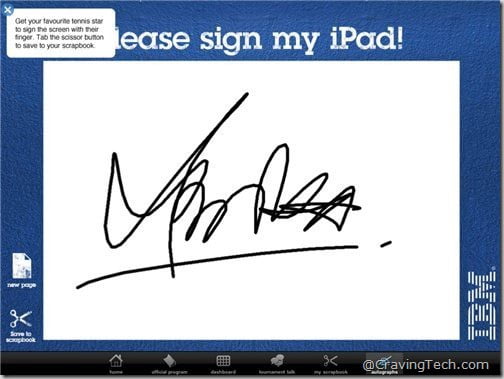 This is also a smart marketing trick for the app. Imagine what will happen when someone is caught on camera, handing over the iPad (using this app) to a tennis player? The reaction would be phenomenal. Ben and I hope that such thing will happen on TV. I'm sure that all the team involved in making this app to reality would expect the same thing. Or perhaps better, why don't you try sitting in the front row and carry this app on your iPad? Imagine how popular you'll become ;)
Overall, this app is definitely a gem if you are going to watch the Australian Open 2011. You can quick browse through a player's info when the match is about to start or check out the next schedule of a match. There are tons of other information too to play with while you wait for a match to start.
Check this official video too below:
A bit more update on the app will make it shine even better, such as the performance while loading the official program (if possible) or being able to sign in with your twitter account and reply the tweets right away on the Dashboard. I also experienced occasional crashes when I tried to do certain things on the app. Only happened a few times though.
So make sure you check the application out at Australian iTunes store: Official Australian Open 2011 Program. Kudos to the whole team for making this app into a reality. It must be tough to collaborate between different companies but you guys have done a great job! Many thanks to the team at Ogilvy to arrange the time with me and Ben (the thanks goes to Ben too. Hope you had great fun with the kids).