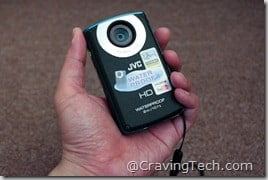 The JVC Picsio GC-WP10 is a full HD pocket camera that is both waterproof and shockproof. It allows HD video recording underwater up to 3 metres/10 feet. If you like swimming in the beach or snorkeling, the JVC Picsio GC-WP10 will come in handy to record your golden experience.
There's nothing more exciting than recording the underwater life with your own pocket camera.
The GC-WP10 is quite compact in size which makes it easy to carry around, even in your pants' pocket. It looks like a digital camera with a large LCD screen at a first glance.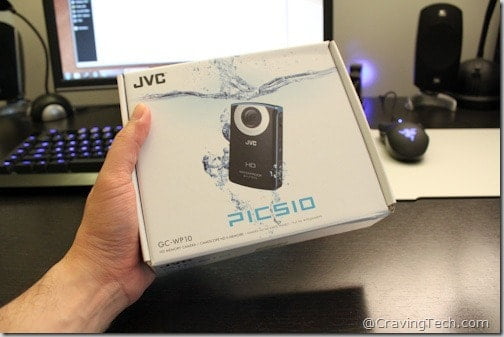 The GC-WP10 allows to record 1920 x 1080P Full HD Video and 5 Megapixel digital photos (for stills). There is no optical zoom unfortunately, but there is a 4x digital zoom available. The 3″ Touch Panel is sufficiently large although you will not see the video fully on the screen when you are recording. This is because the camera only allows recording in Portrait mode, so you can access its recording functions at the bottom part of the screen.
Playing the playback videos however, makes it go into Landscape mode so you can watch the recorded videos in full screen.
I like the video quality it produces, assuming that it's not in a low lit room. Allowing you to record up to 1920 x 1080P is probably a must since there are a lot of people who own a full HDTV in the living room nowadays. Recording in 1080p allows you to fully enjoy the recorded videos in the highest quality possible. However, I found that it gets quite grainy when I tried to record in a low lit room (my bedroom). I was trying to record a video for the Ford Motor Company but because it was too grainy, I ended up using my Microsoft LifeCam Cinema instead.
Bright lit room or outdoor videos give the best results however: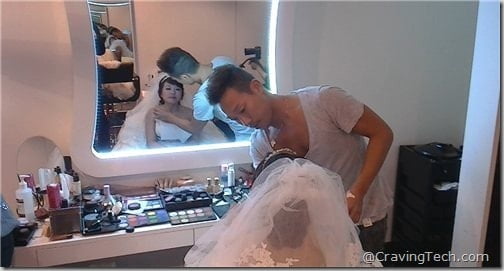 The GC-WP10 also has a Face recognition feature so faces stay focused (you can actually see the rectangles around the faces on the interface while recording).
The touch screen interface is supposed to make it easier to navigate and intuitive to use. Unfortunately, I find that the interface is the weakest point of the GC-WP10. It's non intuitive (confusing to navigate) and feels very sluggish too. The buttons are also not in high quality (you can see the pixelated edges) and it just takes a while to navigate through the different menus and settings.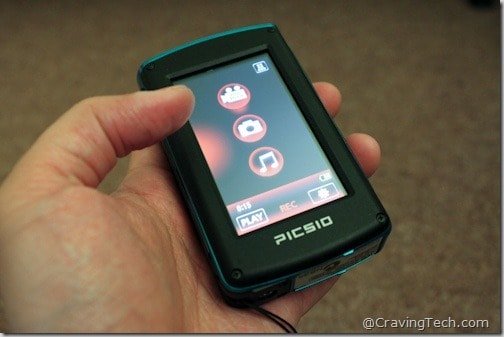 Thankfully, you don't need to change the settings quite often, apart from accessing your playback videos (which is fine). But if it's possible to update the camera somehow (firmware update?), a new interface is definitely needed for the GC-WP10. If you don't care about the interface though, the GC-WP10 will serve you fine. Once you get the hang of it, you can easily overlook the interface and go straight into action. The record, zoom, and playback buttons are thankfully easy to find and at the right places.
Unfortunately I didn't have the time to go to the beach to test the underwater footage but for some waterproof tests:
You can record and even playback the videos under water.
There is also a cool feature called Time-Lapse Recording. It condenses long hour recordings into a few seconds in a really cool way.
Overall, I'm quite pleased with the JVC PICSIO GC-WP10. It records high quality videos although things can get a bit grainy if there is not enough light in the scene. Other than that, the quality is superb and plugging it via HDMI gives you the best playback quality possible to your HDTV at home.
It's also quite compact in size and allows you to record your adventure especially if it involves water splashing or even somewhere underwater. How about diving with the sharks on Melbourne Aquarium? Assuming you can bring this camera, it'd be cool to record your adventure for long years to come.
Want to win this camera? Just post a comment on the JVC Picsio contest post and you might win one! Hurry, it ends in a couple of days!