When I saw that the 3.5mm headphone jack was removed from the newly released iPhone 7, I wasn't ready. All my earphones/headphones are wired. However, this move by Apple certainly shows the world where technology is going: the world is going wireless!
The Plantronics BackBeat FIT, as can be determined by the name, is aimed toward those who are looking for wireless earphones for use during their workouts. The BackBeat FIT is sweat and waterproof and claims to offer a stable and comfortable fit. Well, I certainly fit into the targeted audience: I squat, deadlift, bench press, do pull ups and muscle ups, run, and do Olympic lifts; and I usually dislike the music they play at my gym!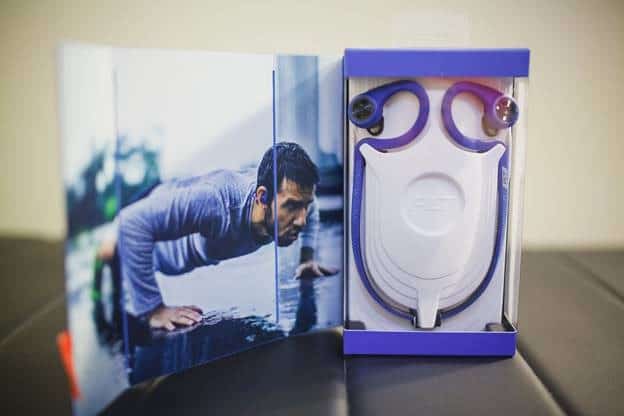 Prior to wearing BackBeat FIT, I tried listening to music by wearing wired earphones during my workout sessions but find that they are way too fiddly and cumbersome. I would have to have my iPhone in my pocket which sometimes is not the best thing when you have to do squats and deadlifts. The cables could also get in the way of some movements. Running with wired earphones don't usually work for me because the weight of the cables can sometimes pull the earphones out, interrupting my run.
So after a few tries, I gave up and just had to endure the music they put on in the gym (even sometimes having to hear some random dudes give really bad workout advice to his friends), or listen to nothing at all when I go out for runs.
Enter the Plantronics BackBeat FIT.
In the box, you'll find the pair of earphones with a USB to micro-USB charging cable, and a few booklets of instructions in multiple languages. It does not come with a protective case/bag. The packaging is simple and quite well designed.
Plantronics BackBeat FIT Review – Design and operations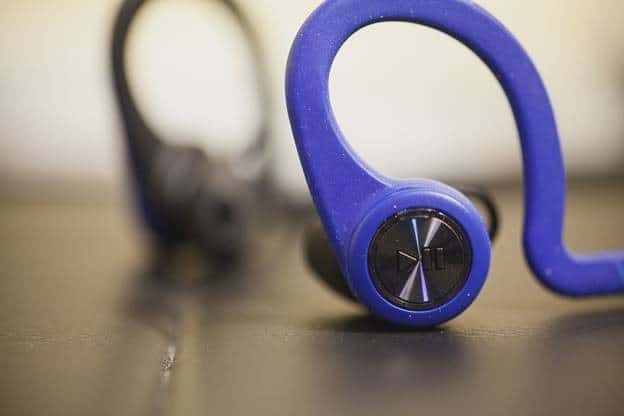 The product design is quite simple and minimalist, which is something I like. It is available in a range of colours and the one I received is the Power Blue one.
Initially, when I saw the pictures, I thought that the band that goes behind the neck is a rigid one. I have used sports headphones that had a rigid behind-the-neck band before and they were uncomfortable and the rigid band would get in the way especially when I have to lay my head down as when I do bench presses. I was pleasantly surprised when I took the BackBeat FIT out of its packaging because the behind-the-neck band is a flexible one.
Even though it is flexible, it does not feel fragile at all, in fact, it feels quite durable. I am excited by this because I can already see how it will not get in the way of my workout movements! The band is also adorned with reflective paint to help you be noticeable during nighttime runs.
On the left side, you'll find two buttons: Play/Pause button and Volume button. Click once on the Volume button to increase volume, or click and hold to decrease volume. Double tap on the Play/Pause button to go to the next track or tap and hold to go to the previous track. On the right side, you'll find another set of two buttons: Phone Answer or End/Voice Command button and Power/Pair button. Hold the Power/Pair button to turn it on or off or to pair it with your music source if you haven't paired it up yet.
Pairing up was easy to do – I had no problems whatsoever with this. The controls worked well too, even though I was using Spotify instead of the Apple Music app.
Charging is done by plugging in a micro-USB cable to the right-hand side unit. I like that they are using this commonly found charging interface and not some kind of proprietary charging interface which means you'll have to bring an extra cable when you travel.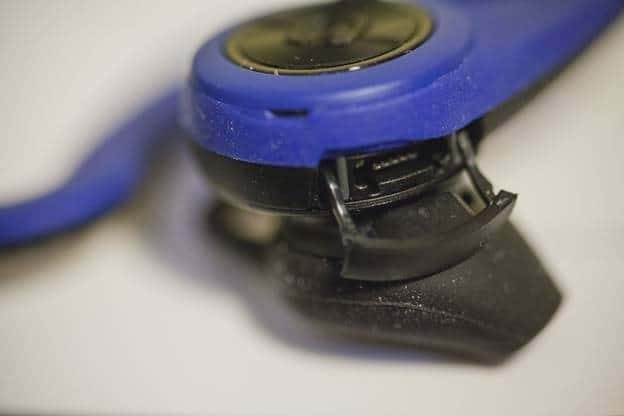 The headphones can be charged in 15 minutes to provide roughly an hour of listening time. For a full 8 hours of listening time, you will need to charge it up to 2 hours from a completely drained battery state.
8 hours listen time is pretty impressive and provides me with around two weeks of use because I usually use it during my workouts for roughly 1 hour, 4 times a week.
Answering phone calls is easy with just the press of the button on the right side unit and the phone call and microphone quality is very good too. The Bluetooth range is also very good as I was able to leave my phone in my room and answer the call in another room about 12 meters away.
The headphones are also sweat and waterproof. After every workout, even very sweaty sessions, I would just wipe the headphones down with my towel and it's ready to go into my bag. I have also worn it for a run in a drizzle and it was working fine.
Plantronics BackBeat FIT Review – Fit for workouts
The BackBeat FIT only comes with the one size for the earbud. Upon first wearing it, it feels too big for my earholes. It does not go in deep and would not seal the hole, and therefore felt quite uncomfortable at first. With the headphones not providing a good sealing of your earhole, it also does not provide good passive noise cancellation. However, I do realise that noise cancellation is not the goal of this product. In fact, after wearing it for a quick run outside, I can start to appreciate that it does not go in too deep and does not seal the hole, allowing me to still be alert and hear a car coming up from behind. Also when you are working out, having the earbud go in too deep would become uncomfortable over time as your body temperature rises during workouts.
With the hole not being sealed fully, I can appreciate that my ear can still breathe. So, maybe it was by design that the earbud was not to go in too deep and would be slightly large and was not meant to seal the earhole. So as far as fit to the earhole, the BackBeat FIT caters better for wearing it for sports and workouts rather than for wearing it for leisure or working at the office, where you would probably appreciate better sealing and passive noise cancellation.
The part where it goes over your ear and to the back, and also that loop you see in the picture above, help secure the headphones on your ear. In all my experience wearing the headphones for running, or weightlifting workouts at the gym, the headphones have provided a truly comfortable and secure fit. In addition, the headphones are not heavy at all at just 24g, so it doesn't weigh you down or threatens that it will get dislodged and fall out when you move your head aggressively. There never was once when I worried that the headphones would fall out. It was so comfortable and secure that I just forget that I was wearing it, enabling me to focus on the workout itself – the headphones just became an extension of my body. Very well done, Plantronics!
The around the neck band, as I mentioned before, is very flexible. Some users complained that it flops around quite a bit when they're running, but it didn't bother me at all. I initially thought it would be in the way for when I do bench presses because I have to lay down on the bench. However, it didn't bother me much – I can feel the band getting compressed a little bit but it was still quite comfortable and didn't get in the way.
Another movement that I was a little bit worried about was the back squat where I have to support the barbell on my upper back, but again it didn't bother me at all. So the headphones work really well for running and gym workouts.
Plantronics BackBeat FIT Review – Sound quality
To be honest, my expectations about the sound quality of the BackBeat FIT was pretty low. I own a Sennheiser studio reference headphone, a Bose headphone I use at the office, an active noise-cancelling Bose earphones I use for travel, and a Shure in-earphones for when I play music at the church.
However, to my pleasant surprise, the Plantronics BackBeat FIT sounded better than my expectation. Yes, the bass and low frequencies were a bit on the weaker side, but the mids and highs were quite clear and good sounding.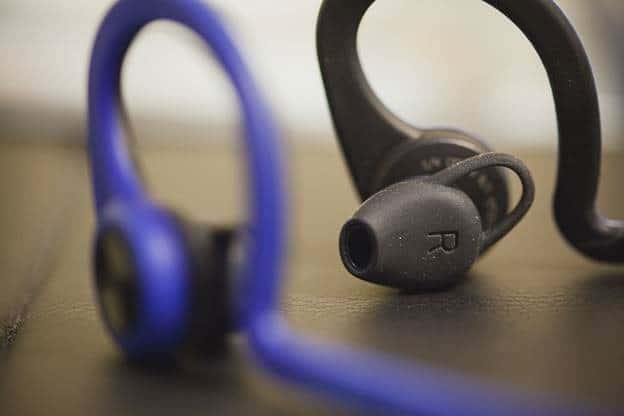 It doesn't sound tinny at all and is able to give an open sound. I do miss the beautiful low frequencies my Bose headphones gives me, but after I compared the Plantronics BackBeat FIT with another Bluetooth wireless sports headphones that a friend owns, BackBeat FIT's low frequencies are actually quite decent! I guess it was unfair for me to expect the same sound quality of those other headphones of mine from the BackBeat FIT unless I also expect that they are sweat and waterproof and provide comfortable and secure fit for workouts.
The more I listen using BackBeat FIT the more I appreciate its sound quality for a Bluetooth sports headphones. In addition, the headphones can go quite loud too while maintaining good sound!
Plantronics BackBeat FIT Review – Conclusion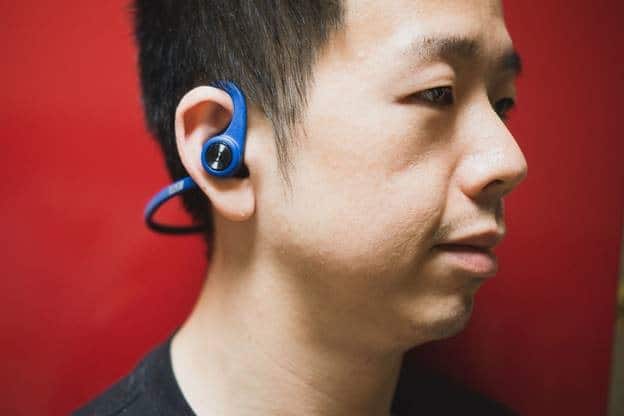 In summary, I am impressed with the BackBeat FIT! Plantronics has delivered a product that caters to all the requirements of a great wireless sports headphones! It is designed well with a durable feel to it, is sweat and waterproof so you don't have to worry about wearing it on a run in the wet.
While it doesn't give the perfect sealed fit and feels a bit big for my earholes, it allows me to still be aware and hear my surroundings and it sits comfortably and securely to become an extension of my body so I can focus on the workout I'm doing. Although the low frequencies are on the weaker side, the sound quality the headphones delivers is exceptionally good and gives an open space sense. All of these are supported by its excellent battery life.
Disclosure: Review sample was supplied for reviewing but all opinions are mine