Yesterday I had a quick lunch meetup with Peter Petrides, Plantronics' National Retail Sales Manager and also an audio specialist. I learnt more about Plantronics' history and also their dedication to audio technologies globally. They don't make keyboards, they don't make webcams, they are simply focusing on audio headsets since 1962. That's a good thing. They are focused and they've been around long enough to understand the audio technologies inside out, designing better and better "bridge" from a media device to our ears.
In fact, Neil Armstrong's famous quote as he stepped on the moon, "That's one small step for (a) man, one giant leap for mankind…" was transmitted through a Plantronics headset! Now that's a solid proof of Plantronics' credibility.
Their latest product, the BackBeat 903+ was launched yesterday in Australia and I was given a chance to see it firsthand and even use it before most Australians can, thanks to Peter. It will go to retail shops soon so I'm aiming to have my review to go live before the product hits the shelves.
I've been using the BackBeat 903+ daily now and totally love it. It's a Bluetooth headset to make/receive calls but also a wireless headset to listen to music with a truly great audio quality (which was unexpected when I first heard it). Before my review post goes live (hopefully next week), here is a press release of the BackBeat 903+ but so far, this is probably the most efficient, elegant, and handy wireless headset I've ever used/reviewed.
Never Miss a Beat with the New Plantronics BackBeat 903+
BackBeat 903+ Wireless Headphones Let Users Easily Switch Between Music and Calls with the Touch of a Single Button
Sydney, Australia – November 25, 2010 – Today Plantronics® (NYSE: PLT) announced the newest addition to its BackBeat® family of stereo headphones, the BackBeat 903+.  Ideal for iPhone® and Android® users, the new BackBeat 903+ wireless headphones deliver an immersive audio experience, with high-quality audio performance and easy switching between music and calls.
Work Out with Wireless Music and Calls
Make the most of the great Aussie weather this summer, with the Plantronics BackBeat 903+ stereo Bluetooth® headset designed for users with active lifestyles. It provides rich wireless stereo music and the ability to answer or end a call with a single touch of a button. The BackBeat 903+ features a ruggardised design and sweat resistant-materials, along with a flexible design featuring three levels of earpiece adjustment for a secure and comfortable fit during long workouts.
For iPhone users, the Plantronics BackBeat 903+ displays an on-screen battery meter on the iPhone for easily monitoring the headset's battery level. It also includes convenient voice alerts for remaining talk-time, track-control, low-battery, mute and connection status.
The headphones feature dual microphones and Plantronics' proprietary AudioIQ2 digital signal processing (DSP) for clear calls, even in noisy environments. Like the BackBeat 903, the BackBeat 903+ includes OpenMic™ technology that allows users to instantly hear their surroundings without removing the headphones, providing greater convenience and safety while exercising.
"The BackBeat 903+ solves the issue of being connected to your music and calls without the use of wires; it's perfect for active people looking to stay in touch and enjoy rich audio streamed to their iPhone, smartphone or Bluetooth enabled MP3 player while they're on the go," said Peter Petrides, National Retail Sales Manager, Plantronics Australia. "As summer approaches and people are becoming more active the BackBeat 903+ is the perfect way to enjoy rich audio while staying in touch with friends and family."
Tune in and Stay in Touch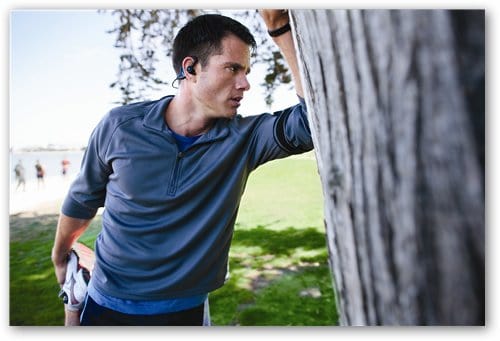 The Plantronics BackBeat 903+ wireless headphones feature:
Ruggedised materials and design for active lifestyles
Dual-mic AudioIQ2 for clear calls
Bass-boost enriched audio
A2DP to stream music, podcasts and more
Headset battery metre on iPhone® display
Voice alerts: power, connection, mute, battery, listen time, track forward and back
OpenMic™ feature brings in the outside world
3-way earpiece adjusts for secure fit
Quickly fold and store in protective carry pouch
Pricing and Availability
The Plantronics BackBeat 903+ will be available from December for a RRP of $149.00. For more information please visit www.plantronics.com.au.