OPPO A73 Review – OPPO smartphones are always packed with features of a flagship phone, without the premium price. For example, OPPO includes a dual-lens camera with Portrait mode on their latest flagship OPPO R11 (AU$599), along with fingerprint unlocking. Even their non-flagship phone, the lower-end OPPO A77 (AU$398), has the same, fast, fingerprint unlocking along with a triple-SIM-slots-tray.
This time, their even-cheaper-phone, OPPO A73 (AU$359), has a face unlocking feature along with the fingerprint unlocking. It's definitely not as sophisticated as the iPhone X's, but it's there.
So let's take a look at what OPPO offers this time on their low-end range smartphone.
OPPO A73 Review – Packaging
OPPO again, has a screen protector already applied nicely on the screen and includes a case. However, the case has a different material this time compared to the usual transparent, gel case on the other models. I like the other ones better as this is a bit too stiff for my liking.
OPPO A73 Review – Design & Features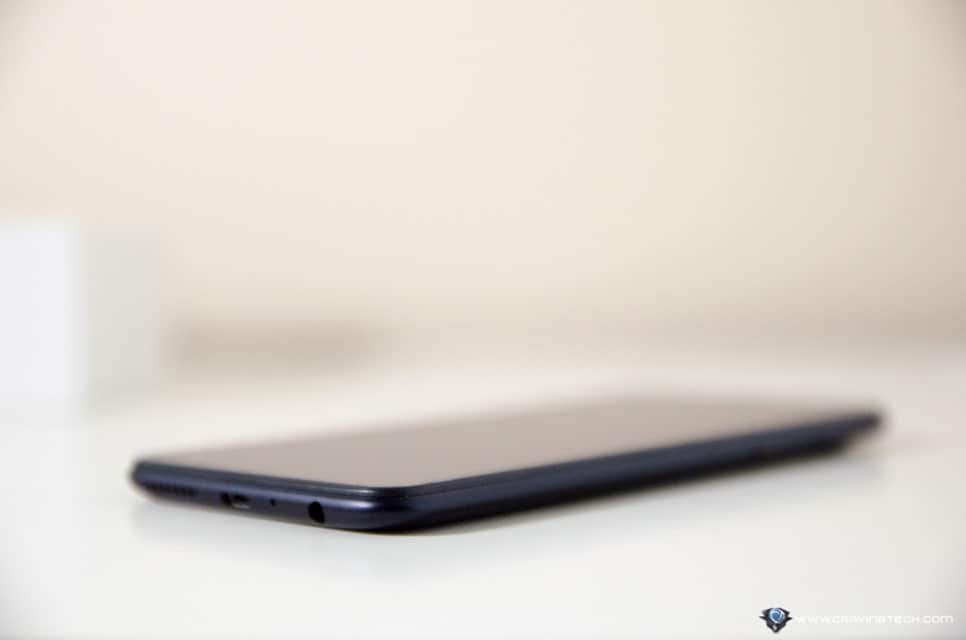 Specs wise, OPPO A73 is a 6″ Full HD (2160 x 1080) with 2.5GHz Octa-core processor and 3GB of RAM. On paper, just having to pay $359 to get a phone with these specs is quite a great deal. However, in day to day use, the performance can stutter a bit here and there. It's not frustrating, but if you are used to using a more premium phone, you can definitely feel the difference – especially when playing games.
OPPO A73 does look and feel slick, and the big screen gets the highlight thanks to the removal of the Home button (OPPO has moved the fingerprint sensor to the back of the phone). As a result, the 6″ screen pops more. The display is of high quality and can definitely compete with phones in the pricier range.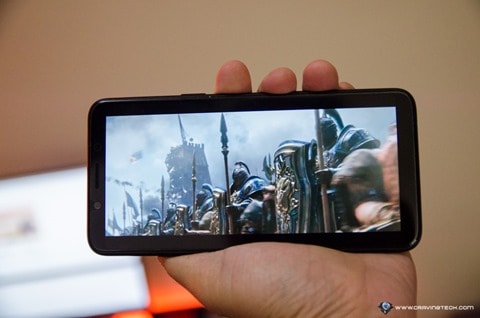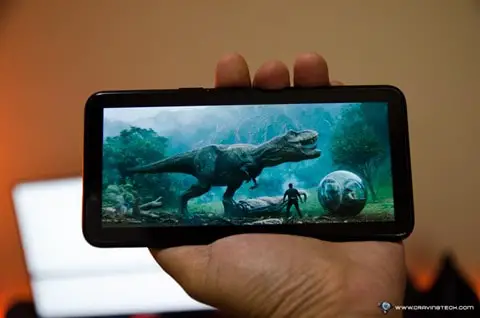 To cut the price down, it seems that OPPO uses a different material on the A73. If you own an R11 or A77, you can feel the difference in the material's look and feel. The phone still looks good though and has a good, non-slippery feel to it.
The facial recognition is not bad. It unlocks really fast and makes me rarely see the lock screen. Now, OPPO has already put up a warning that the facial unlock is not as secure as the fingerprint's (and that's probably why OPPO includes the fingerprint sensor still); You may think of it as a half-baked solution compared to Apple's iPhone X, but it's there anyway as an alternative if you want to take it.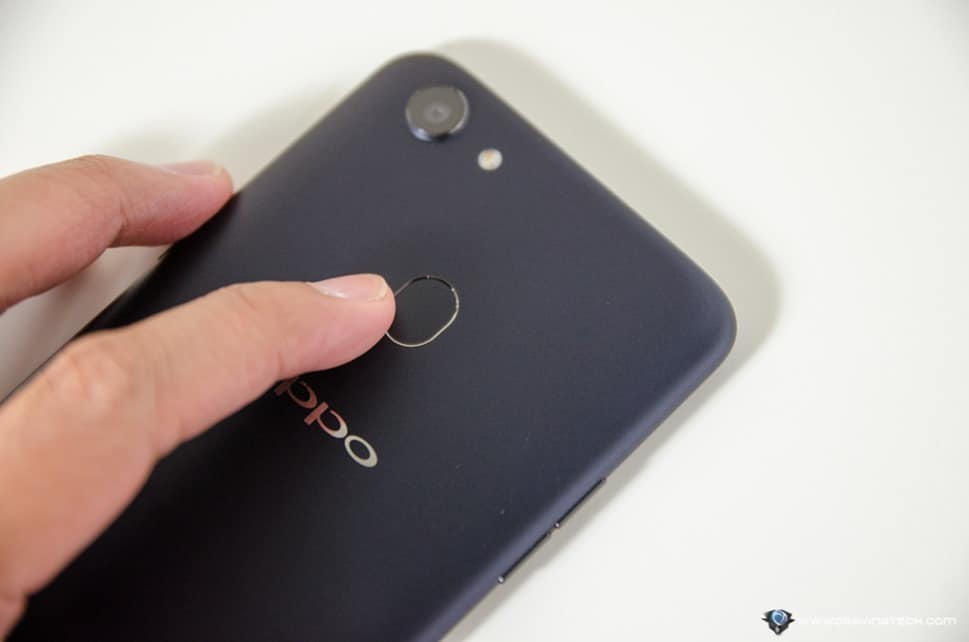 The camera is definitely the highlight of OPPO A73, especially the front camera. If you go to the phone's official page, half of the page is dedicated to feature its better-at-taking-selfies camera. This is because its front camera has an f/2.0 lens aperture to allow more lights to come in, 16MP, and specific OPPO algorithm to make your selfie photos better.
OPPO even boasts further by adding a smart Artificial Intelligence that identifies your skin tones, types, and age, then smartly edits the photo to give you a better selfie shot to be proud about. I'm not a fan of the results sometimes as it can create an unnatural "beautification" and somewhat changes a person's face.
The rear 13MP camera may not get enough highlights on the product page, but I found that it take good shots when there are enough lights. Compared to an Android flagship phone like the Samsung Galaxy Note8 however, the photos can be seen with lack of details at times. But we're talking about a $359 phone compared to a $1,400 phone here. And to most people, the photos are good enough for social media and such.
And as expected from a budget phone, the clarity and quality suffer when there is not enough light in the scene.
OPPO A73 Review – Conclusion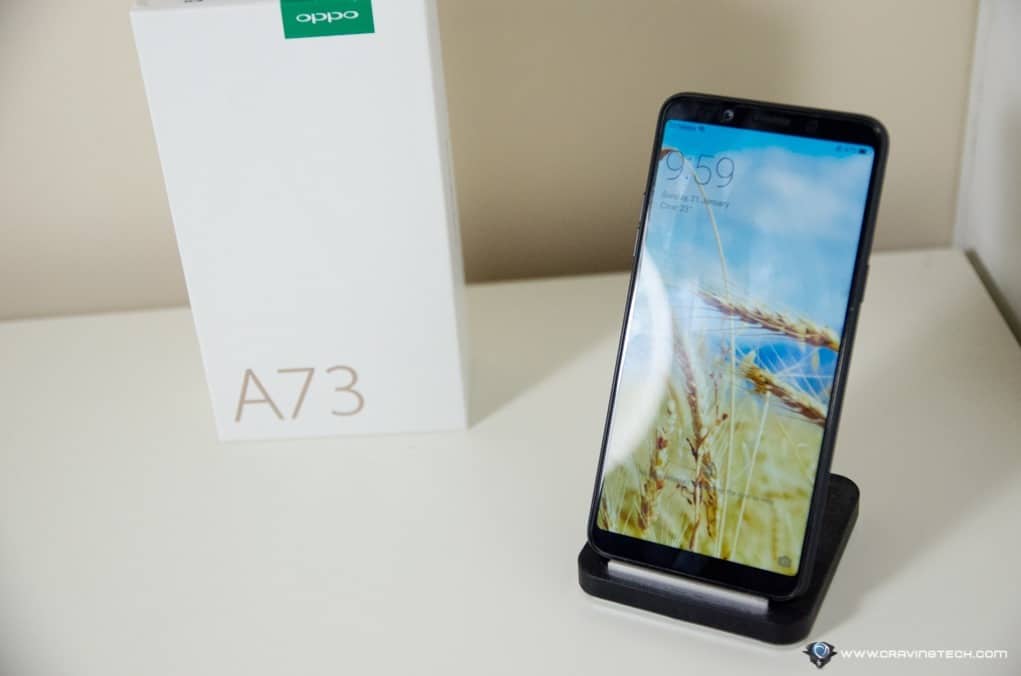 To be able to see the value that OPPO A73 brings to the table, you need to look at the price and see what it offers. For just AU$359 (at JB Hi-Fi), you get a 6″ FHD smartphone with minimal bezel, both facial and fingerprint unlock, 3200mAh battery, dual-sim tray, and not-so-bad front and rear camera.
OPPO A73 performance is not the best compared to the pricier phones but if you are not using the phone for video editing or wanting to get the best photo quality from a phone, you'll squeeze a lot out from OPPO A73 as a primary phone and save the money for something else.
Disclosure: OPPO A73 review unit was supplied for reviewing but all opinions are mine and not paid