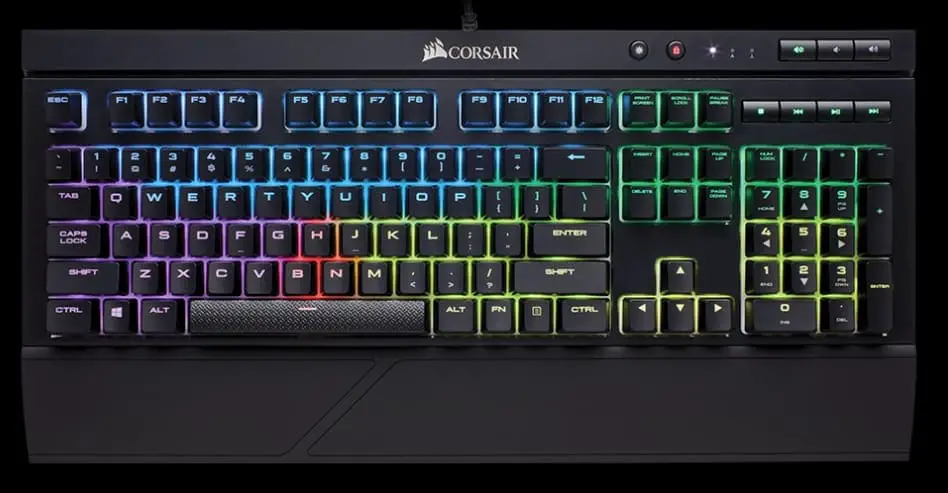 If you like to eat on your desk or drink beer/soda while having a go at Overwatch, you'd probably understand the feeling. Sometimes, crumbs would go in-between key caps, and worse, terrible accidents can happen.
Coffee cups fell over spilling coffee to your keyboard, or a bowl of instant noodles gets tumbled over while you are enjoying your dinner/supper. Most keyboards will stop working at this point and there's nothing you can do apart from having to buy a new gaming keyboard.
Well, no more. Corsair K68 RGB Mechanical Gaming Keyboard is not just mechanical and has RGB-lighting, but also waterproof with an IP32 protection rating. Every keyswitch is individually shielded from dust and liquid spills.
The K68 is only available with Cherry MX RGB Red switches, so if you prefer to game on the other CherryMX Switches (Black, Brown, Blue, or Silver/Gray), then you are out of luck. I haven't used Red CherryMX Switches before, but I've heard good things about them.
Like the Corsair K70 RGB RAPIDFIRE that I reviewed here at Craving Tech or any other RGB Mechanical Gaming keyboard, Corsair K68 can give you stunning lights in many colours, supports a variety of lighting profiles, and even syncs to your other Corsair's gaming peripherals.
There is also a removable full-length wrist rest, dedicated volume and multimedia controls (no volume roller though), 100% anti-ghosting, and more featured in the K68.
If you still don't believe how snack-proof and water-proof the K68 keyboard is, check out the, ahem, stress test done by The Verge:
Stress testing a snack-proof keyboard pic.twitter.com/P14VQXmLi9

— The Verge (@verge) January 25, 2018
Corsair K68 is now available to purchase for AU$219.99 at major retailers in Australia and online.