OPPO A77 Review – Smartphone manufacturers make a different range of smartphones, aimed for different groups of people. For example, if you really like taking photos in low light, you'll have to opt for a more premium, expensive device.
For some others, they only use their phones to stay in touch with their loved ones, or browsing for news and social media feed. They don't need a $1,200 phone. That's where the new OPPO A77 comes into play. It's aimed for those who are conscious about their budget, or simply don't need the latest and greatest out there.
That does not mean the OPPO A77 is bad or does not have anything to brag. For a start, the device is equipped with OPPO's fast fingerprint reader and it unlocks as fast as OPPO's more premium devices, including the new OPPO R11 flagship phone (check our review on the OPPO R11).
As for the design itself, OPPO A77 is only 3 grams heavier than the OPPO R11 (though somehow feels heavier in hand) and does not feel as premium, but the materials used actually make the phone non-slippery to hold.
And, like the other OPPO devices, the packaging comes with a transparent case to protect your shiny new phone, and further improves the grip.
OPPO A77 comes with a unique Triple-Slot Tray (something that I haven't seen before) so you can place 2 Nano SIM cards AND a microSD for an extra storage. Usually, you have to trade the microSD for the second SIM card.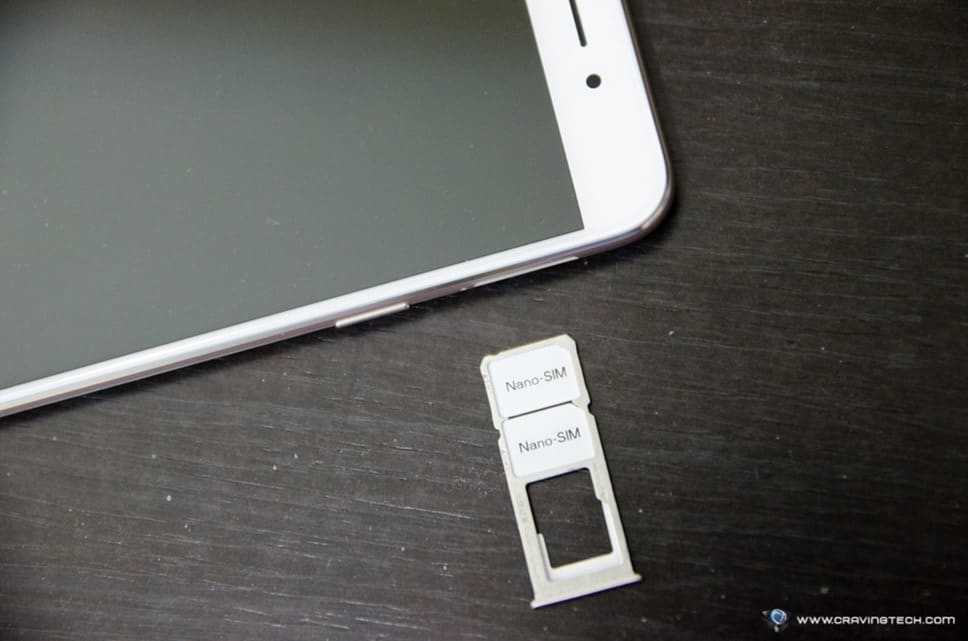 Advertised as a phone with 16MP Beautify Camera, the A77 definitely rewards those who love to take selfies. It comes with "Beautify" mode that does its magic to remove wrinkles and other unwanted blemish from your face (like pimples), plus a Bokeh effect. You can also pick how extreme you want the software to "smooth" your face up. I found that level 2-3 is the perfect balance and doesn't make you look like a barbie doll unnaturally. Palm Shutter action to take picture is also supported so you can take selfies easier.
Before applying Beautify (on the left) and after:
The Bokeh effect is not as good as the R11's Portrait mode but to be fair, this is coming from a non-dual lens camera – meaning, it has a lot more software emulation and inaccuracy:
OPPO A77's 13MP Rear Camera takes good shots too, though not as great as the higher end OPPO R11 (but costs $200 more).
A77 is still capable to take some low light shots (with a software help to smooth the noise out) but it is not made for taking them. The results are not horrible unless you need to enlarge and make them to a wallpaper or print. When there is some light, the camera lens amazingly can cope with the scene.
Performance wise, the phone is good to use as a daily driver, as long as you don't expect a super buttery smooth experience. For example, infinite scrolling tends to get stuttered at times but it is expected for a phone of this price. However, opening and running apps feel fine, I could play Hearthstone without frustrations, and I was quite happy with its functionalities and overall performance. Mind you, the A77 is actually powered by an octa-core 64-bit processor (MT6750T) and 4GB of RAM.
OPPO A77 Review Conclusion
OPPO A77 is a successor to OPPO A57 that we reviewed earlier this year and for the price you are paying, you are getting a very good deal with OPPO A77.
It's $448, but you will be getting an octa-core Android phone with 4GB of RAM, dual-sim + microSD for expandable storage, a fast fingerprint sensor (which works for unlocking and as a secure method to log in to certain apps), reasonably well front and rear cameras, and quite a premium look-and-feel.
You can purchase OPPO A77 at JB Hi-Fi Australia in either Black or Gold.
Disclosure: OPPO A77 review sample was supplied for reviewing but all opinions are mine and not paid