Fancy Gmail with tabs? You couldn't have them, at least, not until now. With the latest update, Google has added tabs in Gmail (no UI redesign, it seems – rumor is that it's coming).
We've got tons of emails nowadays – from our friends and important people, coupons/vouchers from our favorite online shops, updates from services we've subscribed to, mailing lists, and more. It can then be harder to focus on the more important stuffs first, especially if you don't check your inbox often. Here is how Gmail tabs come into play.
The old Gmail Inbox: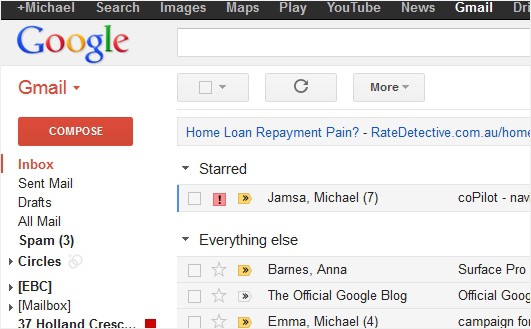 The new Gmail Inbox with tabs:

The new Gmail update comes to the web/desktop and mobile apps (iOS and Android). According to Google's official blog post, the update will be come available in the next following weeks. However, if you go to your Settings (the Gear icon on your Gmail), you may be able to turn the new tabs feature on.
Click on the "Configure inbox" sub-menu to start adding the tabs into your Gmail.
Unfortunately, you cannot add your own custom tab (which I would love to do) so you'll just have to trust Google to filter the emails out. You can, actually, move an email to a different tab and then make sure Gmail remembers it for the future.
Will you be using the Gmail Tabs? It feels like an extra click for me but I guess this will be useful for those who don't check their inbox pretty often.