Moshi iGlaze ion Battery Case Review – Battery cases for smartphones are great if you somehow always run out of juice before you reach the end of the day. However, to some, they are considered bulky, like this Mophie Juice Pack Air for the iPhone.
Unless you regularly need to top up your smartphone's battery, you probably prefer not to have a battery case on your phone all the time. Which means, you either use your phone naked, or with a different, slimmer case altogether.
Moshi has an innovative idea  by designing a case which consists of two parts that you can just plug/unplug as you see fit. Using your phone regularly? Then the standard case will protect your phone without adding too much bulk. Need to charge it? Then it's time to attach the second part in.
Moshi iGlaze Ion Review – Packaging
Moshi iGlaze Ion Review – Design & Features
Moshi iGlaze Ion was a CES 2016 Innovation Award Honoree, and designed to give you the flexibility you need:
You want to protect your iPhone without adding too much of a bulk
You want an easy and quick option to top up your iPhone's battery when needed
The result? A 2-case-in-1 that complements one another.
iGlaze Ion Protective Case (Inner Case)
The first case looks just like a regular iPhone case. It has a shock-absorbing inner frame and soft microfiber lining to protect your iPhone from scratches, bumps, and accidental falls.
My Apple iPhone 6s snugs easily into the case and looks great with the case too. There are cut-outs for the ports and camera, and protective panels for the buttons. These certainly make the buttons like the power button to require more force to press, however.
The case is thick and provides ample of protection to all ports and buttons at the same time, including the screen and the back of the phone. There is a gap between the screen and the ground should you accidentally drop your iPhone with the screen at the bottom. The back of the phone is also protected so you don't need to worry placing your iPhone on any surface.
iGlaze Ion Battery Case (Outer Case)
The second case is the battery case. It houses a 2,750 mAh battery that can be charged via microUSB. What makes it interesting is that you do not need to take your iPhone out of the first case I told you about. The inner case has the right opening that will click onto the battery case with ease. In the end, what you get is the complete package with everything combined into one, as if they are meant to be together.
With the battery case and inner case together, the iPhone does get really bulky. You also have to use the headphone adapter to plug your earphones in due to the thickness.
Thankfully, the smart design gives you the flexibility to decide when and where should you use the battery case. For example, in day to day, you would have the inner case on your iPhone at all times. You can then carry the battery case and place it in the bag or inside your car's compartment. When you feel like you need to charge your iPhone, attach it. An hour or two later, detach  and put the battery case away. Nifty.
It also supports 2.1A fast charging and stops automatically when your iPhone's battery is full. You also have to press a button first to make it charge, which is better than automatically charges it (in my opinion).
Moshi iGlaze Ion Battery Case Review Conclusion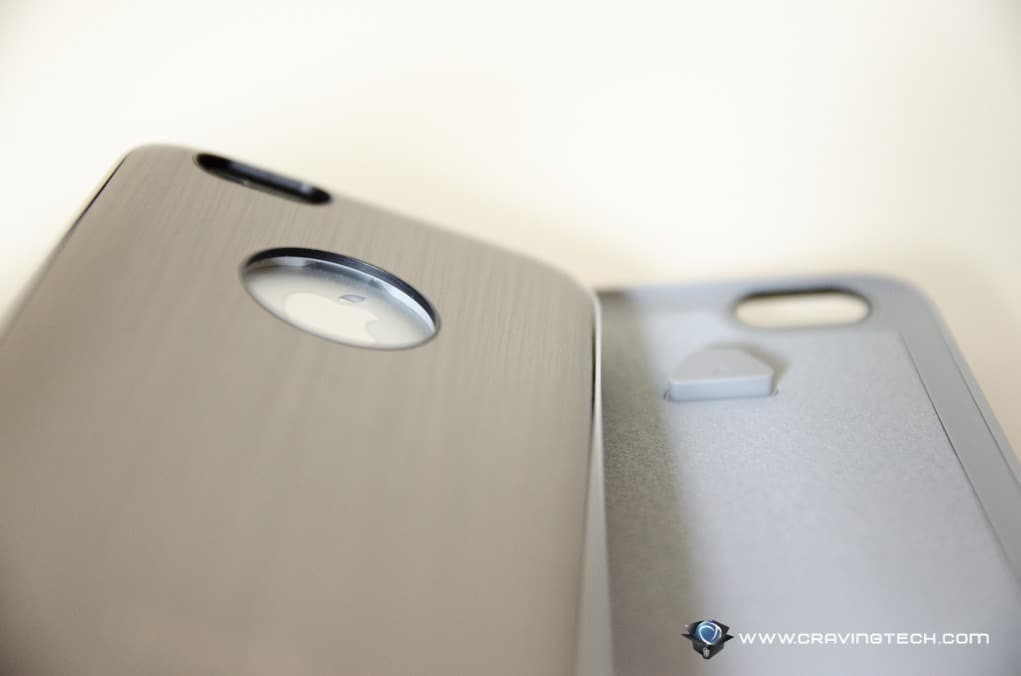 Moshi has solved the problem of having bulky battery cases by having two separate cases that complement one another and fulfil your needs at different times.
Moshi iGlaze Ion Battery Case smart design gives an ample amount of protection to your phone and at the same time, gives an option to top up your battery when needed. Having Moshi iGlaze Ion battery case is like buying two separate cases at a price of one. Yet, they are in-sync and specifically designed for one another.
The case itself is not the slimmest case, however, but if you are after protection, then you'll get it.
Disclosure: A sample was supplied for reviewing but all opinions are mine and not paid
[AMAZONPRODUCTS asin="B018JAA12E"]