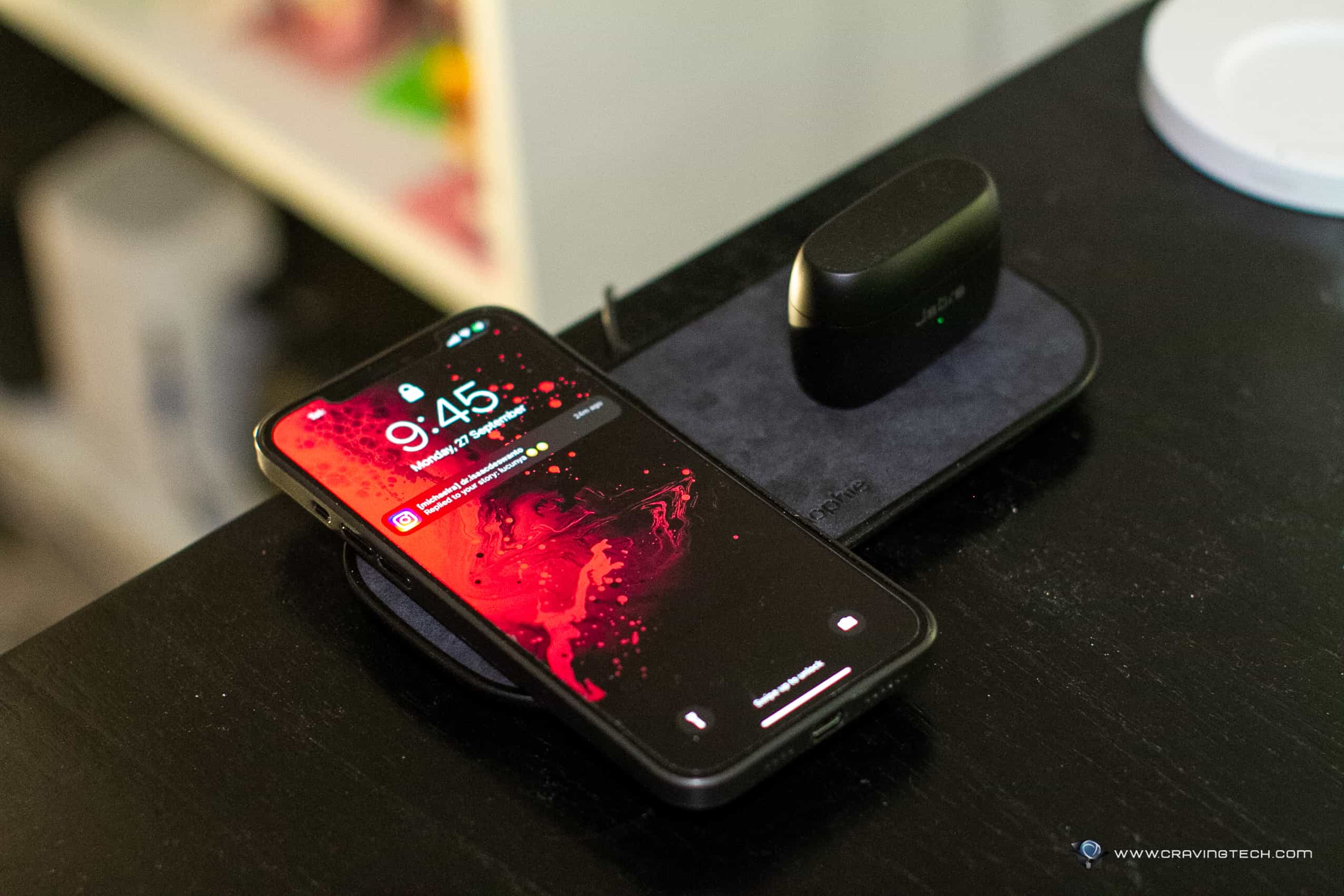 Mophie Dual Wireless Charging Pad Review – Everyone I know normally has a main phone, plus one more. That "one more" can be a secondary phone used for working or business purposes or a wireless earbud. And if you are in this "category, then you'll be pleased with this Dual Wireless Charging Pad from Mophie.
As the product name suggests, you can place up to two devices on this charging pad and charge them wirelessly. It's pretty straight forward and also convenient to be able to wireless charge two devices at the same time.
Okay, there's actually one more thing. The pad also has a USB-A port so technically you can charge up to three devices at the same time: two wireless and one wired. This works great if you have a budget-friendlier Android phone with no wireless charging support or even for any other devices you might have on your desk like a wireless mouse or headset.
But if your device supports Qi wireless charging, you are in for a treat. For example, you might have got the latest iPhone 13 and also an Airpod Pro. Simply place both of them on each of the marked pad and you'll get them charged in no time.
Note that this is not a MagSafe wireless charging pad so there is no magnetised element here on the pad.
Mophie Dual Wireless Charging delivers up to 7.5W of wireless fast charge and you can check at a glance when the charging commences through the built-in white LEDs. This is because it may take some wiggling to find that sweet spot to charge although there is a big minus sign to indicate the charging area. When the white LED is lit, you know that the charging is successful.
If you have a big phone like the iPhone 12 Pro Max however, the LED will be blocked from view but thankfully you can still confirm whether it's charging on the phone screen.
The wireless charge works through lightweight cases as I tested with my iPhone 12 Pro Max on the Totallee case. According to Mophie, the wireless charge should work through cases with up to 3mm of thickness, so make sure your case fits that requirement.
I don't have an AirPods Pro but I did test the charging pad with my Jabra Elite 85t case which supports wireless charging and all seem well.
A power adapter with 1.5 metres cable is included in the packaging which is great because some wireless charging accessories don't even come with a power adapter.
You can place the dual wireless charging pad on your desk, study table, or even bring it with you when you travel. It's slim enough in a sense to slip into your backpack's pockets though I guess the power adapter adds a bit of bulk to it.
Mophie Dual Wireless Charging Pad retails for A$119.95 and available at the Apple Store and retailers in Australia.
Disclosure: Mophie Dual Wireless Charging review sample was supplied for reviewing