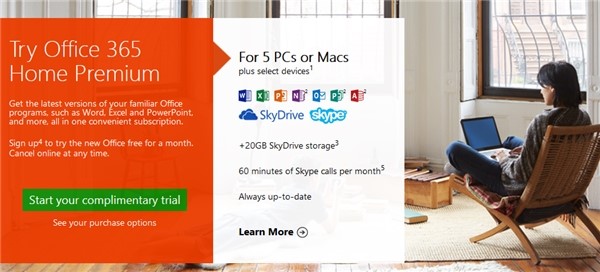 Office 365 Home Premium has been around for some time and allows you to install the whole Office suite to 5 devices. It's a subscription based model that costs AUD 12 per month. To some, however, this might be an overkill if you only use the Office Suite on a single computer. For that, Microsoft has just announced Microsoft Office 365 Personal this morning.
Office 365 Personal is also a monthly subscription based at a cheaper cost of AUD 9 per month or AUD 89 for the whole year. It is designed specifically for individual (personal) and allows only 1 PC (or Mac) to activate. You'll get the same bonuses of free Skype minutes call and extra OneDrive storage. It's perfect for students who normally only has a laptop to work with and be brought to lectures.
Office 365 Home Premium will be renamed to Office 365 Home later on, making it simpler to understand and differentiate. Check out Craving Tech's review on the Office 365 Home Premium if you haven't.
According to Microsoft, Office 365 Personal will be available later this Autumn.