If you are looking for an iPhone 5 or iPhone 5s flip cover with a little bit of a twist, then look no further. Moshi has recently released their SenseCover for iPhone that has certainly upped the game on fancy flip covers previously only available for non-iPhone owners (read: Samsung Galaxy S4).
SenseCover for iPhone is not like any other flip cover.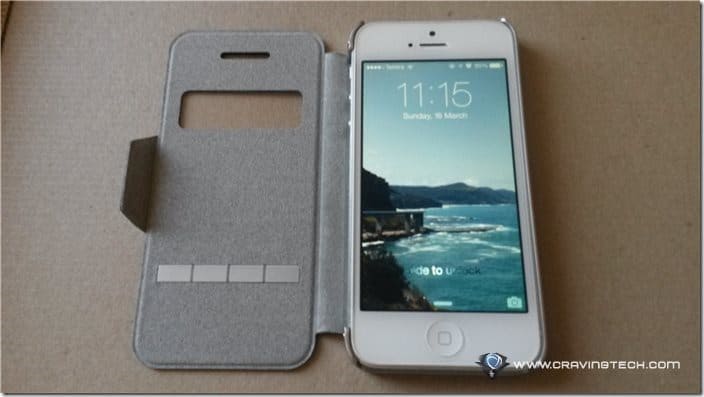 First, it is very light and gives a very marginal addition to the dimension of the phone.
Secondly, the flip front cover has a magnetic clasp to keep the cover closed or keep it intact when folded back to access the touchscreen.
What seems to be the main feature of this case is its plastic see-through window that allows you to check date/time and see the callers without opening the cover. Then there is the main event: the lower part of the cover is embedded with touch-sensitive pads that allow you to "Slide to Answer" and talk on the phone without having to open the cover.
Sadly, the case is not without its run-off-the-mill flip cover's Achilles heel. When the flip cover is folded back it covers the back camera – so we are still left with "I have to use two hands if I want to take pictures with the back camera" situation.
The phone is also subject to auto-brightness settings, which means that when the flip cover is closed, the phone brightness might be lowered and thus the time and date display you see through the window might not be as visible.
SenseCover for iPhone sports quality materials all throughout. The outer part of the front cover is made of hybrid leatherette strong enough to resist occasional water splash but thin enough to allow the access of the side buttons while the flip cover is closed. The inner part is made of flannel/suede-like material that is easy on the fingers. The back cover is made entirely of strong polycarbonate hardshell, which makes it one sturdy case without the bulk.
For more information on this case, go to Moshi SenseCover for iPhone's page
Disclosure: Moshi SenseCover review sample for iPhone is sponsored for the review. All opinions are 100% mine