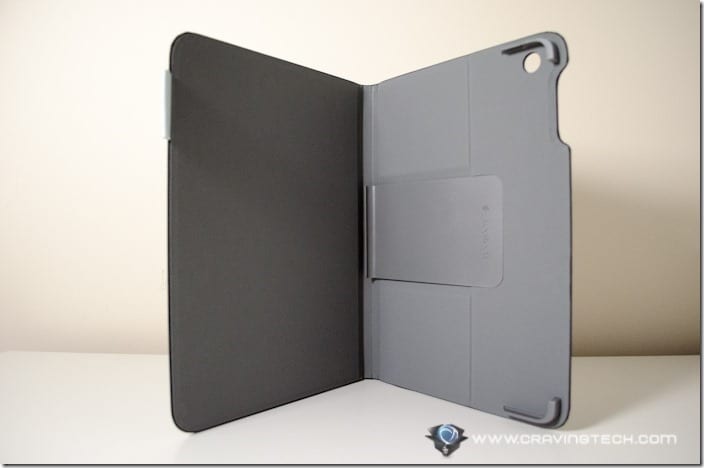 After looking at a few different folio keyboard cases for the iPad Air (with another one coming up), the Folio Protective Case from Logitech is a relief. It offers a simpler folio case solution when you don't need to carry bulky keyboards around, no matter how light they are.
This folio case from Logitech promises to protect your iPad Air from bumps, scratches, and even spills.
Made from water-repellant materials, the Folio Protective Case feels rugged and solid. Any liquid such as water can quickly be wiped off though you are not meant to immerse the case into water. The texture of the case also makes it easy to grip and you can fold the case all the way to the back. This comes in handy for reading e-magazines while you are "doing number 2". Of course, the grip also helps while you are walking about on the road with the iPad on hand.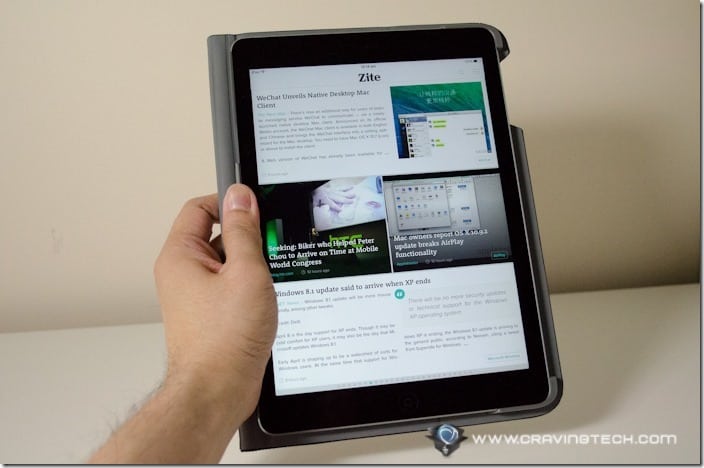 The folio case does not cover the iPad Air corners (when you open the case up), which is both good and bad. Some prefer the additional protection while others (such as myself) do not like the iPad Air aesthetics to be ruined.
You have access to all openings, buttons, and ports while your iPad Air is inside the case. In short, there is no reason to take the iPad Air out of the case. However, you can do that fairly easily if you really have to.
A unique feature on the Folio Protective Case is the adjustable stand, perfect for reading or watching movies. The adjustable stand adds a bit of weight to the case. However, it gives a solid feel compared to the wobbly solutions that some cases offer as a stand.
The case also auto-wakes & auto-sleeps your iPad when the cover is opened/closed, which offers a seamless experience.
Logitech Folio Protective Case is slim, solid, sturdy, grippy, and offers a good all-around-protection as an iPad Air case. It also looks quite unique and better-looking compared to most folio leather cases.
[AMAZONPRODUCTS asin="B00EZ9XG5I"]
Disclosure: Review sample was sponsored for the review. All opinions are 100% mine