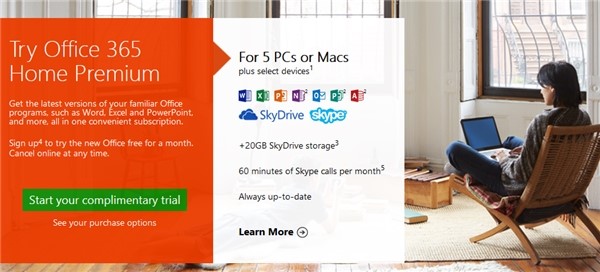 Microsoft Office 365 Home Premium Review – On the 30th of January 2013, Microsoft released their new Office suite, Office 2013, through a subscription-based service for consumers. A subscription of the Office 365 Home Premium will entitle you to download, install, and use Microsoft Word, Excel, PowerPoint, Outlook, Publisher, OneNote, and Access. You can go for the yearly subscriptions for AUD 119, or AUD 12 per month if you want to go for the monthly option.
The subscription is quite generous and affordable (12 bucks a month is nothing) and allows you to install the whole Office suite to 5 devices. It includes an extra 20GB SkyDrive storage and 60 minutes of Skype calls to selected countries. You are also entitled for future updates for Office if you stay subscribed. Unfortunately, you cannot install the new Office on a Windows XP or Vista machine.
There is also a complimentary 30-days trial so you can give it a go before making any decisions. Even before then, most of you have probably used the Office 2013 Preview already. There are slight optimisations and changes on the final version (and probably more under the hood).
The whole suite of Office 365 have a similar look-and-feel, with a clean and minimalist interface:
The new interface theme minimise distractions so you can focus more on what you create and easy on the eyes.  The buttons and tabs are formatted nicely, making it easier to work with the new Office on a touch screen tablet/Ultrabook. I had a good play with the new Office on a touch-screen environment back when I was invited to Microsoft TechEd Australia 2012 and it was a smooth experience. From dragging the column separators in Excel to the usual Word formatting actions, it felt like a whole brand new way of experiencing Office. Since the license covers installation to 5 devices, you will always have a spare in case you are planning to get an extra PC in the future.
Users of the good old classic Office may struggle a bit to find where things are, but you will start to appreciate the new layout once you get the hang of it. The new Office has a faster start-up time and typing on Word, OneNote, or any other Office applications feels snappier.
There is also the integration with SkyDrive, which is one of the main reasons why Microsoft is going for the Office 365 way. What you write on your home PC is also available instantly on any other devices when you save your documents, spreadsheets, notes, or presentations to SkyDrive. Of course, there is an option to save a file locally as before. But if you always travel on business, you will appreciate the availability of your files on the go on any of your devices. Going for a presentation to a client? Just carry your handy Windows 8 tablet with you and show case your PowerPoint presentation that you made in the office earlier.
A new theme or interface is not all there is to it on the new Office. There are little changes and small features here and there which make up as great additions.
Word 2013
[-] Word 2013 now supports writing a blog post and can publish to a WordPress blog. In fact, I'm currently writing this post on it.
[-] Word 2013 remembers where you left off so you can continue reading on the page you viewed last.
[-] You can open a PDF file in Word and edit it. The format was maintained correctly when I tried it, though I haven't tested with more complex-looking PDF.
[-] You can add people to collaborate together with a document you are writing on through the Share option. They don't even need to have an Office 365 subscription and can use the web version freely available.
[-] You can now embed videos on a Word document and play straight on it
Outlook 2013
[-] Instant reply which takes place in the Reading pane (no more pop-ups)
[-] Social Outlook connector connects you to social networks and grab the information about your contact or the sender of the message, if available.
PowerPoint 2013
[-] When you reopen a PowerPoint file, it will remember the last slide position when you closed it in, so you can continue working on the slides.
[-] Prettier UI and new, better looking templates with Theme variations.
[-] Great looking Presenter View (plus more functionalities)
I don't really use OneNote, Publisher, and Access so I can't comment on those yet. However, you can explore the new changes yourself at the Getting Started page.
Rumors are saying that there will be iOS and Android versions of Office so keep your fingers crossed. If the rumors are true, then the Office 365 Home Premium should sell like hot cakes as there are many iOS and Android consumers out there compared to Windows Phone users at the time this article was written.
The Office 365 Home Premium subscription model means you can experience the power of Microsoft Office suite with a cost of a lunch meal or two per month. It's really affordable, not to mention that you can install it in up to 5 devices (PCs, Macs, Tablets, Windows Phones, etc). Thanks to the cloud design and support, you can now focus on creating and updating your documents, without having to worry to keep them synced and up-to-date.
And I guess… it's really time to say farewell to Mr. Paper Clip… you've been a good friend.
Note: Microsoft Office 365 1-year subscription was provided for the review