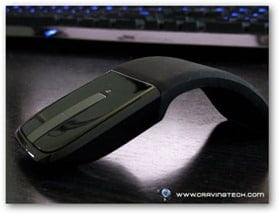 Sponsored by Nuffnang
Some of us happy to use our laptop/MacBook's built-in track pad when we are browsing the web or writing a piece of document. Some prefer having a handy, compact, and wireless mouse as a travelling companion. If you fall into the second category, say hello to Microsoft Arc Touch Mouse. The Microsoft Arc Touch mouse has taken the word "compact" into the next level, thanks to the flexible design and the magic scroll pad.
Microsoft Arc Touch Mouse Review – Packaging
The packaging includes the Arc Touch mouse, the Nano transceiver, 2 x AAA batteries, driver installation CD, and the manuals.
Microsoft Arc Touch Mouse Review – Design
A regular compact mouse normally means a smaller sized mouse but still with the bulky, curved design. In the end, it's still not practical to carry a mouse inside your flat laptop bag. Microsoft heard you and had decided to make the Microsoft mouse as flat as possible without sacrificing comfort and productivity. It does this by flattening the surface when the mouse is not being used, ready to be stored inside a bag. Simply pull the elastic part at the back of the mouse to flatten the mouse when you want to store it away:
Flattening the mouse this way also turns the mouse off (which is powered by the included 2 x AAA battery) automatically. It is the most portable mouse I've ever seen and you can comfortably store it into any bags, even your shirt's pockets!
Flex the mouse back and the Arc Touch will automatically turn itself on.
The Microsoft Arc Touch has two physical left and right mouse buttons like an ordinary mouse but it has a unique scroll pad in between. You can scroll a page up and down using the scroll pad or do a  hyper fast scroll by brushing it up and down quickly with your finger. You can also do a double-tap on the scroll pad to assimilate a middle mouse click and even do a few other tricks (such as tapping the tip points). Occasionally though, I found that if I did a double tap too often, there were moments where the bottom touch pad stopped responding for a while. It's as if I did a wrong gesture movement. I'm sure this can probably be resolved by re-assigning the gestures through the Microsoft Mouse control panel.
Microsoft claims that the Microsoft Arc Touch Mouse can last more than 6 months before you have to replace the batteries. There is a small green LED indicator if the battery level is high and will turn into red when it's time to replace the batteries (I tested this with my old batteries and saw the red light indicator).
The Nano Transceiver is very tiny in size and can fit any USB slot on your laptop/MacBook with ease.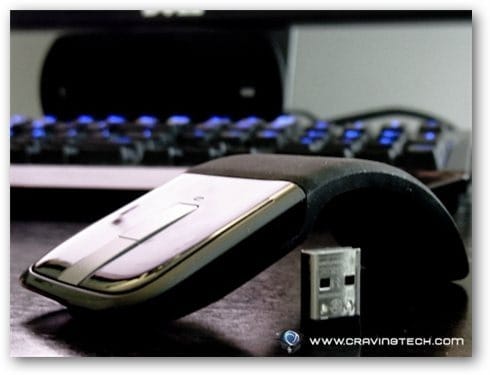 Thanks to Microsoft BlueTrack technology, you can practically use the mouse on any surface, except on a glass or mirrored surface. This makes it really useful as you don't ever need to carry a mouse pad with you while you travel. You can use the ArcTouch mouse on the floor, on a desk, or even on your lap!
Microsoft Arc Touch Mouse Review – Conclusion
Microsoft Arc Touch mouse is classy, elegant, and very portable. The surface can be flattened, which makes it even easier to be stored inside a bag. Although the mouse itself is not too comfortable to be used for long (due to its compact size), the Arc Touch Mouse is great for casual browsing, chatting, or creating documents in your laptop/MacBook. The BlueTrack technology, combined with long battery life and a scroll pad make this mouse a must-to-have companion for any travellers.
Note: Sample was provided for the review
Microsoft Arc Touch Mouse Pros
+ Stylish, Sexy
+ Can be flattened for easy storage
+ Cool scroll pad
+ BlueTrack technology
+ Nano transceiver, small in size
+ Long battery life
Microsoft Arc Touch Mouse Cons
– Not comfortable to be used for hours