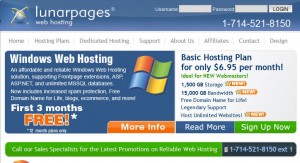 Lunarpages is a U.S hosting company and the host of my blog. I've been with them for several years and very happy with their service and technical support.
Just got an email from them about the latest offers and thought that I should let you know if you are interested:
Windows Web Hosting Plan (3 Free Months)
Windows Virtual Private Server (VPS) Plan has been discounted over 50% to $39.95/month
WINDOWS WEB HOSTING PROMOTIONS
The Windows Web Hosting Plancomes with free domain name, ecommerce tools, and especially 3 free months of hosting!
If you need a personal website, our easy Windows Web Hosting Plan is perfect for your blog, family website, small business, and for everything in between. The Windows Hosting Plan comes complete with free domain name, ecommerce tools, secure and spam-protected email, and 3 FREE MONTHS HOSTING! No coupon is required. Simply visit Lunarpages and purchase the Windows Plan for 12 months, and your discount will be automatically applied to your bill.
Storage: Up tp 5 TB
Bandwith per month: 400 GB
The Windows Virtual Private Server (VPS) Plan has been discounted over 50% to $39.95/month
For a limited time, our Windows Virtual Private Server (VPS) Plan has been discounted over 50% to $39.95/month for any 12 or 24 month purchase! No coupon required. Simply visit Lunarpages.com and purchase any 12 or 24 month Windows VPS Plan
And the BIG NEWS in our Dedicated Server realm is that we are not only offering Windows Server 2008 and Silverlight Hosting now, but we are also providing all new 12 or 24 month Windows Dedicated customers with a FREE copy of Microsoft Expressions Web and a FREE one year subscription to Total Training, where you can learn how to utilize Expressions Web to completely design and develop your website. This package is worth over $1,000 and is yours completely free with your purchase of any Windows Dedicated Server of 12 or 24 months
Storage: Up to 20 GB
Bandwith per month: 1 TB