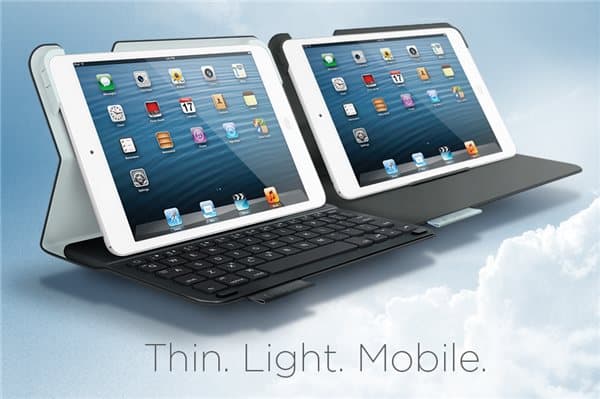 Logitech have long proved themselves with the computer accessories, and the company has seemed equally adept in coming up with useful accessories for mobiles and tablets as well. The firm's latest releases are the Ultrathin Keyboard Folio and the Folio Protective Case, a pair of cases for the iPad Mini.

Let's have a look at the Ultrathin Keyboard Folio first. As the name suggests, this is a case with an integrated Bluetooth keyboard. The keyboard looks fairly high quality too, with  short-travel scissor switches and a layout that matches a traditional keyboard as much as possible. One nice addition is dedicated keys for copy, paste and undo – great when you're typing up a long document, particularly if you don't have those shortcuts down.
The big attraction here is that the keyboard is super thin (20 mm) and light (285g), ensuring that your iPad Mini won't become unduly bulky. The entire assembly is also water-repellant, allowing the iPad Mini to shrug off potentially damaging spills and splashes.
Of course, like many other folio cases for the Mini you'll also find that this case is a useful stand as well. There are two orientations available here – a flat mode that sits over the keyboard for traditional touch use, and a laptop-like mode with a higher angle.
The Folio Protective Case is similar to the keyboard version, but the keyboard isn't include and instead the case is a bit thinner and slighter. I don't rate this as particularly special, but if you trust Logitech over other mobile brands (which isn't a terrible idea by any means) then it's a nice option for a light and carefree case.
They are not available in Australia just yet, but should be here before you know it.
What do you make of these iPad Mini accessories? Let me know in the comments below! Thanks for reading the article and be sure to have a great week ahead.