This is a Sponsored Post written by me on behalf of LG Chocolate Touch. All opinions are 100% mine.
LG Chocolate Touch is more than just a simple touch screen phone. It is also a portable media player, capable of playing both music and videos. As a portable media player, LG Chocolate Touch is equipped with Dolby Mobile Technology, a technology only available to LG handsets. This technology allows an ultra high quality sound quality and realistic surround sound experience delivered through the phone. I must say I am impressed with the sound quality which is on par, if not better than my iPod Nano!
Combined with a 3.2 Megapixels camera, GPS, RSS Feed support, and a Social Network support, LG Chocolate Touch is just the right phone to those who like to listen to their music collection on the go.
The LG Chocolate Touch functionalities are pretty standard so I'm going to focus my LG Chocolate Touch review post more on the phone as a great media player device.
LG Chocolate Touch Phone Specifications
Technology: CDMA
Frequency: 1.9 GHz CDMA PCS, 800 MHz CDMA (Digital Dual-Band)
Data Transmission: EVDO† Rev. 0
Dimensions: 4.30″(H) x 2.20″(W) x 0.47″(D)
Weight: 4.23 oz.
Display: 262K Color TFT, 400 x 240 Pixels, 3.0″
Standard Battery: 1,000 mAh
Usage Time: up to 306 Minutes*
Standby Time: up to 470 Hours*
*Certain features may use more power and cause actual usage and standby times to vary.
LG Chocolate Touch Main features
LG Chocolate Touch – Dolby Digital Mobile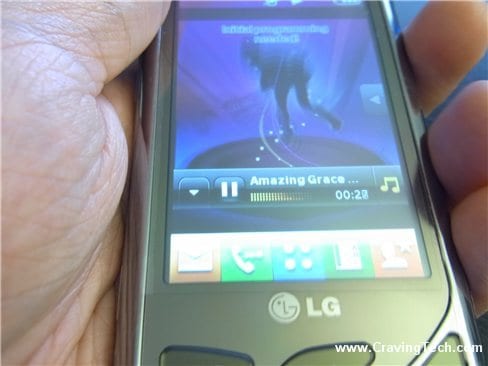 Rich sound quality with Dolby Digital Mobile, delivering an impressive surround sound and rich sound quality through Stereo Headphones or External speakers (stereo headphones are sold separately though).
Being the first company to incorporate Dolby Mobile technology into handsets for the global market reinforces LG's role as a leader in the mobile industry and in multimedia phones," said Dr. Skott Ahn, President and CEO of LG Electronics Mobile Communications Company. "We believe this technology will raise the bar for audio quality on multimedia phones and expect Dolby Mobile to help us create a new trend in the mobile phone industry. LG is committed to providing our customers with the best features available and our new collaboration with Dolby helps us deliver on this pledge.
LG certainly does deliver that experience! The LG Chocolate Touch is equipped with a high frequency enhancer, natural bass, mobile surround, and a fully customizable equalizer! The Bass boost enhancer is so much better than most Bass enhancer that I've ever experienced. Most Bass booster cranks up the Bass frequency like mad til you can hear the "cracking" sound coming out of the speaker. LG Chocolate Touch gives the extra oomph coming out from my Razer Moray+ earphones. Don't know how they did it but they've done a great job.
The phone has a built-in native music player and you can also create/manage playlists easily on the phone. You can browse your music library by either artists, genres, or albums. I love the built-in player and how you can "send" it to the background so you can still use the phone for something else (going to your address book, compose a message, and so on).
There is also a "Join the Band" feature so you can play along with a virtual keyboard or drums while your music is playing in the background. I have to admit the virtual drum is quite fun to play with but playing the real one is of course, delivers a better experience.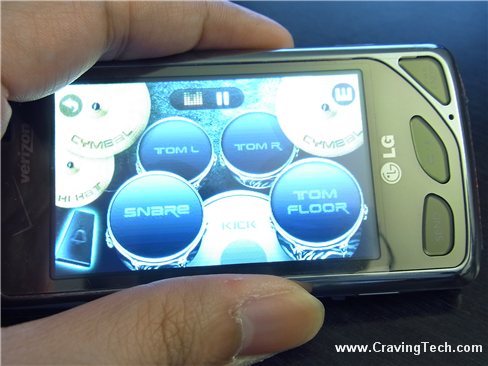 The phone allocates 1 GB storage just for your music collection alone so you can store literally hundreds of songs into the phone.
LG Chocolate Touch – FM Radio
The phone is also equipped with an FM Tuner so you can listen to your favorite radio station wherever you are. You can save up to 12 channels on the phone so you can switch between your favorite radio stations easily. The phone also has the capabilities to listen to the song currently playing on the station and then ID it to get the title, artist, and album of the song. The quality of the reception is also amazing, clear and solid.
There is also a "Join the Band" feature – so you can play along with a virtual keyboard or drums while your music is playing in the background. I have to admit the virtual drum is quite fun to play but playing the real one is of course, much more fun than this.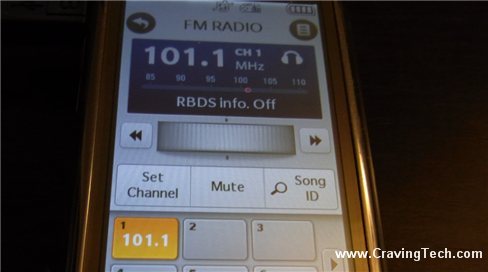 I find it funny though that you need to plug in a headset to the phone in order to use the FM Radio (so you can't listen to the radio using its internal speaker). As soon as I unplug the headset while listening to a radio station, the phone displays an error "Please plug in a wired headset to use FM radio". Certainly an annoyance, but pretty minor.
LG Chocolate Touch – Camera/Video
LG Chocolate Touch has a 3.2 Megapixel camera (with up to 2048×1536 resolution) and a camcorder (recording up to 320×240 resolution). There are plenty of effects to play around with the camera such as the sephia, black & white, and many more. Not to mention the "Say Cheeseeeee" whenever you press the shutter button, surely giving people some laughs for a nice photo shoot. The camera unfortunately has no flash though so bad luck if you are trying to take pictures in a dark environment.
LG Chocolate Touch – Other Features
There are just too many features to be mentioned on a single review post. Feel free to have a look at LG Chocolate Touch full features on its main site. Unfortunately you cannot use a SIM card as LG Chocolate Touch is only available on Verizon Wireless, which is a bit of a bummer. So no, there is LG Chocolate Touch SIM card and you cannot use a SIM card with the LG Chocolate Touch.