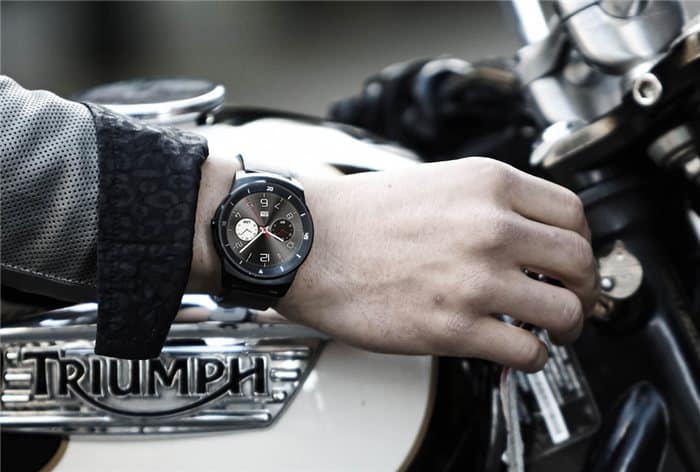 LG's next watch, the LG G Watch R will be world's first watch-style wearable device with a circular Plastic OLED (P-OLED) display and utilises 100% of its face. It looks dead gorgeous and simply beautiful. Most smartwatches at the moment unfortunately look quite hideous (to me, at least), except for the Motorola Moto 360, but even this news surprises everyone.
The watch is powered by 1.2GHz Snapdragon 400 processor, 512MB of RAM, 4GB of storage, and 410mAh battery. It doesn't seem that the watch will last longer than a day, considering the battery size, but there may be surprises and optimisations under the hood.
What I really love is definitely the look of the watch itself. Most smartwatches make you look like a geek. Though it can be cool and invite questions from strangers around you, I'd totally prefer a sleek-looking watch as if it's an ordinary, luxurious, juicy-looking watch. Don't know about you.
The LG G Watch R runs Android Wear beneath its skin. This means that the watch will include voice recognition activations and run compatible apps from the Google Play Store. The P-OLED display is supposed to give clarity under a direct sunlight and from different viewing angles.
It will be available in the 4th quarter of 2014  so for now, you can only drool away. It's unclear how much will LG sell this smartwatch for. Only time will tell – and perhaps they will announce it at the IFA, Berlin, on the 5th of September 2014.
Specifications
Chipset: 1.2GHz Qualcomm® Snapdragon™ 400
Display: 1.3-inch P-OLED Display (320 x 320)
Memory: 4GB eMMC / 512MB RAM
Battery: 410mAh
Operating System: Android Wear™ (compatible with smartphones running Android 4.3 and above)
Sensors: 9-Axis (Gyro/ Accelerometer/ Compass), Barometer, PPG
Color: Black
Dust and Water Resistant (IP67)
Source: LG newsroom and official product images from LG