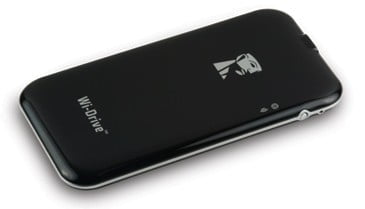 Kingston Wi-Drive – Not to be confused with "Wii", a Wi-Drive from Kingston is a wireless and portable storage solution that allows you to share and stream files to your iPad, iPhone, or iPod Touch from it. The Kingston Wi-Drive has a built-in Wi-Fi signal so you can connect to it from any iOS devices that can connect to a Wi-Fi point. It's like having an external hard drive with a built-in Wi-Fi signal so you can carry it anywhere yet still remains accessible by your iPhone or iPad.
By downloading and installing the Wi-Drive App for iOS devices (free), you can stream movies, listen to music, and view pictures/documents from the Kingston Wi-Drive to your iOS devices easily. This way, you don't have to plug your iPhone or iPad to the computer to access your files. To store the files initially to the Wi-Drive, you still need to connect via the USB cable. Only then you can access the files you transferred on your iOS devices through your wireless network.
Video on how the Kingston Wi-Drive works can be watched here:
The Wi-Drive weighs 86.18 grams only and compact, so it's pretty much portable. You can carry it around with you and then let your friends or co-workers to connect to it and view your files.
Kingston Wi-Drive Features and Specifications:
•    Capacities*: 16GB, 32GB
•    Dimensions: 121.5mm x 61.8mm x 9.8mm
•    Operating Temperature: 32°F to 122°F (0°C to 50°C)
•    Storage Temperature: 14°F to 185°F (-10°C to 70°C)
•    Wireless Network Interface: Wi-Fi 802.11g/n with wireless security (WPA/WEP)
•    Rechargeable Battery: up to four hours of continuous use
•    Cable: Mini-USB to USB cable included.  User can upload files and content from their
PC/Mac to the Wi-Drive using the USB cable
•    Portable: Uses Flash-based technology for durability and reliability
•    Convenient: pocket-sized for easy transportability
•    Simple: just plug into a USB port
•    Guaranteed: one-year warranty
•    App: downloadable at Apple's App Store
•    Compatible with: iPad, iPhone 3G/3GS/4, iPod touch (3G is limited to iOS 4.2.1+)
•    Configurable APN (access point name) and Key functions to connect to Wireless Access
Point (Internet Connection)
•    Supported File Formats:
•    Audio: AAC, MP3, WAV
•    Video: m4v, mp4, mov, Motion JPEG (M-JPEG), AVI
•    Image: jpg, bmp, tiff
•    Document: pdf, doc, docx, ppt, pptx, txt, rtf, xls
* Some of the listed capacity is used for formatting and other functions and thus is not available for data storage. For more information, please consult Kingston's Flash Memory Guide at Kingston.com/Flash_Memory_Guide.
Kingston Wi-Drive is priced at AUD $149.99 for the 16 GB version and AUD$198.99 for the 32 GB.